Chicago has many nicknames. From Chi-Town to the Windy City, we all have an idea of what it has to offer. For Patriots fans, Chicago offers a bit of Boston away from the East Coast. Located in River North neighborhood, Theory - Home of Chicago Patriots Nation brings a sense of home to Patriots fans living in the city.
"You don't think you're in Chicago," Lyndsay Levin said. "Everybody is in Pats gear."
Jersey's, t-shirts and hats are just some of the ways that the fan club announces their presence in town. The instantaneous feeling of welcome puts everyone at ease. Even some non-Patriots fans find it difficult to resist.
"As soon as you walk in and it feels like, whether the first time you're in there [or not], I just feel like it's a home away from home," said Tim Buckley, another member of the club. "You just instantly feel welcomed."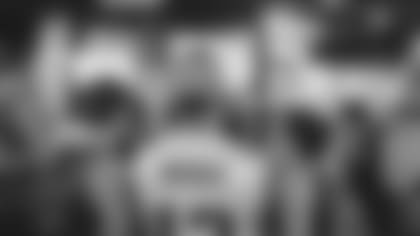 Though fans of other teams visit Theory, the restaurant's owner and club founder Joel Sorinsky has built it into a place that mirrors a bar in Boston. Polling members of the club, he found aspects of their favorite Boston bars and Gillette Stadium and worked to recreate them.
"I would like to people to pretend like they're tailgating and stuff like that," Joel said. "But the reality of it is, we just listen to the customer feedback over the years of what they like to do when they're tailgating and being out at the stadium and then being able to turn those things into what we do."
Creating that atmosphere has helped members of the fan club to carry over traditions that may be familiar with other members of Patriots Nation. When the guys on the field secure a first down, one of the regular attendees leads everyone in the first down chant.
"But for the bigger games, he'll put a helmet on and then he'll run through the crowd and everyone pats the helmet like he was just the one who scored the touchdown," Joel said.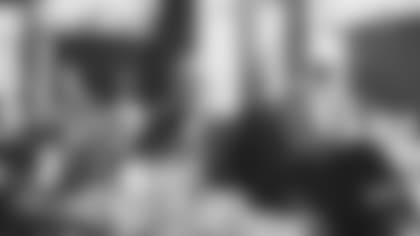 Not only has the fan club celebrated using some of team's favorite cheers, they built up a few superstitions as well. During last season's AFC Championship game, Lyndsay and her friend hunkered down in a corner of the bar to avoid the potential upset by the Jaguars. As the Patriots fought back, the two begin to stand up. When things swung in the Jaguars favor, the club strongly encouraged them to crouch back into the corner, since it seemed like the team's good luck charm.
The superstition carried over into this season as Lyndsay and her friend began crouching during the game against the Texans.
"Everyone was like it's week one, it's a little early for you to be crouching but we might need you to do it," she said. "So people remembered that."
With the Patriots visiting the Bears in a few weeks, they're excited to share their traditions with Patriots fans venturing to Chicago for the game. On Saturday, they'll go all out with a night before party at Theory, where cheerleaders and Pat Patriot will be ready to hype the crowd up. On Sunday, fans can head over to the South Lot at Soldier Field for a tailgate with the crew. They'll welcome you into the fold with good conversations and plenty of laughs.
"I'm grateful that the Patriots play in Chicago this year," Joel said. "It's a great opportunity to meet more people and make people feel like they have a home when they come to Chicago."