The boundaries of Patriots Nation go far beyond physical markers -- beyond Boston, New England and even America. We've seen fans from the U.K., **Mexico** and even Japan proudly wear their Flying Elvis. In Germany, **#patriotsarmyNRW** cheer on the guys on game day and have created a close knit community of fans that feels more like a family than a fan club.
"It is important to me that we are like a big family in our fan club," said one of the club's founding members, Jan Keummel. "I try to talk with all people in our meetings and help our community grow together more and more."
While their love for the team is what brought them together, each of the five co-founders have their own story of what brought them to the team. A decade after NFL Europe retired its teams, Frank Schlott, another co-founder recalls the games that he and his friends attended, and then a visit in 2010 solidified his support for the Patriots. For Jan and Florian Kosiowski, Super Bowl XLVI and the stories surrounding the team drew them in.
Marcel Berninger became a Patriots fan because of Peter Griffin.
"I became a fan because of an episode of "Family Guy" in which Peter met Tom Brady and played for the Patriots," Marcel said.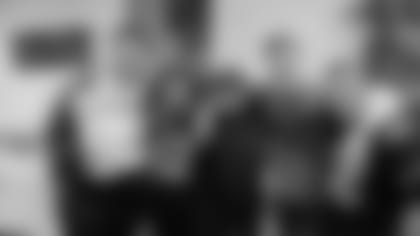 One of 10 fan clubs in Germany, #patriotsarmyNRW has welcomed their 41 members through the doors of Schreber's Pub, Restaurant and Beer Garden in Essen. Owned by the club's fifth co-founder, Dominik Sander and his father, Scherber's became a respite for the club after their original meeting place, a local diner. Since the club has to factor in the six-hour time difference, they wanted to be sure that they can comfortably watch the game without worrying about the venue closing.
Since Germany is a large country, it is understandable that the closest fan club may be a bit of a drive away. For some members who may travel from cities like Duisburg, Dortmund or Dusseldorf, the accessible interstate makes that journey far less daunting.
"[W]e can watch the late night games Sunday night until Monday morning," Dominik said. "Essen is a very centrally located city in our metropolitan area."
During the regular season, #patriotsarmyNRW meets once a week at Scherber's, where they munch on pizza and burgers that has allowed them to develop friendships amongst their ranks. But last summer, they worked to extend that bond with some of the other fan clubs located around the country, as well as Switzerland.
"There was a big meeting of all German fan clubs last summer in Hannover," Jan said. "Of course, some of our fan club founders took part in this event. We made new contacts with other fan clubs and came up with more ideas for team spirit."
Since we are all Patriots, it's no surprise that fan clubs across the globe have applied it to their lives by transcending physical borders.