Everyone may have a different way of making their way to a local fan club. The reasons for joining though usually remain the same though. Watching, discussing and cheering on the team with like-minded people is far more enticing than doing so alone. So whether the members of the VA Beach Patriots Fan Club used Google. Facebook or simply stumbled upon it, they've found their crew away from Gillette Stadium.
Meeting every game day at Murphy's Irish Pub in Virginia Beach since June of 2003, the club likes to keep things as casual as possible. The informal nature of their meetings has helped them to form a family for Patriots fans who move in and out of town. It gives them more time to focus on the conversations with their fellow members without having to worry about a schedule of activities.
"Just happy to drink a beer and enjoy the game," said Joe Belec, the club's self-proclaimed head cheerleader. "The formalities often take the fun out of things."
It all began when Murphy's opened its doors in 2003. As the first customer, Joe had the privilege of speaking with the owner, Tom Mooney, who wanted his bar associated with an NFL team. Thinking it could be a perfect partnership, Joe suggested that the bar become a Patriots bar. He promised to bring Murphy's plenty of business every week as long as he got to fly his Patriots flag. above the restaurant.
From there, the club was born.
"It was a match made in heaven," Joe said.
The partnership has helped the club over the years to bring in on average 30 to 35 fans on game days, as well as helped them to bond over shared life experiences. Some fans travel hours to meet up with the club after finding information about them online. Moments like these often allow them to make connections they never thought they would.
During one game watch party, Joe bought a guest a beer to welcome them to their stomping grounds. When the stranger stopped by to thank him, Joe asked where he hailed from and learned that he and another member were from the same town.
"Sure enough, the guy that was sitting next to me, his nephew and this guy's son played hockey together," Joe said.
Moments like these happen fairly often even though they don't promote themselves heavily. They simply promise that if there is a Patriots fan in need of a place to watch the team play, they will welcome them into the fold without question.
Not only do they provide a temporary family for those travelling through town. They provide an outlet for Patriots fans who move to the area and want a community to voice their thoughts on the team.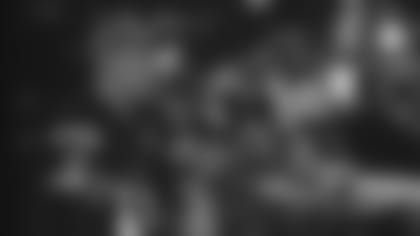 After moving to the area, Cheryl Powell felt the need to surround herself with fellow fans. A lifelong fan, she found Murphy's by chance and has rarely missed a gamed watch since.
"I just didn't like sitting at home and watching the games," Cheryl said. "It just wasn't as exciting. Even though I call my dad in Connecticut every time we score and we talk about it, I wanted more people."
Though hesitant to go to Murphy's by herself, when she visited the first time, she quickly felt at home.
"The majority of the people there being fans of the same team like you, I love it," she said. "It's a bonding experience. We get to talk about the game. We get to console each other after losses."
Even during those losses, the group sticks it out until the end. It is for that reason they want to continue sharing their club with the rest of Patriots Nation.