FOXBOROUGH, Mass. – The two front entrances to the Patriots locker room inside Gillette Stadium can be found at the farthest left and right corners of this enormous chamber. Traditionally, offensive and special teams players are housed from the left to about the middle, while defensive and practice squad players occupy lockers from the middle to the right.
Were you to enter from the left, you'd have little trouble identifying which locker is Brandon Bolden's, even without looking up to find his nameplate overhead. For his, you see, is the one in which a gigantic boom box takes up residence.
Finding little use for the equipment at home, where he and his wife, Arianna, now have three young children running around, Bolden first brought it to work several years back, looking for a safe and out-of-the-way place to stash it. "One of our equipment guys was like, 'You should put it in your locker, like you're installing it in a car,'" explains Bolden, who loved the idea. "So, we just threw it in there, and that's where it's been ever since."
Even during Bolden's challenging 2018 season, when he left the Patriots for a year to play with the Miami Dolphins, and again throughout an even more surreal 2020, the season out of which Bolden chose to opt, along with several other teammates, over pandemic-related concerns.
His enormous radio sat dormant on both occasions in what was previously, and would be yet again, Bolden's Patriots locker, as if the universe somehow foresaw his subsequent returns to resurrect it. Which is precisely what has transpired, to the delight of many, Bolden himself included.
In the years B.C. (Before COVID, that is), when media would conduct interviews with players inside National Football League locker rooms, those that covered the Patriots were frequently entertained by the veteran New England running back and special teams stalwart, who served a tertiary if unofficial role as the team's resident disc jockey.
On Fridays in particular, when the NFL practice week usually draws to a close for teams playing on Sunday, Bolden's eclectic mix of song selections provided levity and goodwill between the players, as well as between media and players.
Ever since this ongoing pandemic laid waste to much of what we consider normal life, reporters and camera crews have, with very limited exceptions, been excluded from the inner sanctums of NFL teams. Interviews have been conducted mostly via video conferences, phone calls, and occasionally in person, at a regulated distance, either outdoors or inside within a designated space other than the locker room.
During a recent conversation, Bolden confirmed that his old reliable boom box still resides in his locker and his music still entertains teammates. "It's been fun. Real fun," he emphasizes. "Guys come by and request everything. And even sometimes in the morning. We have our own 'Start the Day Right' playlist. It gets everybody going, gets the blood going."
Yet, he also divulged that this season, he acquired some competition from free agent signing Matthew Judon, whose locker exists on the opposite end of the room.
"Judon went and got an entertainment system. We kind of just split the locker room in half. It's cool. Judon has the defensive side, and I have the offense and special teams guys on my end. So, he takes requests on his end, I take requests on my end."
Bolden describes a scene that at times features simultaneous soundtracks, lending the Patriots locker room the appearance of a nightclub with dueling genres. "You could be walking through an R&B party [at one end] and then walk into some hip-hop, or you're coming from a disco and going into something else. You just never know."
The Louisiana native, who'll turn 32 later this month, credits his shared overseeing of locker room music selections as one way he tries to remain young in this, his ninth – and remarkably, most productive – NFL season.
From the mid-1960s to the mid-1970s, Frank Pitts played wide receiver for three different NFL teams, taking his signature jersey number 25 with him from Kansas City to Cleveland and finally to Oakland. Having appeared in two Super Bowls with the Chiefs – losing the first to Green Bay before beating the Vikings three years later – Pitts loved showing old films of those games to Brandon, his grandson, almost as much as the boy loved watching them.
In fact, Brandon credits those film sessions – so many he's lost count over the years – as well as the glittering AFL and Super Bowl championship rings his grandfather earned with the Chiefs, with inspiring him to become a professional football player himself.
The bond between Brandon and Frank only strengthened over the years. The boy matured into a young man and sought-after running back who would eventually leave his hometown of Baton Rouge, heading five hours north to neighboring Mississippi and the state university there known colloquially as "Ole Miss."
Wearing No. 34 for the Rebels program, Brandon saw action from his true freshman year of 2008 through his senior season in 2011, finishing his college career with just shy of 2,600 rushing yards (averaging 5.3 per carry) and 27 touchdowns. He added another 800-plus on 76 pass receptions over his four years at Ole Miss, including a half-dozen for touchdowns.
After Brandon went undrafted by the NFL in 2012, he quickly received interest from and signed with the Patriots, later making the team as a rookie free agent. New England assigned him jersey number 38.
For the next six seasons, Brandon would become a mainstay as a reserve running back, occasional pass catcher, and frequent special teams contributor on coverage and return units. Along the way, he picked up a pair of Super Bowl rings to rival those of his grandfather, Frank, who continued to serve as a vital film-study partner, if only from afar.
"He'll call me at the end of the game," Brandon is quoted in the 2021 Patriots media guide, "and tell me everything I did wrong. He's my toughest critic, and I think that rubbed off on me."
Tough as he prides himself on being on the field, Brandon also harbors a soft spot for his devoted grandfather, who has recently begun exhibiting symptoms of dementia. As a result, Brandon chose to make a symbolic gesture this season. After learning that former Patriots defensive back Terrence Brooks had signed with the Houston Texans this past offseason, Brandon immediately contacted New England's football administrative staff to inquire if he could change to Brooks' former jersey number.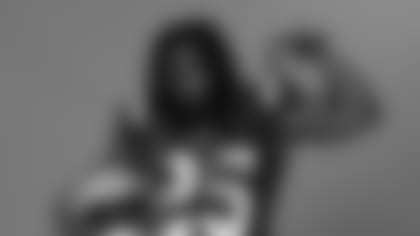 Hence, he now wears 25. "I've been plotting it for a while and finally got a chance to get it," Brandon beams. "I've been wanting to change my number to 25, but with this being such a special year – playing this long – we just don't know how much time everybody has … I wanted him to, at least, not only have my jersey with his number on it, but also see me play in it."
For now, Frank still recognizes Brandon and his great-grandchildren. He still calls Brandon after games to talk football, but more and more, his mind drifts to games Brandon played years ago, rather than focus on the most recent one. Taking nothing for granted, Brandon and his family presented Frank with his own No. 25 Patriots jersey, complete with Bolden nameplate on the back, as soon as Brandon made the switch this offseason.
"The first thing he said was, 'Why is my jersey blue?' So, we all started laughing. So, he opened it up and asked the question again, then he turned it around and saw my last name. He said, 'This is your jersey?' … He was excited. He totally understood what was going on."
What Brandon didn't fully understand just a few years earlier was that he, too, would have to confront a health crisis of his own – one that he later feared might cost him his football career.
Somewhere in the 2014 season – he can't quite recall exactly when – Brandon recalls
first feeling something strange along his right jawline. But he and his team were so focused on completing a Super Bowl-winning year – Brandon's first – he chose to ignore it.
More than three years later, as the calendar flipped to 2018, the Patriots were again marching toward a Super Bowl, this time an eventual losing effort in Minnesota, at the end of the 2017 season. At some point prior to that game, Brandon took a hit to his head area and realized that the unusual whatever-it-was hadn't gone away. He promised himself this time he's have it checked out. A biopsy revealed mucosal epidermoid carcinoma (MEC) – a malignancy in his salivary glands.
"The doctors called back a month later. 'This is what you've got. These are your options.' Surgery was the quickest option. It was just my face, so, it wasn't going to keep me from doing anything football-wise."
However, Brandon's contract with New England was expiring, and self-doubt began to creep into his mind. "I didn't think I was going to play again, then went to Miami and got my legs and my wind back up under me. I learned a lot about myself in 2018."
Yet, most of his new, temporary Dolphins teammates learned very little about Brandon that season, and he wanted it that way. He wasn't quite ready to talk about his cancer experience, nor was he fully recovered from it. The surgery caused short-term damage to the nerves on the right side of his face. After undergoing his procedure in the early spring, the feeling in his face wouldn't return completely until late fall, when, finally, he could lift the corners of his mouth to smile again.
"I just dealt with it," he declares matter-of-factly about playing half an NFL season with the condition. "For the most part, people [in Miami] just thought I didn't smile much. Not everybody knew who I was. Coach [Adam] Gase knew, but I didn't go around blasting it, and I had a beard at that point, too, so, you really couldn't see the scars."
After just one season with Miami, Brandon re-signed with New England on a two-year deal. His old number 38 and his boom box were waiting for him.
That first season back with the Patriots, the coaching staff asked Brandon to add kickoff return duties to his workload, which he gladly accepted. After choosing to opt out of the 2020 season for pandemic-related reasons, he's emerged as a reliable target for rookie quarterback Mac Jones, particularly in the wake of New England's having lost co-captain and pass-catching back James White to a hip injury early on.
Bolden has since put up the best statistical season of his decade-long NFL career. Those closest to him aren't the only ones taking notice, either.
"Somebody actually Tweeted me, 'Wow, it took you getting a real running back number to look like a running back.' I thought that was the funniest thing ever. But I'm still getting used to the 25. A couple weeks ago, in the game, the coaches were like, 'Hey, 38, get in!' And I took off running, and then was like, 'Ah, that's not me anymore.'"
No, that number now belongs to rookie rusher Rhamondre Stevenson, one of a young stable of Patriots ball carriers whom Bolden credits with helping him rejuvenate his career.
"Running around with these young guys, I can't look like the old guy all the time. Keeping their spirits up – this is a long season, and being that I know how it goes – I look at them and see how fast they run and I need to run fast just like them. We just push each other. The running backs, that's how all of us are. We see someone make a nice cut at practice and you'll see the entire group trying to work on that same cut. It starts off as us poking fun, but at the same time, we all want it. We try to have fun, as much fun with everything possible."
He also acknowledges current and former coaches and teammates, whom he calls "the right people to push me to do the right things," such as taking proper care of his body, eating healthy, and doing holistically what's best for him. "And just enjoying it. I'm still enjoying the game," Bolden asserts. "You have to stay in love with the game."
Undoubtedly, he's also gratified that his side hustle as the club's co-DJ helps establish a tighter-knit locker room. "It's just a matter of what everyone's in the mood for," he concludes. "Some days, I'll come in there and not play anything until somebody asks. The moment you get one request … especially with my phone. It detects the mood, I swear."
With the year he's having, it's difficult to imagine Bolden's mood being anything but good.