FOXBOROUGH, Mass. – If every sentence in this story looked like this …
sentence If every this in story this looked like …
… this like looked story this in sentence every If
… or even this most extreme example …
… siht ekil dekool yrots siht ni ecnetnes yreve fI
… imagine how much longer it would take you to read. You might become so exasperated by the process as to consider giving up on reading anything ever again. While perhaps not a precise illustration, the above exercise should nevertheless help give you a better understanding of what Lawrence Guy and other dyslexic individuals must contend with on a regular basis.
Compounding his own personal frustration, for the first two decades of his life, Lawrence hadn't any idea of why he perceived words and sentences so differently than most other people.
"It's called tracking," the Patriots defensive lineman can explain today, some dozen years following his diagnosis. "You look at a word and you read it from back to front. For me, I just read back to front. Mine is a little bit different than everybody else's. I know people that really read everything backwards. Sometimes that happens to me. You can see it with people who are reading more slowly. Their eyes are moving right to left, instead of left to right."
For Lawrence, his Patriots playbook, with all its more visual Xs, Os, and pattern depictions, can be much simpler for him to digest. Paragraphs of text on a page such as this, which seem orderly and structured to most of us, tend to appear chaotic to dyslexics. With practice, patience, and experience, Lawrence has learned to focus to a point where only a word or two might trip him up now, instead of an entire sentence.
"It depends," he adds. "Nowadays it's just words, but when I was younger, sometimes it was the whole sentence. For example … 'Fresh-picked produce.' Sometimes I'll read that backwards, from right to left. But it's normal to me now."
Now that he can put a name to his condition, which didn't happen until his third and final year as a college student-athlete and might never have happened were it not for Lawrence's dedicated dad.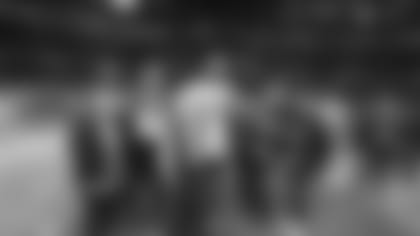 In today's polite society, adult human beings can still be cruel, just from a distance, with a modicum of anonymity from behind their various digital devices. When children of any era choose to behave insensitively to one another, it's often face-to-face.
Born on St. Patrick's Day 1990, the rambunctious youngest of Michael Guy's three boys discovered at an early age that he suffered from attention deficit hyperactivity disorder, commonly known by its acronym, ADHD. But that couldn't necessarily account for why Lawrence learned differently – and why as a result it seemed to take him longer to develop scholastically than his classmates.
Throughout his school years in Nevada, he took special education classes and extra courses to keep up, but the laborious nature of it all, relative to his peers, at times brought Lawrence to a breaking point. "It's challenging, you know," he admits. "When you're young, you don't truly understand it."
Which is why Michael wanted to have his son evaluated for dyslexia. To do so properly, however, required an investment of thousands of dollars that Michael didn't have.
In the meantime, Lawrence retreated inside himself. He had not yet become his imposing 6-4, 315-pound self. Consequently, some of his classmates felt emboldened to mock him openly for having a learning disability, even if none of them, Lawrence included, recognized or even comprehended exactly what that was.  
At home, though, Lawrence enjoyed the support of his loving father and two older brothers. But Lawrence felt most comfortable – most himself, perhaps – on a football field. In three seasons at Western High School in Las Vegas, a teenaged Lawrence transformed into a four-star recruit, tallying 238 total tackles (171 solo), 30.5 sacks, and three fumble recoveries.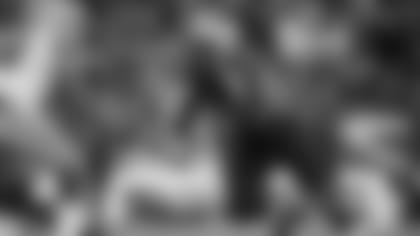 When major football colleges across the country like Arizona, Michigan, Nebraska, Oklahoma, Oregon, and Tennessee inevitably came calling, he chose the one geographically closest to his hometown, Arizona State, about a five-hour drive southeast of Las Vegas.
Lawrence played immediately as a true freshman, starting the final eight of the Sun Devils' 12 games in 2008. But with his increasingly challenging academic workload came a grade point average plummeting so low that his eligibility to continue playing football would be jeopardized if he didn't take swift, immediate action.
"You just don't have the will. Hey, I'm just tired," Lawrence recalls about that difficult period. "I had those ups and downs in life. It's not like I felt like I was behind. Some days I was just tired. Had a lot going on. I worked harder than everybody else. I had more on my plate.
"My dad helped me out through those tough times. A couple of times, when I was like, 'I can't do it anymore. This is a little too hard,' he really kicked in and helped me out. My family and my brothers, too."
Michael Guy discovered that Arizona State has a Disability Resource Center (DRC) that caters specifically to students with learning disabilities. They also provide thorough testing for dyslexia, minus the cost-prohibitive fee. At Michael's urging, Lawrence was put through several hours of in-person evaluation measures with a certified specialist, who came to the conclusion that Lawrence was not only dyslexic, but also had a math-related disability called dyscalculia (pronounced dis-cal-KYOO-lee-uh).
Lawrence contends that his math nonconformities never prevented him from learning that subject with noticeable difficulty, but even before he discovered that his reading disability could be explained with a name, he decided to embrace the resources available to him. With all tutoring options, Lawrence upped his GPA into the 3s and maintained his football eligibility.
"Arizona State gave me this opportunity to further my education, my career in football, my growth as a man ... Why am I letting that fall through the cracks, just because I'm scared to go ask for help?" he points out. "I broke the barrier down of being uncomfortable asking for help. That's a big stigma we have in the sports world. As men, we are afraid to ask for help.
"I'm truly blessed that my dad found that resource for me. And he kept pushing me. There are a lot of things I can say I gave up on. I'm human, and I had my bad days, my falls, but he continued to push me to strive to be better."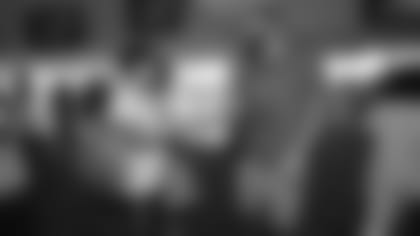 Following three productive seasons at Arizona State, Lawrence opted to enter the 2011 NFL Draft. The Green Bay Packers eventually selected him in Round 7, but finding a permanent home in professional football quickly became another struggle for Lawrence to overcome.
A preseason injury landed him on Green Bay's injured reserve list, ending his rookie season before it could even begin in earnest. In 2012, he split time between the Packers and Colts organizations. The following season, he bounced from Indy to San Diego, then in 2014, from San Diego to Baltimore. After two solid seasons with the Ravens in 2015 and '16, Lawrence inked a four-year free agent deal with New England in the spring of 2017. When that contract expired this past offseason, he and the club came to terms on a second four-year pact.
Here again, Lawrence draws on his father, Michael, a 25-year firefighter, for inspiration. "I started doing Thanksgiving turkey giveaways with him when I was 17. He went on a call during the holidays one year and saw this family's whole house burned down. Christmas Eve, they lost everything. He went to the store and bought everything he could for them – toys, food, and all that. The joy from that got him to push us to do more. To make in a yearly thing."
He's done more than make it a yearly pursuit, and hasn't limited his community involvement to Thanksgiving. After Lawrence and Andrea lost a baby due to a miscarriage, he chose to highlight the organization that helped them cope with their loss, by featuring them on his footwear during the NFL's My Cause, My Cleats initiative in 2017. He's also expanded his outreach to those less fortunate by sponsoring backpack giveaways to students and baby showers for underprivileged mothers, to cite a couple of other specific examples.
"The community comes out so much for us on Sundays," says Lawrence, "that this is where we can show that we're here to support them, too."
Lawrence's charitable work often puts him in direct contact with schoolchildren, some of whom may be dealing – unwittingly, perhaps – with the same learning challenges that he once faced. For them, he offers a specific message that he can back up with personal experience.
"I tell them a little bit about my story, but the biggest message I have is, there's a difference between playing around and people trying to hurt your feelings and hold you back. The difference is, if your friends are not willing to help you out, to make strides with you, and all they want is to make fun of you and make sure you don't have the confidence to grow, they're not a friend. They're just holding you back. You should not be around those people. They're not trying to help you grow as a person. They want to put you in this box that you shouldn't be in.
"I struggled, too, and it's acceptable to struggle," he adds. "The things you learn on that journey are going to mold you into the person you are today. The only person that's really holding you back is yourself. No other person can tell you it's wrong or you can't do that or make fun of you for getting the proper tools to help you succeed. That's pretty much the message I gave them. Don't let any person, man or woman, bring you down when you're trying to improve your life."