FOXBOROUGH, Mass. – When you're the biggest – in your family, in your class, in the National Football League – you're naturally going to stand out. Being different for difference's sake is not necessarily a quality Trent Brown ever desired. It's not as though he's a conscious contrarian or rebellious spirit. Somewhat the opposite, in fact.
"Structure has never been an issue for me," New England's starting right tackle contends. "You can even ask my parents. I've always been a pretty headstrong guy. Anything I wanted to do, I was going to do, no matter what anybody said."
It might be fair, though, to characterize Brown as a paradox. A towering fellow whose best friends are diminutive. A child from a military and law enforcement family who never had any interest in pursuing those professions, despite choosing to attend a military school. An athlete with a hoops pedigree who eventually pivoted to the gridiron. A career right tackle who, when he first arrived in Foxborough in 2018, was thrust into a left tackle role, started every game there, and helped the Patriots win a sixth Super Bowl title.
Perhaps it's more understandable, then, that his own outsized ambition has proved the biggest challenge Brown has thus far had to overcome. "It was about applying myself and managing my time. I believe," he reveals, "I have testing anxiety."
Born Trenton Jacoby Brown in Bastrop, a suburb east of Austin, the Texan capital city, Trent (as he's more commonly known) grew up in Albany, a city in southwest Georgia that's closer to the borders of Florida and Alabama than Atlanta. Ninety minutes away, in Milledgeville, sits the primary campus of Georgia Military College (GMC), an institution Trent heard much about throughout his childhood.
Trent's parents, Reginald and Tiffany Brown, and other relatives served in the military. One of Trent's aunts worked with the Federal Bureau of Investigation before becoming an assistant chief of police. Reginald Brown now works as a captain in the Albany Police Department, but early on, he played professional basketball, mostly overseas. When he and Tiffany had children – Trent and his older brother, Reggie Jr. – the two boys played basketball and football. Reginald often coached their teams, placing his big boys on older squads to expose them to stronger competition.
"I was good at both," Trent remembers. "Whichever one I chose, I was going to make it at some professional level."
While Reggie Jr., a versatile skill position football player, followed his father's path to the basketball court, Trent quickly determined that football was more his speed.
"That's the funny thing," he observes. "I didn't start playing offensive line till high school. The first position I ever played in football was running back. I played every position in football except center. It was a more physical game and I enjoyed it more. I've never been a skinny tall guy, a scrawny guy. Had a muscular build. Nobody in my family is skinny. Even my mom's side of the family is tall, big people.
"I was really good at basketball and would have been better if I played the sport for the love of it. I just played because I was good at it. And," he laughs self-consciously, "it was another way to get out of school."
Trent admits he didn't apply himself scholastically, doing only the bare minimum. He later transferred from Deerfield-Windsor to Westover Comprehensive midway through high school. According to Trent, he made decent grades, but found difficulty with standardized tests, such as the SATs. Consequently, as he grew into a coveted college recruit, his scores and grade point average wouldn't qualify him to play for the most prestigious NCAA programs.
In 2011, Trent faced a choice. He could attend a prep school as a post-graduate, where he'd inevitably have to retake the SATs, with no guarantee that he'd achieve a qualifying score and thus be forced to continue his education at a junior college. Or he could go straight to a JUCO, such as Georgia Military College, for two years, then transfer to a Football Bowl Subdivision (formerly Division I) college.
"It was an easy decision to make," maintains Trent, who immediately enrolled at GMC rather than postpone what he felt was the inevitable disappointment of another failed test. "I knew," he adds jokingly, "I didn't have to worry about what to wear to class every day because we had to wear a uniform."
For two years, while playing football for the GMC Bulldogs, he also had to perform military functions like physical training, formations, parades, marches, and more, in addition to keeping up in the classroom.
Plenty of D-I colleges came calling again after Trent earned JUCO All-America honors in 2012, and in 2013, he chose the University of Florida over all of them, including its rival and his home state school, the University of Georgia. Brown started 23 games over the next two Gators seasons before the San Francisco 49ers made him one of the final picks of the 2015 NFL Draft.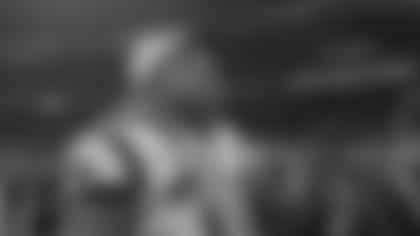 As an NFL rookie, Brown saw limited action in five games. By 2016, however, he started all 16 games for the Niners, including one at left tackle. Again during an injury-shortened 2017 season, he made one start at left tackle, but had established himself as San Francisco's primary right tackle. Those brief appearances on the left side, though, had opened some eyes on the East Coast.
Prior to the 2018 NFL Draft, New England traded with San Francisco to acquire Brown. In need of left tackle help when longtime starter Nate Solder signed with the New York Giants as a free agent that offseason, the Patriots believed Brown filled that bill. He would affirm their trust in him, starting every game at that position and, in so doing, helping solidify an offensive line that became instrumental in run blocking, pass protecting, and capturing for New England the Super Bowl LIII crown.
A free agent immediately thereafter, Brown accepted a four-year, $66-million contract from the then-Oakland Raiders which made him the highest-paid offensive lineman in pro football. The Raiders moved Brown back to right tackle, where he would start only a combined 16 games in which he played over the next two seasons.
Once more in need of offensive line help, the Patriots reached out to the Raiders during the 2021 offseason to work out another trade to acquire Brown a second time. Though a Week 1 calf injury would cause him to miss almost all of the first half of this regular season, Brown's return to right tackle in November has helped stabilize a Patriots offensive line that went through myriad iterations throughout his absence.
Although he only spent two years at GMC, Brown, who'll turn 29 in April, thinks the experience there reinforced a long-held belief in himself. "That I can do anything I put my mind to," he explains. "I've never had a Plan B. It was either going to be basketball or football. I look back on it and I'm in the NFL now, seven years in. I don't regret any decisions I've made."
His only regret, that Reggie Jr. chose to focus on basketball. "He was really good at tight end, receiver ... My brother should have kept playing football. We would have been just like the McCourtys," Trent laughs. "We're not twins [like Devin and Jason], but it would be something like that."