FOXBOROUGH, Mass. – Maybe you didn't immediately register the name. Matt … Judon? Or is it Matthew? He's okay with either.
When the Patriots made him one of their first 2021 free agent signings, inking Judon to a four-year, $56 million pact back in March, you might've had to do a quick internet search to find out more about him, only to discover that he's been named to two consecutive Pro Bowls (2019 and '20) and earned the Baltimore Ravens franchise player designation prior to last season.
Don't feel ashamed, though. Easy-going and affable, this 29-year-old won't take it personally. After all, it's not the first time he's been overlooked, only to win over his disbelievers.
By now, however, you've surely come to recognize Matt Judon by the trademark red sleeves he wears under his Patriots uniform, as well as the big plays he seems to make week after week for New England's defense. Entering Week 5's visit to Houston, the outside linebacker found himself tied for fourth on the team with 16 total tackles (10 solo), but the undisputed leader with 4.5 quarterback sacks – an average of about one a game.
Not too shabby, especially considering that, as a youth, Judon didn't even like to tackle, and later, as a high school recruit, couldn't get any of the several Division I schools in his area – or almost anywhere else, for that matter – to give him the time of day.
About a half-hour's drive northwest of downtown Detroit, West Bloomfield boasts the largest Jewish population in the state of Michigan. Yet, even if every resident of the township, regardless of religious affiliation, were to attend a game at Gillette Stadium, they'd fall about 1,000 seats short of a sellout (2020 census figures put West Bloomfield's total population at 64,860).
In next-door Pontiac, where the Detroit Lions long played in the Silverdome, Judon first put on football pads as a fourth grader. For the next several seasons, he carried the ball as a running back, but by the time he reached junior high, his coach there felt he could excel elsewhere.
"He saw what I didn't see in myself," Judon says of that man, William Gholston, of the same Gholston family that produced NFL defensive ends Vernon (New York Jets et al) and William (Tampa Bay). "I was always pretty talented when I was little. I wanted the ball in my hands and never really liked to tackle. But he saw different potential. 'At the next level,' he said, 'you're best at putting your hand in the dirt on the defensive line.'"
Gholston's prophecy would eventually be fulfilled, but Judon admits that his high school numbers weren't the flashiest. "You had to come watch me play," he adds, "and I don't think scouts were coming to watch West Bloomfield back then."
Indeed, the only schools who showed interest in Judon as a high school senior, when he recorded six sacks and 86 tackles, were from the Division II ranks. One top-echelon program, the University of Buffalo, showed mild interest at the last minute, but by then, Judon had narrowed his choices down to Wayne State in Detroit and Grand Valley State, a couple hours west on the opposite side of Michigan.
"Grand Valley was the nicest campus," he recalls of his first visit there. In 2010, the Lakers' first-year head coach, Matt Mitchell, who still oversees the program, decided to redshirt Judon. But folks at the school immediately saw that this player was destined for greater heights.
"What kind of killed my confidence or my pride was when I had to go D-II," Judon admits, "but when I got there, everyone was like, 'You can play at that [NFL] level.' So, I never really thought I couldn't play at the next level. I just needed the opportunity to prove that I could."
He would go on to start 32 of his 42 games for Grand Valley, finishing as the school's all-time sack leader with 35. Despite enduring a medical redshirt year along the way (Judon tore an ACL in one of his knees), he responded with a 10.5-sack season and, following both the 2014 and '15 campaigns, earned his conference's Defensive Lineman of the Year Award. With this, Judon finally began receiving attention from NFL scouts.
Though he confesses it still bothers him at times that no major college programs recruited him, Judon maintains that he wouldn't trade his Grand Valley State years for anything. During college, he met a young lady named BreighAnn. They would later marry and have their first child, a daughter they named Aniyah.
"It was a great experience … Got to learn a lot more about football – the scheme and why you'd make different calls in different situations. It was really good for me. I made friends that I'll always have for the rest of my life. As a person and as a football player, Grand Valley was one of the best things I ever could have done."
Life appeared to be working out perfectly for Judon and his young family, but an unforeseen ordeal would soon draw them even closer together.
At the 2016 NFL Combine in Indianapolis, a reporter asked Judon why he thought the Division II prospect could play at the highest level. "I was like, 'Why can't I?'" remembers Judon. The Baltimore Ravens seemed to agree, making Judon a fifth-round choice (146th overall) in that year's NFL Draft. They also made the 6-3, 260-pound player switch from D-line to linebacker.
As a Ravens rookie, Judon appeared in 14 games. In 2017, he started 12 of 16, earning AFC Defensive Player of the Week honors that same November.
"The first year, it was a little difficult," he admits, "but after that, I learned from the guys in my [linebacker meeting] room and watched them. Then came more understanding of the defense, how teams attack you. That made me a better player. Having to drop [into pass coverage] wasn't hard, but knowing where to drop and when and who to cover and why ... That makes a difference. Becoming more knowledgeable about the game made it an easier transition."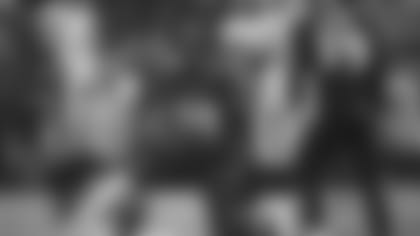 Judon wouldn't start as many games for Baltimore in 2018 (eight), but nonetheless played in all 16 contests, plus the playoffs. He'd established himself as a regular contributor for Baltimore. So, as the 2019 offseason approached, Judon had reason to be optimistic, on the field and away from it. He was entering the final year of his contract, and BreighAnn was carrying their second child.
Six weeks into her second pregnancy, and four years after her first, BreighAnn miscarried. "What's wrong with me?" she repeatedly asked herself and her husband. "Why did this happen? How can we prevent this from happening?"
"It was a constant battle she was facing, not understanding or knowing why," Judon recalls. "You ask the doctors and they don't really have an explanation for you. You're trying to get answers and there are no answers. That was mentally taxing on us."
The couple would learn that miscarriages are far more common occurrences than they expected. Some medical studies have shown that as many as 20-percent of pregnant women who know they are with child experience miscarriages (defined as the spontaneous or accidental expulsion of a fetus from the mother's womb prior to the 20th week, before it is capable of surviving independently).
That number could actually be higher, they discovered, because medical experts believe many women who have miscarried were not even aware they were pregnant in the first place, because it occurred so early in the gestation period.
"Going through that experience brought me and my wife closer together," he asserts, "but also softened me up a little more to the things she goes through during pregnancy. As men, we don't have any clue what a contraction feels like or anything like that. Obviously, she doesn't understand what going through a training camp feels like on my body. But for her to experience a loss. I lost a child as well, but she carries the child, births the child."
Knowing they weren't as alone as they originally felt in this suffering, the Judons decided to start talking about it with other people. When BreighAnn became pregnant again soon thereafter in late summer 2019, she and Matt posted the news on social media, with a disclaimer revealing their earlier miscarriage. Almost immediately, family, friends, and followers began confiding that they, too, had borne such grief. Their public disclosure proved therapeutic for all.
"That was moving to us," he reveals, "because … it's more common than people like to think, but nobody speaks about it. We spoke about it, and it helped us move forward."
The 2019 NFL season unfolded as Judon's best thus far. After starting all 16 game for Baltimore, plus the club's lone playoff appearance, Judon earned his first Pro Bowl recognition, then received the Ravens' franchise tag during the 2020 offseason. His and BreighAnn's second child, a son named Leonidas, would later come into the world.
"We were just so thankful to turn around and get pregnant again," says Judon.
Following another strong showing throughout the 2020 regular season and playoffs, he became a free agent in March 2021. New England came to an agreement with him during the so-called "legal tampering window" prior to the official start of the 2021 NFL League Year.
As the Patriots prepared for their trip to the Houston Texans this past week, Judon couldn't help bringing to mind the child that he and BreighAnn never got to meet.
"My wife and I were just talking about it Tuesday night on our drive home. That child would have been two years old right now. Its birthday would have been three weeks ago. But I have two children and a third one's due November 30. He or she – we don't know the gender – is probably going to come early. Hopefully it comes earlier, for my wife's sake. She's been through enough."
Thrilled as they are for its impending arrival, the Judons' third child will likely be their last. With their new home here in New England, Matt believes he's in a good place today, both literally and figuratively, with his family and his football career.
"Every year, people get drafted and they don't pan out or they were drafted too high and someone who was drafted in the sixth round becomes and All-Pro and a household name. We see it every year. It's not a lack of scouting. Sometimes, people make mistakes. Football is a very human-error sport. The human error of recruiting, evaluating, drafting happens every year.
"I was never out to prove people wrong," Judon insists. "As long as we're in our respectful spaces, we're all entitled to our opinions. So, if you don't think I can play or don't think I'm that good, all right. You can just have that argument and list your reasons, but I'll go out there and continue to do what I'm doing."
The Patriots certainly hope so.