FOXBOROUGH, Mass. – As the final moments of Thanksgiving Weekend 2021 ticked away, the Patriots were only a few hours removed from having defeated the Tennessee Titans 36-13 at Gillette Stadium, when a surreal thought struck New England cornerback Jalen Mills. Sitting at home on his couch, he turned to his girlfriend and said, "You know what's crazy? I'm in the NFL." With a quizzical look, she responded, "Six years later, you're just realizing that?"
Recounting the conversation to a reporter, Mills divulges that, even with a Super Bowl ring from his former club and a four-year, $24-million contract with his new one, he finds it difficult to reconcile that he's living this life.
"I just don't see myself as that," he explains, "how little kids look up to me, run up to me and scream for autographs. I was once a kid that didn't have all those things – the best past, the best living conditions. I didn't have NFL aspirations."
Yet, here he is in New England, with a colorful coif and corresponding sobriquet, plus all the accoutrements to which a professional athlete could aspire. He also has something meaningful for which to play this coming Monday night in Buffalo, apart from his team's playoff positioning. Something deeply personal and poignant that, if all goes according to plan, will transport Mills back to his humble upbringing in the Lone Star State.
Those who knew him best would tell you that sports never much interested Uhkoto Chatman. Instead, they would describe the Texas man as a hardcore news junky. Before liver cancer claimed his life on November 16, 2017, Uhkoto loved little more than to relax in his Dallas-area home watching 24-hour cable TV news networks.
If anything brought Uhkoto as much joy, perhaps it was the close relationship he enjoyed with his nephew, a boy who dreamt of becoming an aviator or a brain surgeon, loved the color green, and did enjoy sports, but also genuinely held his Uncle Uhkoto in high esteem. Eventually, though, another man would vie for the child's admiration.
"From the start," Jalen Mills confesses, "my first love was basketball. My mom loved basketball and used to take me to Dallas Mavericks games – Dirk Nowitzki, Jason Terry, Jerry Stackhouse, all those guys." Great though these hometown players were, none could hold a candle in Jalen's eyes to Allen Iverson of the Philadelphia 76ers.
The 6-foot guard – known for his braided hairstyles and by his two nicknames, A.I. and The Answer – thrilled and inspired a prepubescent Jalen with his on-court killer instinct and fearlessness when taking on players much bigger and taller than him. When Jalen played youth basketball, he tried to emulate Iverson, down to his trademark uniform style.
"I tried to grow my hair out. I had a little bitty 'fro and tried to get braids, but my mom wouldn't let me," Jalen recalls. "I used to wear the headband, the finger wrap where he had his number, a sleeve on my arm. I had all his shoes, the Reebok Questions and Answers. I had his throwback 76er jersey when they were red, black, and a little bit of gold."
By the time Jalen reached high school, however, he'd fallen out of love with basketball because, as he admits with a self-effacing laugh, "Dudes got too tall, too fast!" He switched to football, starting off as a quarterback and wide receiver. During a workout with fellow wide receivers entering his sophomore year at Lancaster High, just south of Dallas, the defensive backs coach approached Jalen. He remembers the man saying, "Hey, I know you think you're a receiver, but you're really a DB. Why don't you come train with me? I think you have a chance to get a scholarship playing cornerback or in the secondary.'"
Now the secondary coach at the University of Missouri, Aaron Fletcher had made an offer and a prediction that would have positive repercussions in Jalen's life to this day.
"I loved competing and making plays and having fun with the guys playing football. It's a kid's sport to me," adds Jalen. "If I could get to college and a get a full ride, that would be a dream. My mom didn't have the funds to send me to any college. I had this opportunity to use what God blessed me with, so, why not."
Jalen agreed to switch to defense, and it paid almost immediate dividends. By his junior year, major college programs were showing keen interest. However, in the classroom, Jalen's grade point average couldn't keep up. Coach Fletcher knew Jalen needed to make another move – to a better school and a better environment that would help his player focus on his academics. His senior year, Jalen transferred to next-door DeSoto High, and Fletcher went with him. Together, they helped guide their new school to a 10-2 record.  
As Fletcher predicted, Jalen eventually made the necessary grades to earn a football scholarship to Louisiana State University. As a true freshman in 2012, Jalen started all 13 games for the Tigers and finished with Freshman First-Team All-America honors. Only during an injury-shortened senior season did he miss any games at LSU. However, Jalen had done enough to be selected by the Philadelphia Eagles in the seventh round of the 2016 NFL Draft.
"My coach changed my life," Jalen remarks about Fletcher's ongoing influence. "My first couple of years of high school, I was a problem child a little bit, just trying to be with the cool kids. He's all about helping the youth. He's a blessing. I still talk to him. He's still my mentor."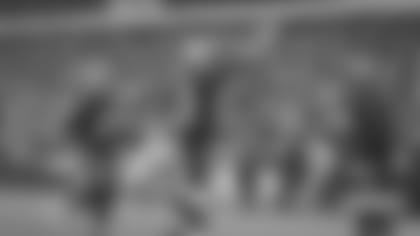 In Philadelphia, Mills played for a team whose primary color happened to be his favorite. Thus, he began dying his hair green, the genesis of his nickname, Green Goblin. Jalen also found himself living in the same city where his boyhood idol, Allen Iverson, began his long NBA career.
But as often as she'd taken her son to see the Mavericks play, Kisa Mills refused to take him on one particular occasion when Iverson's team came to town years ago. "I messed it up," Mills admits. "I ended up getting in trouble at school and my mom didn't let me go. I still think about that to this day."
Mills never got to watch Iverson play in person, but his mother would later stun Jalen when she arranged to introduce the two. "I still don't know how she did it," he adds with a chuckle.
During his second season with the Eagles, Mills helped Philly defeat the Patriots in Super Bowl LII. Two months later, on his 24th birthday, he'd returned to LSU's Baton Rouge campus to attend the football team's spring game. She informed Jalen that he was about to receive a FaceTime call from a number he didn't recognize, but that he should trust her and pick up the call.
"So, I answered and sure enough, it was AI. He said he heard I was a big, big fan, and he was a fan of me, because we had just won the Super Bowl against New England. He knew me by my style of play, and of course, I had green hair, and he was calling to wish me happy birthday. After that, I went to a couple of Sixers games here and there, got to meet him, talk to him, sit next to him. Surreal moments.
"I was turning 24 years old," observes Mills, who has grown to the same exact height as Iverson, "but if you were standing next to me on that call, you would have thought I was 12. Just smiling, telling him how much I respect him, how he inspired me to play sports the way I play it now. He was always hitting the floor, but always got up. It didn't matter who he was going against. That inspired me. He was one of the smallest guys on the court and he's playing like he was 7-feet tall. I want to be the biggest dude on the football field. I'm 6-foot, but try to play like I'm 6-5. That's the mindset I have."
Late in the Eagles' eventual Super Bowl-winning season, Jalen's Uncle Uhkoto lost his battle with cancer. The once-close relatives had long since drifted apart and fallen out of touch. As a result, only in the wake of Uhkoto's death did Jalen learn that his uncle – a man who otherwise shunned sports – could quote his nephew's NFL statistics chapter and verse: every pass breakup, every interception, every tackle, every game, Uhkoto was keeping track of Jalen. The discovery left him with a heavy heart.
"It kind of broke me down," Jalen reveals, "because we had grown apart. We were close at one point in time. It took that moment for me to realize, this is a man I looked up to as a younger kid, and now he was looking up to me, keeping up with sports that he didn't even care about. So, I wanted to honor him in my own quiet way ... You're the first person I've told this to."
In 2021, Mills would get that opportunity. After signing his free-agent contract with New England this past spring, Jalen learned that the NFL would relax its jersey number restrictions, allowing certain positions beyond kicker, punter, and quarterback to wear single-digits on their uniforms.
Mills, who wore 31 and 21 at times as an Eagle, chose No. 2 here in New England. You see, almost no one ever called Uhkoto – pronounced a-COO-too – by his full name. They preferred his shortened nickname: Two.
This Monday night, when the Patriots travel to Buffalo to face the Bills in a critical AFC East matchup, Jalen Mills hopes to pay further tribute to his late uncle by wearing a new pair of customized cleats.
Each December, in a month-long observance known as My Cause, My Cleats, the NFL encourages its players to don bespoke footwear to highlight charitable causes that are personally meaningful to the individual players. The tradition has become so popular around the league that increasing orders for the unique designs are challenging manufacturers to meet their deadlines.
As of the Thursday prior to the Bills game, Mills was at Gillette Stadium still awaiting the completion and delivery of his new pair. "If he gets them to me and I have them on," Mills alerts his audience, "you should just be on the lookout for some green cleats."
More than Mills' lifelong favorite, green just happens to be the awareness color representing liver cancer – the same disease that robbed Ukhoto Chatman of his life four years ago. "That," adds Mills, "is what I'm representing."