FOXBOROUGH, Mass. – A generation ago, Philadelphia, Pennsylvania had a problem that could no longer be ignored. A number of them, for sure – the same could be said for almost any big city – but one in particular began receiving widespread media attention and helped get the city's new mayor elected.
"Tens of thousands of junked cars litter the streets of Philadelphia, sometimes sitting for years before being towed," read an Associated Press article dated April 4, 2000. "Some are left by car thieves or unlicensed mechanics after being stripped for parts. Others are abandoned by owners who cannot afford to repair them."
As a result, aptly named Mayor John Street sought to fulfill a campaign pledge by unveiling an ambitious initiative to eradicate these eyesores in just 40 days' time. Street's self-proclaimed "zero-tolerance program" vowed to rid Philadelphia of every abandoned vehicle by towing them away at a rate of 1,000 per day.
According to that same AP story, Street's administration 1) set aside parcels of land on which to store the cars before determining if they were salvageable or not, 2) raised sufficient funds to compensate salvage companies involved in the program, 3) established a hotline for residents to call and report the locations of abandoned vehicles, and 4) secured the services of 100 tow trucks to carry out the plan.
"Officials call mayor's car removal plan successful," came a headline in The Daily Pennsylvanian two months later, after Street's 40-day promise concluded having disposed of 33,000 abandoned vehicles. The hotline would remain operational indefinitely, while a special unit of the police department would deal expressly with any future abandoned vehicle issues, to prevent the problem from getting out of hand.
Amid the congratulatory coverage, the fact that one of the many tow truck drivers accidentally died while carrying out his job seems to have gone underreported. As he loaded one such car onto his truck, Wayne Smith Sr. either didn't notice the vehicle sliding off its moorings or couldn't get out of the way in time before it landed on top of him, crushing him to death. The 40-year-old left behind his wife, Karen, and their six children – four girls and two boys. Their youngest wouldn't turn 5 years old until later that summer.
More than two decades since the tragedy, that young boy, now a 26-year-old young man, clings to gossamer memories of his late father, in hopes of thereby preserving them. "That's a lot of mouths to feed, especially when you grow up in a low-income area. Whatever he could do – the legal way, of course – to provide for his family, he made a way. Did a lot of side jobs.
"My dad was always working. I remember him coming home from work, telling me he's going to work, taking me and my brother to his job and showing us around town. My dad wore a lot of hats ... I decided to take that from him and apply it to what I do today."
What Jonnu Andre Smith does today is play tight end for the Patriots, after inking a four-year, $50 million free agent contract with New England back in March 2021. Long before Smith could apply his father's work ethic to such a high-profile occupation, he would have to endure even more personal trauma, embrace his religion, and bid Philadelphia goodbye for good.
Wayne Smith's death had helped set in motion a new course for his young son' life, one that somewhat resembled a popular '90s sitcom. Very little about the circumstances surrounding Jonnu Smith's early years, though, could be considered humorous.
Nowadays, Philadelphians refer to it as "Uptown" – an area north of the city center that includes the Germantown neighborhood. With foundations in American Revolutionary War history, Uptown had become fraught with poverty and crime by the late 20th century. In the decade following Wayne Smith's death, it would prove an increasingly perilous place for Jonnu to grow up.
While Smith concedes there were always other children who had it worse off than him, he confesses that he sometimes fell in with the wrong crowd. "Like a lot of neighborhoods in the inner city across the country, African-American teens are sucked into this lifestyle that's not the best. We don't have the best influences around us. People my age that I hung with started getting murdered, over drugs.
"That's when it really got real. They weren't making it out of high school. It would have only been a matter of time ..." Smith doesn't need to finish his thought to make his point. He, too, would likely have met with misfortune, perhaps even a fatal end, had he remained in Uptown long enough.
Karen Smith, his mother, recognized this as well and did her best to counter these powerful, potentially destructive forces by toting her youngest child along with her to church every weekend. She also overcame her initial reluctance and eventually yielded to her child's persistent pleas to play Pop Warner football. At age 5, not long after his father passed, Jonnu first put pads on for the for the Northwest Raiders. Almost instantly, he fell in love with the sport and harbored ambitions to reach the highest level, the National Football League.
Karen couldn't comprehend her son's passion for "this aggressive sport," as he remembers her calling it, but a peer named Willie Jefferson sure did. Better known by the nickname "Quasim," he loved football as much as Jonnu, and the pair became fast friends, thick as thieves.
"We were at that rebellious age, doing things that could have gotten us in trouble, but not ruin our lives," Smith admits. "But if you continue to do those things over a period of time, it's only going to get worse and worse."
Indeed, trouble always seemed to lurk in Uptown. So, when he reached high school, Karen enrolled Jonnu at New Media Technology Charter School, which had everything Jonnu needed except a football team. "She didn't know too much about sports and recruiting," he explains. "She was just trying to raise a young, African-American man in the inner city with all the odds stacked against him. She really liked the school, which wasn't in the same area I grew up in."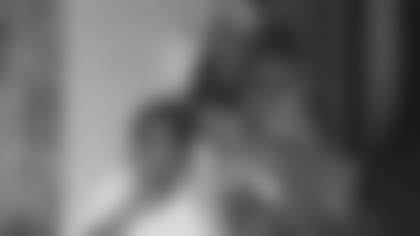 Following his freshman year, over the course of a month during the summer of 2010, a powder keg of violence exploded too close to the Smith home. Their next-door neighbor, a boyfriend of one of Jonnu's sisters, was killed. At the same time, Jonnu's then-20-year-old brother was arrested and charged with homicide in a separate incident.
Pouring whatever limited funds she had into retaining a lawyer to help clear her older son's name, Karen realized she couldn't sufficiently provide for her youngest. To save Jonnu, she decided to send him away to live with her sister, Daria, and Daria's husband, Mike, in Ocala, Florida, 90 minutes' drive due west of Daytona.
A good kid from a bad part of Philadelphia, sent off to live with his aunt and uncle in a far-off state. Asked if he draws any parallels between himself and the fictional character portrayed by actor Will Smith (no relation) in "The Fresh Prince of Bel-Air," Jonnu Smith chuckles patiently for likely the umpteenth time he's had to endure someone posing the question.
"She made a huge decision to send me to Florida," he says of his mother, "and it definitely changed my life for the better. She was just trying to put me in the best situation."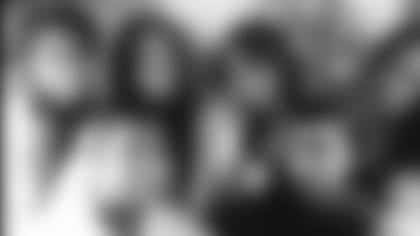 A BREATH OF FRESH FLORIDA AIR
It wasn't as though Daria and Mike Kirkland were complete strangers. Quite the opposite, actually. The couple and their own children previously lived in New Jersey before moving permanently to Florida, and Jonnu frequently crossed the Delaware River to stay with them during his childhood summers.
"Then," he adds, "when they moved to Florida, I would go there for the summer. We were really close. I'd spend months with them at a time. It wasn't foreign to me. But to know that this was going to be my home base, that was a little different for me. I felt a lot of emotions having to leave for Florida. I was able to leave, but my best friend, Quasim, was stuck in the same environment."
Knowing he'd not only be able to play football once again but do so at one of the most elite high school levels buoyed Jonnu's spirits and reignited his desire to pursue an eventual career in the NFL.
"There was a point where I didn't think I would play high school football. So, I was crazy excited. When I left Philadelphia, I kind of had that survival skill. I knew that nobody [in my neighborhood] wanted to be involved with the things they were involved with or live the lifestyles there were living … I had an opportunity, a chance to make it out, that a lot of these guys I was hanging out with weren't given."
At West Port High in Ocala, Jonnu played and received regional accolades for football, while also building up his body as a weightlifting competitor. He caught nine passes for 101 yards and two TDs as a junior, then led his team with 34 receptions, 517 yards, and another pair of scores as a senior. However, only one Division I college offer came Smith's way, from Florida International University's new head coach at the time, Ron Turner. Smith accepted.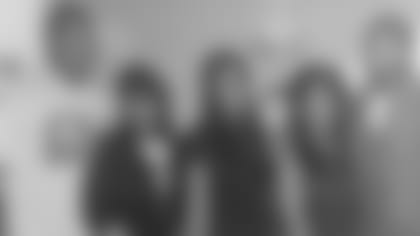 A true college freshman in 2013, Smith started all 12 FIU games, leading the Panthers in receiving with 39 grabs for 388 yards. He also gained Conference USA recognition for his efforts. Again in 2014, Smith started every game and posted even better numbers, leading the nation in three tight end categories: receptions (61), yards (710), and touchdowns (eight).
An injury cut short the end of his junior season by four games, but following his senior year in 2016, Smith closed out his college career having hauled in at least one pass in every game he played, a streak of 43 games that ranks second all-time in FIU history.
In the spring of 2017, the Tennessee Titans made Smith a third-round pick in the NFL Draft (100th overall) – an accomplishment he understands would not have been possible without the Kirklands' generosity.
"Thank God," he says, "we had a loving family in the South that was in a better situation and more than willing to take me in and not only be an aunt and uncle to me, but like a second mother and father, and my cousins being like second brothers and sisters. I give them a lot of credit. It's not easy. They could have easily said, 'We've got our own family to worry about.' They did it out of pure love, but I always feel indebted to them."
Before achieving his NFL dream, Smith had no idea if he'd ever be able to repay the kindness afforded him by his Aunt Daria and Uncle Mike. So, throughout college, he paid it forward.
Saturday, October 1, 2016 should have been one of the most joyous days of Jonnu's senior season. He and his FIU teammates had just narrowly upended Florida Atlantic 33-31 at Riccardo Silva Stadium, the Panthers' home field, for their first victory in what would otherwise be a disappointing 4-8 campaign.
Days earlier, upon learning he was to become a father for the first time, Smith phoned a thrilled Quasim to help pick out a suitable name for the child.
"At the time, my son's mother and I came up with a first name, but we couldn't think of a middle name. We couldn't think of a full name for him. Quasim was all excited ... I kind of knew my career in football was headed in the right direction. All he talked about was coming to the games and being able to see me. 'I can't believe you've made it this far!' Those were the conversations we had."
Their talks typically happened not over the phone, but in person. At FIU in Miami, some five hours south of Ocala, Smith enjoyed a measure of independence for the first time in his life. Yet, he couldn't help dwelling on Quasim's turmoil back in Philadelphia.
"I knew his life was threatened a lot. I would tell him to come and stay with me. I probably shouldn't have done this, but I knew what he was going through. I would fly him down or he'd take the bus and stay in my dorm room with me for months at a time. I'm giving him my student books, eating in the cafeteria, whatever we could do. He was like one of my brothers. I'm letting him enjoy college without having to go to school. That's a dream come true!" Smith laughs.
"I was clearly going against dorm rules, letting someone live on campus with me, but I'm literally helping this man get away from being murdered. That's how I was looking at it. I'm a 20-year-old kid at the time, and if you ask me to make a decision like that, it's easy. His mom would call me crying, thankful that I was able to let him stay with me."
Quasim routinely stayed to watch Jonnu play at FIU, though not this particular time. Before the Florida Atlantic game, he'd returned to Philadelphia. Late that autumn Saturday, while Smith celebrated with friends and teammates, his phone rang, carrying with it the news he'd been dreading. On the other end of the line, Karen Smith informed her son that his best friend had been killed.
"That crushed me. A lot of thoughts went through my head, like, 'Maybe I shouldn't have let him go back. Maybe if I'd just tried to keep him down here …' He goes back and … you see what happened."
No longer able to help his best friend, Jonnu could at least honor Willie Jefferson's memory. Jaiyen Smith, Jonnu's first-born son, had finally found a middle name. Quasim.
Today, Smith is father to two boys with whom he is eager to make the kinds of memories he never got the chance to experience with his own dad. He praises his mother, Karen, as "the strongest woman in the world" for how she valiantly tried to play both parental roles for Jonnu after Wayne died. Still, he can't help but recall his late father every day and contemplate what might have been.
"It's been an empty void for me [not having a father], but with Christ, he was able to fill that void. When you're younger, you kind of just go to church because your mom makes you. You don't really know much of anything at all [about religion], but the bible says …
"Train up a child in the way he should go, and when he is old, he will not depart from it." ~ Proverbs 22:6
"That's definitely my life. Growing up, I always had questions, as most children would, but as I became a man and thought as a man, I was able to experience my faith for myself and came to believe what I know on my own. It definitely was because of my family planting that seed in me.
"God is first in my life and always will be. It's who I am. It's what makes me be. It decides every decision in my life. I don't make every decision right, as none of us lives a perfect life, but that's who I am.
"I often think," he reveals, "about how proud my father would be on the sideline cheering his baby boy on. I think about my brother more than anything. Being arrested and convicted. To this day, we fight for his freedom. Prior to my brother being accused of [murder], he wasn't living the best life, but he wasn't who they say he is. That's not who he is."
Why, then, must bad things sometimes happen to otherwise good people? For better or worse, Smith has had ample time to reconcile this unavoidable truth.
"Nobody's ever lived a life without trials or tribulations," he observes. "I've had my fair share and still deal with them. In the end, it's tough to accept, but that experience builds character and wisdom, whatever you went through – I'm probably the biggest testimony to that.
"If the people around me never went through what they went through, I would never be here today. My brother having been convicted kind of served as a wakeup call for my mom. Had he still been out here, she probably wouldn't have seen it that way. Maybe I'd still be in Philly. Maybe I wouldn't have played football.
"I'm just thankful," Smith concludes, "that I'm at a point in my life where I'm on a stage, a platform where I can let the light in me shine before a lot of people so they can see the way God has worked in my life and how he's blessed me and brought me to where I am."