NEW ENGLAND PATRIOTS (3-2) vs. KANSAS CITY CHIEFS (5-0)
Sunday, Oct. 14, 2018 at 8:20 p.m. ET. Gillette Stadium (65,878)
The New England Patriots will host the Kansas City Chiefs in a Sunday Night Football game. It is the second straight primetime game for the Patriots in a stretch of four primetime games in five weeks. The Patriots beat Indianapolis on Thursday Night Football last week. After a trip to Chicago next week, the Patriots travel to Buffalo for Monday Night Football followed by a Sunday Night game vs. Green Bay at Gillette Stadium.
This week's game will be the 13th time in team history that the Patriots will be playing in back-to-back primetime games. The 2018 season is the first time that the Patriots have two sets of back-to-back primetime games in the same season. Pittsburgh and San Francisco also have two sets of consecutive primetime contests in 2018. The last time the Patriots played back-to-back primetime games was in 2015.
Since 2000, only three other teams have played at least 13 consecutive primetime games - Chicago (14) , Dallas (13) and Pittsburgh (13).
Tom Brady has the most regular-season wins by a quarterback in NFL history and with one more victory, he will become the fourth to reach 200 regular-season wins. Brady also enters this week tied with Adam Vinatieri for most career wins in the regular season and playoffs combined with 226.
Tom Brady is slated to start against Kansas City for the eighth time in the regular season and the ninth time overall. He is 4-3 all-time against the Chiefs in the regular season, including 3-1 at home.
The Patriots are an NFL-best 58-18 (.763) in the month of October since the 2000 season. The Patriots are 33-6 (.846) at home during that time and 25-12 on the road.
The New England Patriots and Kansas City Chiefs will meet for the first time since the 2017 season opener when Kansas City beat the Patriots, 42-27, as part of the NFL's Kickoff Weekend at Gillette Stadium.
Despite dropping the last two regular-season contests to Kansas City, the Patriots defeated the Chiefs, 27-20 in a 2015 AFC Divisional Playoff game at home.
This week's game will be fourth straight primetime game between the two teams. New England defeated Kansas City, 34-3, on a Monday Night game in 2011, lost 41-14 on Monday Night in 2014 and fell to the Chiefs last season's Thursday Night game.
Kansas City holds a 18-13-3 edge over New England, including an 11-3-1 advantage in games played in Kansas City and a 5-1 record at Arrowhead Stadium. The Chiefs are 7-10-2 in games played at New England, including 1-3 at Gillette Stadium (1-4 including playoffs).
The two teams played twice a year from 1960 until the 1970 AFL-NFL merger as two of the original American Football League teams.
KANSAS CITY 18, NEW ENGLAND 13
Record in New England, 10-7-2
Record in Foxborough, 7-3
Schaefer/Sullivan/Foxboro Stadium, 4-2
Gillette Stadium, 3-1
Record in Boston, 3-4-2
Record in Kansas City, 2-9-1
Municipal Stadium, 1-4-1
Arrowhead Stadium, 1-5
Record in Dallas, 1-2
Largest Margin of Victory, 10 points (11/21/11)
Largest Margin of Defeat, 34 points (12/11/60)
| 2018 Regular Season | New England | Kansas City |
| --- | --- | --- |
| Record | 3-2 | 5-0 |
| Divisional Standings | 1stT | 1st |
| Total Yards Gained | 1,787 | 2,065 |
| Total Offense (Rank) | 357.4 (22T) | 413.0 (5) |
| Rush Offense | 113.0 (13T) | 115.6 (11T) |
| Pass Offense | 244.4 (21) | 297.4 (11) |
| Points Per Game | 26.6 (9T) | 35.0 (2) |
| Total Yards Allowed | 1,830 | 2,309 |
| Total Defense (Rank) | 366.0 (16) | 461.8 (32) |
| Rush Defense | 114.0 (21) | 118.8 (24) |
| Pass Defense | 252.0 (14) | 343.0 (31) |
| Points Allowed/Game | 21.6 (9) | 25.8 (20) |
| Rush Defense | 114.0 (21) | 118.8 (24) |
| Pass Defense | 252.0 (14) | 343.0 (31) |
| Points Allowed/Game | 21.6 (9) | 25.8 (20) |
| Possession Avg. | 29:01 | 30:14 |
| Sacks Allowed/Yards Lost | 6/37 | 6/26 |
| Sacks Made/Yards | 7/54 | 15/87 |
| Total Touchdowns Scored | 16 | 22 |
| Penalties Against/Yards | 26/206 | 45/372 |
| Punts/Avg. | 21/47.3 | 15/48.5 |
| Turnover Differential | +1 (10T) | |
The Patriots will earn their 218th victory since 2000, breaking a tie with San Francisco (1980s-90s) for the most regular-season wins over two decades in NFL history, and will do so with 26 games remaining to be played this decade.
The Patriots will edge closer to the Chiefs in the all-time series, improving their record to 15-18 against Kansas City.
The team will boast a 74-50 record (.597) in primetime games, including a 29-19 mark (.604) on Sunday Night Football and 17-10 record on NBC.
It will mark the 200th regular-season win of Tom Brady's career. Only three players in NFL history have reached that mark: George Blanda (209), Adam Vinatieri (206) and Gary Anderson (201).
Tom Brady will pass Colts kicker Adam Vinatieri (if the Colts lose) for most career wins all-time in NFL history with 227. He will also extend his own NFL record to 227 career wins by a quarterback.
Tom Brady will earn his 73rd regular-season win at home since 2007, which is more than five teams have earned, both home and away, during that span — Tampa Bay (70), Oakland (67), Jacksonville (66), L.A. Rams (62) and Cleveland (50).
Tom Brady will extend his own NFL record for career wins in a venue with 105 victories at Gillette Stadium. John Elway is next with 95 wins at Mile High Stadium.
The Patriots have recorded back-to-back 30-point games and can add their third-straight such game against the Chiefs. The team had two three-game streaks of 30 or more points in 2017, and before that went on a six-game run in 2015. The franchise record for consecutive games with 30 or more points is 13 games, set from 2010-11.
The Patriots defense has recorded an interception in all five games of 2018, while the Chiefs have only thrown two interceptions this season, both against Jacksonville in Week 5. If the Patriots snag at least one interception against the Chiefs, it will mark the first time the team has done so in six-straight games since 2013, when they did it in eight consecutive games.
Through five games, the Patriots are No. 1 in the league in fewest sacks allowed per pass attempts (3.35 percent) and have not allowed a sack in the last two games, while the Chiefs have recorded at least four sacks in each of their last three games.
The New England offense enters Week 6 having not allowed a sack in consecutive games for the first time since 2016. The last time the Patriots went three or more games without giving up a sack was 2009 when they did not allow a sack in four consecutive contests (Weeks 13-16).
Tom Brady needs 19 yards rushing to reach 1,000 rushing yards in his career.
With one rushing touchdown, Tom Brady will score his 19th rushing touchdown and pass Mosi Tatupu for 13th all-time on the Patriots rushing leaders list.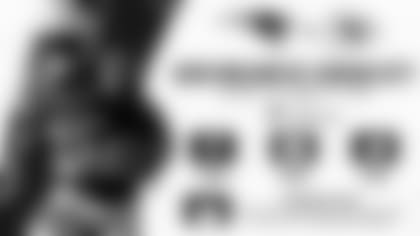 TELEVISION: This week's game will be broadcast by NBC and can be seen locally on NBC 10 Boston. Al Michaels will handle play-by-play duties with Cris Collinsworth as the color analyst. Michele Tafoya will work from the sidelines. The game will be produced by Fred Gaudelli and directed by Drew Esocoff.
NATIONAL RADIO: Thursday's game will be broadcast to a national audience on Westwood One. Kevin Kugler will call the with game with Mike Mayock providing analysis.
LOCAL RADIO: 98.5 The Sports Hub is the flagship station for the Patriots Radio Network. A complete listing of the network's 41 stations can be found here. Play-by-play broadcaster Bob Socci will call the action along with former Patriots quarterback Scott Zolak, who will provide color analysis. The games are produced by Marc Cappello.