The Patriots made a valiant effort in an upset bid as double-digit underdogs at Lambeau Field on Sunday.
Despite being down to their third-string quarterback, the team rallied around rookie Bailey Zappe and were a few first downs away from an overtime victory. But it's time to turn the page from moral victories to reality, and the truth is the Pats are 1-3 and in last place in the AFC East after four weeks.
New England's schedule over the next month or so eases up to the point where they can start stringing wins together with a similar formula as we saw on Sunday. But what are the biggest areas they need to correct? Here are our top three:
1. Situational offense - this includes execution on the field and play-calling/decision-making by the coaches. Throwing the ball on third-and-5 to punt it away on fourth down on the GB 46 in overtime was tough to watch. Yes, you have a third-string rookie QB, but the third-down play didn't give you a chance to go for it on fourth down. Admittedly, hindsight is 20-20, but a run on third down to set up a decision on fourth was the way to go. The Pats are also 22nd in red zone efficiency. Need to be better there.
2. Linebacker play - we hoped this would be an area of improvement for the team, but it hasn't been. The Pats ineffectively run blitz Ja'Whaun Bentley into the line of scrimmage on nearly every first down, Mack Wilson is not processing things well, Raekwon McMillan (thumb) is hurt, and Jahlani Tavai is who he is at this point. Whether you want to second-guess development or ignoring the need in the draft, it's all fair game. Hopefully, old friend Jamie Collins is the answer.
3. Right tackle situation - we have defended Isaiah Wynn in the past, but things got rolling when Marcus Cannon was on the field. Cannon might be the answer there.
Although some areas of improvement are more challenging to fix than others, the Patriots at least have ways to attempt to correct what plagues them. As we move forward, we'll see how the coaching staff approaches these areas.
Now, let's empty the Patriots Unfiltered mailbag heading into Week 5:
Q: Is Jamie Collins really an upgrade at linebacker over the current players on the roster? - @Ol_Uncle_Jim
We wrote about the Collins signing in more detail after the news was reported on Monday. In short, we'd view it as a potential upgrade in the passing game. Collins is still a useful coverage linebacker and can disrupt the quarterback when asked to do so. His run defense tape on the edge was solid, which might be his role, but he'll need to be more impactful against the run as an off-ball linebacker if they plan on using him there. Their linebacker play has not been great to start the year.
Q: I know there isn't enough information yet, but who do we think starts next week [at quarterback]? Mac? Zappe? Hoyer? - @huskyjayhawk
By default, we'll probably see starting quarterback Bailey Zappe next week. As much as you want to compete, the Patriots need to be smart about Mac Jones's long-term health. And with the NFL microscope on concussions, it seems unlikely that Brian Hoyer will clear protocol in time for Sunday's game. Zappe's performance was admirable given the circumstances, and it was impressive that he held himself together in a hostile environment. But the rookie was only effective off play-action and struggled with his internal clock in the pocket. Still, he's the only option since Zappe has been with the team since May, whereas an external addition would be too far behind. Although you can expect more under-center play-action, one would think the Pats would continue their pivot to a more college-style spread system like Zappe ran at Western Kentucky.
Q: If Hoyer is out for a while, who do they get to fill out the depth chart at quarterback? - @linop67
If Mac Jones were done for the season, we'd entertain the idea of bringing back Cam Newton, who would at least enhance their already potent rushing attack with his legs a la 2020. However, it seems very unlikely that New England would shake things up that much to find a starter for a few more weeks. Instead, two realistic options are signing a veteran backup such as Garrett Gilbert (two stints with the Pats) or signing Davis Webb off the Giants practice squad. Webb has spent four seasons in former Pats assistant Brian Daboll's system, so there's some carryover there. We wouldn't rule out the team bringing in multiple quarterbacks this week.
Q: Why did it take so long for the Patriots to unleash Marcus Jones [as a returner]? - @Bruin238
My read on the team easing Jones in as a returner is that the rookie was adjusting to a few things in terms of handling the football. Rather than throwing him out there before he was ready, they allowed Jones to work through it in practice. As I understand it, one of those things was adjusting to the flight path of the football off the punters' foot and the velocity in which the ball drops compared to the college game. In college, there are a lot of rugby-style line drives rather than punts with serious hang time, so the trajectory and how quickly the ball comes down are different. Based on what we saw last week, Jones has made the adjustment. The third-round pick should be the primary kick and punt returner the rest of the way.
Q: Did we jump the gun so to speak not having a fullback on our roster to help execute different looks in the gap scheme? - @jscancoach
It's hard to argue that the Patriots miss a fullback when they're the top-ranked rushing offense in both Football Outsiders' DVOA metric and success rate. Obviously, what they're doing is working, and they're primarily an inside zone and duo system at the moment. At some point, we'll dive deeper into this, but running back Rhamondre Stevenson has spoken openly about his preference for running without a fullback since it gives him more freedom to read the defense and pick the best path forward (instead of always following the fullback). Plus, it lightens the box with more spread-style formations rather than heavy personnel groupings. In recent weeks, they also began using tight end motion wrinkles to add on lead blockers that mimic how they'd use a fullback. Personally, I like where they're heading without a fullback.
Q: Is the best Pats CB trio Jack Jones and Jalen Mills on the outside and Jon Jones in the slot, moving Myles Bryant to the bench? - @PatPatriot1
We are all skeptical about Bryant's fit in the defense moving forward. The team values his versatility and high football IQ, and he's a capable zone defender. However, Bryant has allowed seven catches on nine man-coverage targets with a touchdown this season. He has a role in zone-heavy plans or potentially as a fourth corner/dime-backer. But, ultimately, he's a bridge to the rookie Jones's, and with Jack Jones's performance this past week, they might be on the other side of that bridge now once Jalen Mills returns; Mills, Jon Jones, and Jack Jones should be their new top three with the vet Jones back in the slot. They'll have to live with the rookie growing pains with Jack. I still expect Bryant to have a role on game day, though. His experience and ability to play multiple spots in the secondary is something the Patriots always covet in their DBs.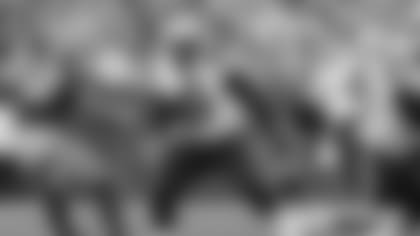 Q: Do you think the Pats will continue using six offensive linemen when Mac returns? - @jkhnaizir
Typically, things like unbalanced lines with six offensive linemen are game-plan or situational wrinkles for the Patriots. With tight end Jonnu Smith (ankle) going down with an in-game injury, Marcus Cannon essentially replaced Jonnu as a blocking tight end. With that said, when you run a zone scheme, creating more gaps for the defense to defend by putting more blockers on the line of scrimmage or adding on blockers with motion makes those plays harder to defend. After mostly struggling with outside zone runs in the first three weeks, the Pats found success with weakside runs due to the unbalanced line. New England has always had the six offensive linemen package in their playbook, and my assumption is we'll see a little bit of it each week.
Q: Patriots vs. Lions. I hate to say it, but the Lions can put up numbers. I smell a blowout coming. Your thoughts? - @BostonGreenz
Admittedly, I haven't done a deep dive into the Lions yet. But, on paper, leading the league in scoring (35 PPG), even with a few notable injuries to their skill players, is impressive. Although Seattle's defense is not very good, Detroit hung 45 points on the Seahawks without top receiver Amon-Ra St. Brown and number one running back D'Andre Swift. They've featured a gap-heavy running scheme where they're bowling over light boxes, and Goff has made some explosives off play-action. We'll see what the tape looks like this week, but it is a tougher matchup than Detroit's record would suggest (1-3). With that said, a blowout? I can't see that unless New England's quarterback situation goes off the rails. Outside of the Eagles, the Lions have played defenses ranked 20th, 23rd, and 31st in DVOA this season. Their offensive production might be a product of a weak schedule.