The new NFL league year begins Wednesday, March 15, and with it, the advent of 2023's free agency marketplace. Leading up to that day, we'll examine the landscape from a Patriots perspective. Today, we analyze the offensive line.
NOTABLE EXTERNAL FREE AGENTS: Orlando Brown, Mike McGlinchey, Kaleb McGary, Jawaan Taylor, George Fant, Kelvin Beachum, Taylor Lewan, Andre Dillard, Jermaine Eluemunor
The Patriots biggest hole on their roster is evident to anyone assessing the teams' approach heading into the 2023 offseason.
Although we can argue receiving talent versus pass protection all day, New England's offensive line took a step back and must return to form to give Mac Jones, or any quarterback, a chance to succeed in this offense. The Pats went from fourth in PFF's pass-blocking efficiency metric in the 2021 season to 15th a year ago, with major coaching issues and inferior personnel, especially at right tackle, which was a revolving door. Now, three tackles who started games for them in the 2022 season are free agents as the team looks to upgrade.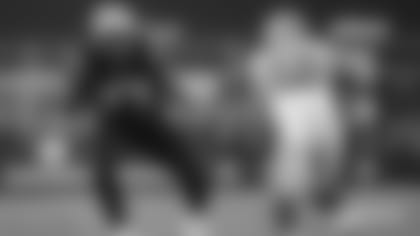 It's a top priority to find starting-caliber offensive tackles. Brown is coming off an inconsistent season after moving back to the left side, and the team would create $8 million in cap space by releasing him, while Stueber is a total unknown following a redshirt rookie season. Brown will likely return as a stop-gap at one tackle spot for a year. He's capable of playing better than in 2022, and his film wasn't all that bad, considering the situation around him.
However, head coach Bill Belichick should have every option on the table to acquire an immediate starter and potentially double or triple-dip into this offseason's talent pool. Luckily, there are a plethora of intriguing options through free agency and the draft at the position.
Starting with free agency, Chiefs left tackle Orlando Brown will reportedly not be franchise tagged and will hit the open market. Brown has tremendous size, playing strength, and nimble feet for his stature, making him a well-rounded blocker in all phases. But if he hits unrestricted free agency, he will be one of the best players available and command over $20 million per year.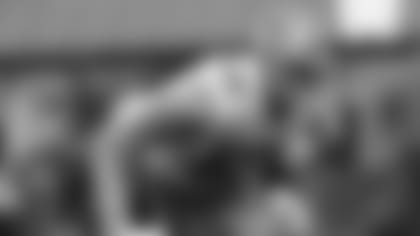 Former first-round picks Mike McGlinchey (49ers) and Kaleb McGary (Falcons) are also set to be free agents. McGlinchey was the ninth overall pick in the 2018 NFL Draft, and although he's been in Shanahan's outside zone system, his 6-8, 310-pound frame and playing strength suggest he'd transition to a downhill scheme just fine. McGlinchey would be an immediate upgrade and fits the mold of a high pick that the Pats didn't have a chance at in the draft but now do as an unrestricted free agent (think Stephon Gilmore).
McGary was a developmental tackle entering the league as the 31st overall pick in the 2019 draft. Although it took him some time, he's a dominant run blocker coming off his best season in pass protection, making him an excellent fit at right tackle. The best pass blocker of the group is a more under-the-radar target in Jaguars tackle Jawaan Taylor. Taylor might not have the name recognition or run-blocking skill as the first two names mentioned, but he allowed just 21 quarterback pressures in 734 pass-blocking reps with the Jags last season.
All three free-agent tackles mentioned above would be immediate starters, but it'll cost the Patriots significantly to lure them to New England. McGary or McGlinchey seem like better fits for what the Pats look for in right tackles, favoring size and run blocking. Still, all three would significantly upgrade the right side of the offensive line.
There's also a strong possibility that the Patriots would rather use their first-round draft selection on an offensive tackle rather than allocate significant cap space to a free agent. As Director of Player Personnel Matt Groh told Patritos.com at the combine, good offensive tackles are expensive, so having a starter on a rookie contract is good business.
There are six first-round options that the Patriots ought to consider with the 14th overall pick or slightly later in a trade-back. Here they are in order of our rankings: Broderick Jones, Paris Johnson, Peter Skoronski, Anton Harrison, Dawand Jones, and Darnell Wright.
If the Pats view Trent Brown as a viable starter for the 2023 season, they could sign a free agent or draft a tackle in the first round. If not, and they release Brown, it could present a sign one and draft one (or two) scenario where they completely rebuild the position.
Either way, the offensive tackle play must improve from last season, and significant resources should be devoted to upgrading the offensive line throughout the offseason.
DISCLAIMER: The views and thoughts expressed in this article are those of the writer and don't necessarily reflect those of the organization. Read Full Disclaimer