FOXBOROUGH, Mass. – Just before halftime of an August 2019 preseason game at Gillette Stadium between New England and Carolina, a medical cart sped onto the field to retrieve an wounded Patriot. As the vehicle later raced off toward the visitors tunnel and the medical facilities within Gillette, the player in question for whom it was dispatched struggled to comprehend the unfamiliar physical and emotional sensations overtaking him.
Just 26 years old at the time, Brandon King had, for the first time in his life, suffered a serious injury, what doctors quickly diagnosed as a torn quadriceps muscle – one of four muscles that covers the front and sides of a person's thigh.
Nevertheless, as teammates and opponents alike rushed to his side to wish him well, King maintained enough composure to acknowledge them, as well as wave to the fans in the crowd who'd given him the standing ovation that is customary under such circumstances. King could not have known then that a full two years would pass before he'd be fit enough to appear in another game for New England. Nor could he have imagined that the injury would eventually cause him to wonder if he'd ever play again.
Back at full strength and on the field once more for New England this 2021 season, the Patriots' reliable special teams contributor pauses to reflect on a woman whose expertise and devotion proved instrumental in helping King salvage his health and livelihood.
"I appreciate her so much," he insists, "because I don't know if I would be back on the field playing if it wasn't for her. I had no idea what any injuries were like. I pretty much played my whole career with just nicks and bruises, but never anything major. For me, it was a shock.
"I've got a little bit of pride for myself and don't want to ask for help," King admits, "or I try to do something that might not be the smartest thing just because I'm a guy and I think that I can do it. She'd tell me, 'Brandon, that's not smart.' Instead of being stubborn, I listened, because she had more experience with it than I did. She was very helpful. And she's strong, too, so, she could pick me up and move me places."
She in this instance is Marisa King – Brandon's college sweetheart-turned-wife, mother of their two sons, and second lieutenant in the United States Army Reserve. A woman for whom marriage to a football player and a job in the military were once notions she couldn't fathom.
Like many so-called military brats, Marisa Warren – Risa, to those closest to her – lived a peripatetic early life. Born in Maryland to an active-duty Army mom and retired Army dad, she and her four siblings spent portions of their youth in Virginia, Hawaii, the State of Washington, Georgia, Alabama, and even overseas in Germany. In high school, Risa developed into a solid student and talented athlete.
"Growing up, I didn't want to be active-duty military," she remembers, "because my mom was gone all the time. I missed her. I wish she could have been there, but I know that's how she took care of us."
For a time, it appeared that Risa was destined for a scholarship to play college basketball. However, in August 2011, prior to her senior high school season, she tore her anterior cruciate ligament (ACL) and medial collateral ligament (MCL), an injury that wouldn't be properly diagnosed or operated on until months later. As a result, most schools backed away from their offers to her.
Undaunted, Risa remained committed to her higher education. From pivoting on the court, she would pivot in the classroom, choosing Auburn University in Alabama to study kinesiology, the scientific study of human body movement. On four separate occasions, she also tried out as a walk-on with the Auburn Tigers women's basketball team, but a spot for her on the roster would never materialize. Her mother then recommended enlisting in the Reserve Officers Training Corps (ROTC).
"My first semester, I was just kind of winging it," she confesses, "and my mom said, 'You need some discipline.' It wasn't anything I ever thought I would do. I actually was good at it, and it was good for me. So, I just stuck with it, and they ended up offering me a scholarship. That was amazing."
Risa came away less impressed with most of Auburn's high-profile football players, whom she found off-putting because of what she perceived as their unwarranted cocksureness. During her sophomore year, a new student who appeared on campus managed to catch her eye, yet every time she tried to stop and talk with him, he'd legitimately be running late to a class or other commitment. He'd taken a shine to her as well, though, and thanks to a mutual friend introducing him to Risa's Instagram page, he found a way to connect with her via direct message.
"Instead of asking me to come to his room or hang out, he asked to meet me at the gym. I thought that was great! He watched me play basketball for a little while, then we played some 1-on-1. The next day, he asked me on a date. First, he asked me to come to his room to watch him cut someone's hair. He said he was a barber. I thought he was making it up, but he really can cut hair. We've been together ever since."
Only later would she discover, to her pleasant surprise, that this tall, charming junior transfer student also played football for Auburn, a fact Brandon intentionally kept hidden as long as possible, not wanting to influence her one way or the other.
"I think I was different for her. I was just trying to be myself. I guess I … made the cut," he explains with a laugh. "She's such a competitive and strong woman. There aren't a lot of military families that are very wealthy. So, for her to go to college and get an education was kind of mandatory. She embraced it and continued to strive and do very well."
The same could perhaps be said of Brandon, who hailed from Alabaster, a small suburb of Birmingham, Alabama. Recent Census figures indicate that around 6 percent of Alabaster residents fall below the poverty line and, according to Brandon, "a lot of people don't graduate high school ... If it wasn't for football, I probably wouldn't have gone to college, either. There's no way my family could afford it."
The 6-2, 220-pound King originally enrolled at Highland (Kansas) Community College before transferring in 2013 to Auburn, about a two-hour drive from his hometown. While in college together, Risa and Brandon frequently ran on parallel schedules. They'd wake up at 5 a.m., he to head out for football workouts and she to ROTC training, which often involved literally carrying her fellow recruits for miles.
"We'd come home around the same time," adds Brandon, "but we couldn't go back to sleep. We had to go to classes, tutoring, and whatnot. Even doing school and the military, she held down two jobs. She'd sometimes get off work at 12:30, 1 a.m. and be up at 5 o'clock for the military. I applaud her for that. She works extremely hard and doesn't want anything given to her."
Well, almost nothing. In 2018, Risa accepted Brandon's engagement ring. They tied the knot the following year, not long before his life-altering injury compelled her to shoulder an even greater workload at a time when she should have been reducing it.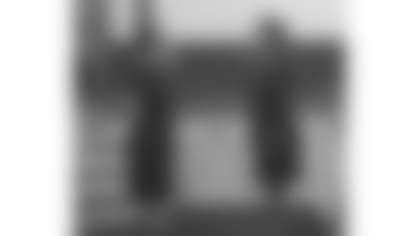 After two seasons with Auburn, Brandon went undrafted, eventually signing with New England as a rookie free agent in early May 2015. His special teams acumen initially earned him a spot on the Patriots practice squad, but four games into that regular season, the club promoted King to the active roster. Meanwhile, Risa continued her college studies and ROTC training at Auburn.
"It was tough," she says of the brief period they were separated by the miles, "because I never thought this was next. I just thought, 'Oh, you're playing football in college, that's cool.' And he was like, 'Well, I might go to the NFL.' So, it was hard at first with the distance, but every weekend I was free and had a break, I would come here to see him. So, we didn't miss a beat."
Along the way, the couple had their first child, a boy they named Kayden. Then, upon her graduation from Auburn, Risa enlisted with a medical-focused Army Reserve unit based out of Fort Sam Houston, just outside San Antonio, Texas and close to where some of her family lives.
"I thought I wanted to be an athletic trainer," Risa continues, "but then we had Kayden. So, I decided we both can't be gone [for long stretches] … I knew if I had kids, I'd always go the Reserve route so I could be around more."
Risa now belongs to a medical training support battalion affiliated with nearby Brooke Army Medical Center. As a Reservist, she must travel once a month down to Texas for drill weekends. Among other responsibilities, her unit evaluates others to ensure that best practices are being observed.
Armed with her college degree, her military role, and her own personal experience of having recovered from a severe injury, Risa found herself perfectly positioned to assist in Brandon's recovery after he tore his quad in 2019.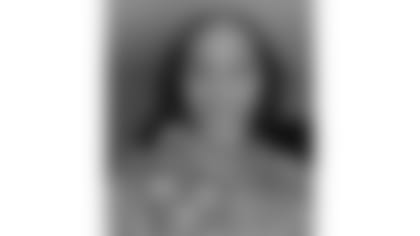 "It was amazing – it was a blessing for me that she did," Brandon proclaims. "I didn't know how to deal with certain situations. She was very expressive about … how to move around, what I should and shouldn't do. She was very helpful. Waited on me hand and foot. Brought everything to me. Made sure I was on top of my pain pills. Made sure I was eating the right things ... She was on top of everything, honestly."
Through it all, she became pregnant with their second child, another son they called Karson. Then, the COVID pandemic arose, and Brandon spent the 2020 season on New England's physically unable to perform list (PUP).
"Oooh, that was rough one," she acknowledges of the past two years. The hardest part of it all? "Just seeing him hurt and wanting to do things with the kids and he can't.
It was hard for him to ask me for help, because he didn't want to feel like he was burdening me. There was a lot on my plate, but I wanted him to know I was there for him and understood what it was like to have an injury.
"A lot of it was overcoming in your mind that you're okay. You had your surgery, you're rehabbing … trust your leg. Know that it'll be able to do what you need it to do. Believing in yourself to know that you can come back better than you were before."
Risa believes her military mindset played a critical role in her being able to support Brandon during his time of need.
"You have to be resilient and quick on your feet to adapt. Can't let your emotions get you too weighed down," she points out. "That's one of the things my mom instilled in us when we were little. Don't cry about it. Figure out how to make it better. I think I developed strong mental toughness. I really instilled that in him. Be positive about everything and it'll be okay. Everything will work out. I believe in God and that no circumstance takes Him by surprise. He knew this would happen and that you'd overcome it. Ultimately, it brought you closer to God. That's what's important."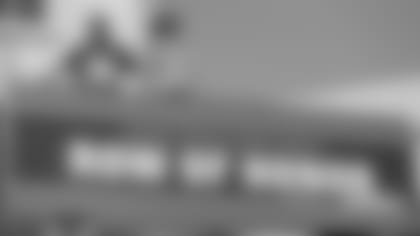 For the past several years, the NFL has cultivated a tradition of honoring U.S. military personnel, past and present, in what it calls "Salute to Service" commemorations before and during games that take place in the month of November. Ceremonies frequently take place pregame, during halftime, and throughout the course of the games with players and coaches wearing military-themed accessories.
This Sunday's Patriots game versus the Cleveland Browns represents New England's annual Salute to Service, and for Brandon King, the appreciation stretches far beyond this weekend or even this month.
"For sure. It's amazing, the people that go out there and risk their lives for other people's freedoms. It's the most selfless thing you can do. We do a lot on the football field, but at the end of the day, there are no bullets flying by. My family appreciates [the military] in every way.
"Her whole life, my wife wanted to play basketball, but she's run with this [military career] and people rely on her. She loves it, putting smiles on people's faces and taking the stress out of life. She wants to be in a position to do more for people who can't do for themselves."
The same way Risa up and left home to be with Brandon in New England when he became a Patriot, he maintains that, should the Army someday call upon her to move on a more permanent or long-term basis, he would gladly follow her. "Makes me feel good," she says, "like he's in my corner. He's always so supportive in anything I do or want to try. It's nice to know I can lean on him for things like that. And I want him to know he can always lean on me."
At Gillette Stadium, just below the lighthouse, the Patriots have established a small, but special section of seats reserved for military personnel. It's billed the Row of Honor. Here, Marisa King examines the field where her husband plays in his football uniform. Married to a Patriot, this second lieutenant – a patriot in her own right – takes a moment to express what her Army uniform signifies to her.
"It means a lot. It's not easy. I feel like you have to earn it. I put in my time and skills to be part of something bigger than me. It makes me feel proud that I made my mom proud. She actually got to commission me into the Army. That was a big moment. My dad was there, too. She and Brandon got to put my rank on me.
"I never thought I would be in the Army, but it's been good for me and for my family. Oh, yeah, basketball was my dream. But life happens, and it led me on the path I'm on, so, I'm okay with that."