Throughout the course of training camp the offense has seen some incremental improvement. While Sunday's practice would not be the best of example of that, there was an addition to the group that needs to pay dividends for the unit down the road.
Tyquan Thornton hasn't been involved in much thus far in camp but on Sunday he saw his most extensive reps of the summer. He worked with both Mac Jones and Bailey Zappe and was targeted on a number of occasions. The results were a bit uneven but the bigger picture has little to do with the outcome of one random camp practice.
The Patriots receiving corps doesn't have another player with Thornton's size or skill set. His ceiling would be that of an outside deep threat who is capable of stressing a secondary at different levels. His speed must be respected, and if he is able to put it all together opposing defensive coordinators would need to spend some time game planning against him.
In such a scenario the offense could use Thornton to clear space for the rest of the group, which would make life easier on Jones and offensive coordinator Bill O'Brien. There was an example of such a play on Sunday as Thornton took a pair of defenders into the end zone on a red area rep, leaving Matt Sokol alone underneath to bring the ball inside the 5 before any defenders closed in. He also got deep and caught a long pass from Zappe in 7-on-7s earlier in practice.
But the flip side on Thornton could be tough. If he is unable to reach his potential and emerge as a steady contributor it would make life much easier on opposing defenses, allowing them to crowd the line of scrimmage and keep the ball in front of them against an O'Brien attack that appears poised to throw a lot of horizontal passes.
The problem for the second-year wideout has been two-fold: health and consistency. He dealt with a broken collarbone last season and has been limited by a reported soft tissue injury in 2023. He also doesn't always seem to be in the right place, which was a problem at times a year ago when he would run a route in close proximity to a teammate from time to time.
That was a issue on Sunday on a few occasions as well, although not just involving Thornton. Rookies Kayshon Boutte and Douglas were close together on a 7-on-7 rep that resulted in a Christian Gonzalez interception. Thornton's timing on a couple of routes appeared off – which could be the result of his extended absence – and he also failed to come away with a couple of catchable passes. 
Jones targeted Thornton on a fade but Myles Bryant easily got position and knocked it away despite giving up at least five inches in the matchup. In a late two-minute drill, Thornton got open but Zappe's pass was a bit late and the wideout did little to fight Rodney Randle for the ball in the end zone.
If Thornton can find a level of consistency it could be the prefect element to lift the passing game to new heights, it and could change the way the Patriots are defended. Obviously there's a long way to go for that to happen but at least he was back in the mix on Sunday.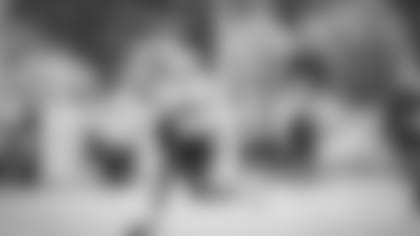 Beyond Thornton's potential role, here are one man's observations of Day 10 of Patriots training camp.
Things were dicey along the offensive line on Sunday as David Andrews missed his first practice of camp. With Cole Strange missing for the fifth straight workout and Mike Onwenu (ankle, PUP) out, that left a unit of Riley Reiff, Atonio Mafi, James Ferentz, Kody Russey and Conor McDermott to protect Jones. That was a struggle, particularly when Matthew Judon was involved. (Although pass protection is always tough when players are wearing shells and not full pads). Fresh of his pay raise, Judon was more active in 11-on-11 work on Sunday and applied constant pressure to the quarterbacks. He likely would have had at least three sacks under normal conditions.
In addition to Andrews and Strange, Jonathan Jones, Matthew Slater and Ty Montgomery did not practice. Montgomery missed his eighth straight practice while Jones and Slater also did not suit up for Friday night's in-stadium workout. Cody Davis (knee, PUP) and Calvin Anderson (NFI) remain out.
Judon spoke after practice and discussed the contract adjustment he and the team reached last week. "I'm a competitor. I love playing football and I'm out here playing football," he said. "I'm happy. They're happy. We shook hands and now it's just about football."
Mike Gesicki enjoyed one of his most active practices, catching several balls from both quarterbacks. The most impressive came in 7-on-7s when he leaped high in the air near the sideline and made a tremendous one-handed catch. It was tough to tell if he was in bounds and safety Jabrill Peppers signaled that he was not. Either way it was a remarkable grab. He also caught a couple of quick outs during 11-on-11s but did have one Zappe pass sailed through his hands on a late two-minute opportunity.
Bill Belichick and Bill O'Brien had a long conversation on the field after practice as some of the younger players remained to get some extra reps. The coaches spoke for over 10 minutes before departing.
Chad Ryland connected on some long-range kicks that appeared to be in the 45-50-yard range. He may have missed one of those attempts as Kyle Dugger signaled no good on one that appeared to go over the right upright but the rookie exchanged handshakes with holder Bryce Baringer after the kick.
In the middle of some 11-on-11 red zone work Belichick directed the entire defense to take a lap. There appeared to be some confusion related to substitutions with one player still on the field as the snap was made. Belichick sent the group running and then huddled them together with some instructions before getting back to work.
Jones connected with DeVante Parker on a 40-yard bomb for a touchdown to cap a two-minute drive. The period featured down-and-distance and clock situations, and Jones fired long with :13 remaining, finding Parker behind Jack Jones for the touchdown. Parker did a nice job elevating to high-point the ball in the end zone.
In addition to Judon, Josh Uche, Mafi, Bourne, Davon Godchaux and Peppers all spent time with the media.
The Patriots final two training camp practices open to the public will take place Monday and Tuesday, both set to begin at 1 p.m. Gates will open to fans at noon each day. As always please check with Patriots.com for the latest updates to the training camp schedule.
DISCLAIMER: The views and thoughts expressed in this article are those of the writer and don't necessarily reflect those of the organization. Read Full Disclaimer