Oh, to be young, instantly wealthy, and playing in the National Football League. Come the offseason, it's time to harvest the abundant fruits of your on-field labors – a chance to travel, have fun, and live life to its hedonistic fullest.
Stephen Gostkowski remembers what this time of year was once like for him. After the Patriots kicker's rookie year, he had the wherewithal to do whatever he and Hallie, his college sweetheart, desired, and that's exactly what they did for a while. Eventually, the pair married and produced three children. Offseasons remained busy, but for entirely different reasons.
One day, a few years ago, Gostkowski came to a sobering realization.
"You go from having something to do almost every minute of the day during the season to having almost nothing in the offseason, now that my kids are in school. I found myself with a handful of time in the offseason," he recalls, "and getting dumber by the day. So, I wanted to do something about it."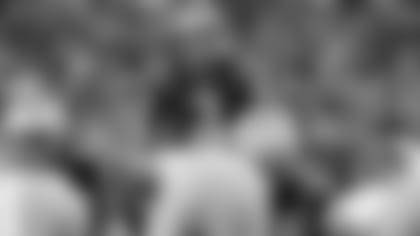 For some, inspiration strikes much sooner. 
Like many 18-year-olds arriving on a college campus for the first time, the young offensive lineman was informed he needed to choose a major, pretty much right then and there. Rather than make such a momentous decision entirely by himself, he let fate help decide. After speaking with a handful of professors who taught communications, he chose that discipline.
It's not that Ted Karras didn't like or wasn't good at school. In fact, he earned his undergraduate degree in only three-and-a-half years, then enrolled in a master's program to maintain his playing eligibility at the University of Illinois. He just never really had a passion for learning. Not the way he does today. 
While sitting in a rookie orientation meeting in 2016, Karras heard a pitch that he knew would shape his offseasons for the next several years. 
"After this," he reveals, "I want to go to Harvard… I already started the application process."
"I wanted a new challenge," adds Gostkowski, "to take advantage of these wonderful opportunities given to us as players."
Most NFL players – even those who don't wind up earning long-lasting jobs on rosters – will never have to worry about paying back college loans. Nearly every player who is good enough just to audition for a role in the NFL has come from a school that offered them a playing scholarship, what's known colloquially as a "free ride."
In the NFL Player Tuition Assistance Plan, Gostkowski and Karras discovered another irresistible opportunity to continue taking free rides. Both men are actively pursuing their Masters in Business Administration (MBA) as offered online by the University of Indiana's Kelley School of Business, one of a number of "Qualifying Institutions" (colleges and trade schools partnering with the NFL) in the league's tuition reimbursement program.
"Everyone's wanting to pay for my school," Karras continues, "so, I figure, as long as I'm playing and they want to pay for it, I'll go to school."
Current NFL players can take courses toward associate, undergraduate, post-baccalaureate, or graduate degrees, the associated costs of which (e.g., tuition, books, fees) are credited to the players' accounts up to $20,000 each year. Retired players, like former Patriots long snapper Danny Aiken, are eligible as well, up to six years following the conclusion of their NFL careers, and can receive from $15,000 to as much as $60,000 in tuition assistance per year.
To earn the free ride in the NFL program, all enrollees must earn at least a "C" or equivalent grade in each class. Thus far, Gostkowski and Karras have managed to do so, thanks to a similar adherence to routine and concentration that's required of them on the gridiron.
At the University of Memphis in the early 2000s, Gostkowski majored in exercise science with a minor in marketing. He'd taken a handful of business-related courses back then, but knew he needed help when he embarked on his MBA nearly a decade later.
"The first [online] class I took had calculus in it and I had to get a tutor," he confesses, "because I hadn't had calculus in 12 years. It was almost like reading Chinese."
A more recent college grad, Karras is comfortable with the online education format, having taken a few courses that way at Illinois, even though the subject matter now is entirely new to him.
"It's pretty all-encompassing," he explains. "This spring semester, it was more economics focused. I had a marketing class. I just took a final last night in macro-economics – it was a little tough. But yes, we're finishing up a semester now, and then in the summer, I'm going to take digital marketing, plus law and ethics in business.
"Last year, I went to Europe and I was doing classes from Portugal. That's the great thing about online [learning], you know, you can log on an hour before you go to bed and kind of just organize yourself, get some assignments done, and do it at your own pace."
Finding a rhythm is critical to a placekicker's consistency on the field, and Gostkowski found it equally important as he began reorganizing his personal life to accommodate his MBA studies.
"In a sense, it was tougher to get into a routine about how to organize my time, but at the same time, it's almost easier, too, because I'm not taking seven different classes at once. I'm not going out every night of the week like in college. I don't have as many distractions, I would say. To take an hour or two per day while the kids are in school to read really isn't that tough to do once you get into the routine of it."
Once Patriots training camp opens in late July, neither player will have time to take fall-semester courses, but they're gradually earning their MBA credits. Both men are at about the halfway point.
"Two to four classes each offseason – just trying to chip away," says Gostkowski. "There are times when I think, 'Man, I don't need to be doing this. Why am I doing this to myself?' But to fight through that and come out and make a good grade, it feels worth it. Hopefully something good comes out of it one day."
While football is still important to the players, continuing to educate themselves is proving as fulfilling a pursuit as chasing championships. At the same time, having a new and different challenge stimulates them both personally and professionally.
"I want to dedicate my whole entire self to my job and my teammates and my coaches in this organization," Karras emphasizes. "Your whole year is judged based on 20 games, so, professionally you have to take that very seriously. So no, I don't really miss [school in the fall], but I am excited when the offseason comes around. And you're just that much more excited when football rolls around, yeah."
Karras and Gostkowski aren't the only Patriots taking advantage of the free tuition program. Left guard Joe Thuney is well on his way to earning his MBA, and long snapper Joe Cardona recently enrolled.
"It's cool to have someone else to talk to about it, with Thuney, Ted, and Joe," admits Gostkowski. "There's only so much you can talk about football. Anytime you can get into a conversation that's not political, it's a welcome change.
"With my job, I do two different things [place-kicking and kicking off]. It's the same thing over and over again. It was just nice to have a different kind of challenge and that feeling of butterflies. 'Am I going to do good at this or not?'"
Neither Gostkowski nor Karras is sure what they will do with their advanced degrees once their playing days are over. For the time being, they're content to continue learning as much as they can without having to worry about the cost of doing so.
"I would have felt bad if I never took advantage of it. Going into my 13th year," the kicker remarks, "I was ready for something new. If I find out that I'm not very good at it or can't hack it in the business world, that didn't deter me… there's nothing wrong with furthering education and working your brain in a different way than you normally work it."
Karras, meanwhile, continues to dream big.
"I'd like to go over to Cambridge and get a literature degree from Harvard… something a little bit more creative the next time around. I'm a big reader. I have a pretty large library at home. That's probably the biggest thing I spend my money on is books. Actual books. It's hard for me to read off a computer. I've written some stuff, but I'd like to be trained on how to do it.
"I want to play for as long as I can, but hopefully, something through school and the people I meet through that can carve a little path for the next step after football."