NEW ENGLAND PATRIOTS (11-3) at BUFFALO BILLS (10-4)
Saturday, December 21, 2019 at 4:30 p.m. ET. Gillette Stadium.
The New England Patriots and the Buffalo Bills will square off this Saturday in the second of two meetings of the annual series. The Patriots won the first matchup on Sept. 29 at Buffalo with a 16-10 victory. The Patriots will play a Saturday regular-season game for the first time since a 41-3 win vs. the New York Jets on Dec. 24, 2016. The Patriots are 7-0 all-time in the regular season on Saturday under Bill Belichick.
With a win or tie against Buffalo this week, the Patriots will clinch the AFC East for the 11th consecutive season and for the 19th time under Robert Kraft's ownership.
PATRIOTS ON VERGE OF ANOTHER 12-WIN SEASON
The Patriots have won 12 games 12 times since the 1970 AFL-NFL merger, and with one more win this season can tie San Francisco for most 12-win seasons over that span. Additionally, Bill Belichick looks to extend his NFL record for most 12-win seasons.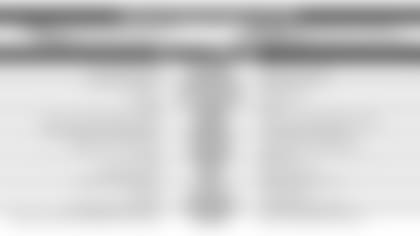 New England and Buffalo will meet for the second time this season on Saturday. The Patriots came away with a 16-10 win at New Era Field in their first matchup on Sept. 29.
This week will mark the 120th meeting between the two teams. The Patriots enter this week with a streak of six straight victories against Buffalo, including series sweeps in 2017 and 2018. The Patriots will be looking for their 27th series sweep overall and the 15th series sweep since Bill Belichick became head coach in 2000.
New England holds a 75-43-1 edge in the series and have won 34 of the last 39 games between the clubs, dating back to 2000.
The series between the AFC East rivals began in 1960. The Patriots 75 wins over the Bills are their highest victory total over any opponent, eight higher than their own total over the New York Jets (67).
After seven consecutive series sweeps and 15 consecutive Patriots wins from 2003-10, Buffalo ended the streak with a 34-31 victory at Ralph Wilson Stadium in the first meeting between the teams in 2011. The 15-game win streak is tied for the fourth-longest winning streak over a single opponent in NFL history. The Patriots avenged that loss in the 2011 regular-season finale by overcoming a 21-0 first-quarter deficit and scoring 49 unanswered points en route to a 49-21 victory.
The teams have had many memorable matchups over the years, including a span from 1999 to 2001 where four-of-five contests were decided in overtime.
The Patriots first-ever playoff game was a 26-8 win over the Bills at Buffalo on Dec. 28, 1963.
Record in Foxborough: 32-16
Foxboro Stadium: 17-14
Gillette Stadium: 15-2
Record in Boston: 6-5
War Memorial Stadium: 7-6-1
Ralph Wilson/Rich Stadium/New Era Field: 30-16
Largest Margin of Victory: 46 points (2007)
Largest Margin of Defeat: 35 points (1970)
Longest Win Streak: 15 games (2003-2010)
Bill Belichick vs. Buffalo: 34-7 (34-5 with NE)
Sean McDermott vs. New England: 0-5
SCOUTING THE MATCHUPS
When the Patriots run - Edge: Bills
After weeks of frustration the Patriots finally broke out and enjoyed their best rushing game of the season in Cincinnati. Of course that was against the Bengals run defense, which ranks last in all of football. Things figure to get a tad tougher this week against Buffalo, which allows an average of 101.4 yards per game, good for 10th in the league. But while the Bills ranking is solid, a closer look shows a slightly different story. The unit ranks just 19th in average allowed per rush at 4.3 yards per attempt, so teams have enjoyed some success on the ground against Buffalo. Whether Sony Michel and Rex Burkhead can take advantage of that remains to be seen. Michel piled up 89 yards on 19 carries in Cincinnati and Burkhead added a 33-yard touchdown run late to close out the scoring. The Patriots rushed for 175 yards and 5.5 yards per carry against the Bengals. Buffalo figures to be a much tougher test. Shaq Lawson has seen his playing time rise in recent weeks and he performed well last week in Pittsburgh. Jordan Phillips and Star Lotulelei provide the bulk on the inside in front of athletic linebackers Tremaine Edmunds and Matt Milano. Michel ran with toughness last week and that will need to continue, but the Bills should be able to contain what has been a subpar rushing attack all season.
When the Patriots pass - Edge: Bills
The numbers didn't exactly show it but there were some strides made in the passing game in Cincinnati as well. Specifically, the continued integration of rookie first-round pick N'Keal Harry. Harry caught just two balls but one went for a touchdown and he was active throughout the game while receiving 38 snaps, the most action he's seen thus far. Julian Edelman continues to fight through a number of ailments, most recently a knee problem that limited him to just 40 snaps and two catches against the Bengals. Mohamed Sanu remains quiet and Tom Brady continues to search for answers to kick start the passing game that managed just 116 yards on the road. The Bills secondary has performed well all season, led by Tre'Davious White and his six interceptions. Buffalo allows only 190.5 passing yards per game, which ranks third in the league. Levi Wallace joins White at corner while Jordan Poyer and Micah Hyde make up a formidable pair at safety. The unit plays well together and held Brady to just 150 yards passing in the first meeting. Edelman was limited to 30 yards on four catches in that game as the Bills did a nice job of bracketing him with linebackers underneath and extra attention out of the slot. Brady must find ways to get others involved, especially with Edelman at less than 100 percent.
When the Bills run - Edge: Patriots
The Bills will try to run the football, especially after watching Cincinnati's Joe Mixon pile up 136 yards on 25 carries last week. Buffalo likes to pound the ball early and often, and in the first meeting Frank Gore has some success with 109 yards on just 17 carries for a 6.4-yard average. The Bills rank fifth in the league, averaging almost 135 yards per game on the ground. The Patriots lone issue on defense has been some occasional struggles stopping the run, although they still allow only 98 yards per game. Devin Singletary is the Bills leading rusher with 729 yards and a 5.4-yard average on the season. He missed the first meeting between the teams with a groin injury but has emerged as a key cog in the offense. Josh Allen's running ability cannot be overlooked either. He leads the team with nine rushing touchdowns including one against the Patriots in Week 4. The Patriots will certainly be looking to contain Singletary and will be aware of Allen's mobility, especially on third downs. When New England has focused on stopping the run it generally has been successful in doing so. That should be the case Saturday evening as well.
When the Bills pass - Edge: Patriots
Buffalo's offensive coordinator Brian Daboll must lose plenty of sleep worrying about Allen. The young quarterback has unquestioned ability but simply lacks the accuracy it takes to consistently run an NFL offense. At times when he lets it rip he can make throws that would cause any talent evaluator to take notice. But he often follows those up with short passes that are well off the mark and create unnecessary long-yardage situations for an offense that can't afford to be in those too often. When Allen stays on schedule he uses John Brown (71 catches, 1,007 yards, 5 TDs) and Cole Beasley (60 catches, 670 yards, 6 TDs) effectively. Those two catch most of the passes for Allen but Singletary and rookie tight end Dawson Knox also factor into the passing game. On the surface that doesn't seem to be enough to disrupt the Patriots secondary, which ranks second in the league allowing only 170 yards per game. Stephon Gilmore is dominating virtually every opponent he sees and he's matched White's interceptions with six including a pair he's returned for touchdowns. He should see Brown in this matchup, which will force Allen to look elsewhere for help.
Special Teams - Edge: Patriots
The Patriots kicked off their blocked punt brigade in Orchard Park back in Week 4 when J.C. Jackson blocked Corey Bojoquez' punt and Matthew Slater returned it for a touchdown. That was the first of four blocks for the punt return unit this season. Last week the punt coverage group gave the Patriots life late in the first half when Slater forced a fumble in 10-10 game that allowed the Patriots to take a lead to the locker room. Jake Bailey continues his fine work in his rookie season, and Nick Folk has provided some stability since returning from his appendectomy by hitting on a pair of field goals last week. Stephen Hauschka has been inconsistent on field goals (19-for-25) but four of the misses have been from beyond 50. Andre Roberts is dangerous in the return game, especially on kickoffs where he took one back 66 yards earlier this season. The Patriots aren't getting much out of their return game, but the coverage has been rock solid all year and the big plays have been a huge part of the team's overall success.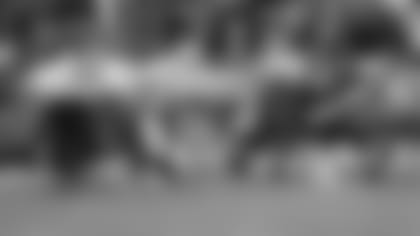 Table inside Article

| 2019 REGULAR SEASON | NEW ENGLAND | BUFFALO |
| --- | --- | --- |
| Record | 11-3 | 10-4 |
| Divisional Standings | 1st | 2nd |
| Total Yards Gained | 4,898 | 4,706 |
| Total Offense (Rank) | 349.9 (18) | 336.1 (22) |
| Rush Offense | 101.8 (19) | 134.9 (5) |
| Pass Offense | 248.1 (9) | 201.2 (28) |
| Points Per Game | 26.6 (8) | 20.8 (22) |
| Total Yards Allowed | 3,757 | 4,087 |
| Total Defense (Rank) | 268.4 (1) | 291.9 (3) |
| Rush Defense | 98.1 (7) | 101.4 (10) |
| Pass Defense | 170.3 (2) | 190.5 (3) |
| Points Allowed / Game | 12.9 (1) | 15.9 (2) |
| Possession Avg. | 31:35 | 30:43 |
| Sacks Allowed / Yards Lost | 27/188 | 35/214 |
| Sacks Made / Yards | 41/282 | 42/284 |
| Total Touchdowns Scored | 44 | 33 |
| Penalties Against / Yards | 85/744 | 105/841 |
| Punts / Avg. | 75/44.9 | 68/41.6 |
| Turnover Differential | +24 (1) | +5 (10T) |
QB TOM BRADY: Passed for 128 yards with 2 TDs vs. 0 INTs for 86.6 rating last week. Has 2+ TD passes & 100+ rating in 3 of past 5 vs. division. Has 21 TD passes in 2019, his 17th season with 20+ TD passes, surpassing Peyton Manning for most all-time.
Season Stats:  331 / 551 for 3565 yards, 21 TDs / 7 INTs. QB Rating: 86.5
QB JOSH ALLEN: Passed for 139 yards with TD vs. INT & rushed for 28 yards & TD last week, his 9th rush TD of season, most among QBs. Has 0 INTs & 115+ rating in 2 of past 3 on road. Aims for 3rd in row vs. division with 2+ TD passes & 110+ rating.
Season Stats:  255 / 430 for 2876 yards. 18 TDs / 9 INTs. QB Rating: 84.6
The Patriots have recorded 75 wins over the Bills, the most by the Patriots against any one opponent. The Jets are second with 67 wins.
The Buffalo Bills snapped a streak of 13 straight home wins by the Patriots, including 12 straight wins by the Patriots at Gillette Stadium with their 17-9 win in the 2014 regular-season finale on Dec. 28, 2014.
Bill Belichick has a 92-30 (.754) all-time regular-season record against the AFC East as head coach of the Patriots.
The Patriots won 15 straight games over the Buffalo Bills from 2003 through 2010, tied for the fourth-longest winning streak over a single opponent in NFL history.
Tom Brady owns a 31-3 record against the Buffalo Bills. Brady's 31 wins against Buffalo are the most wins by a quarterback against a single opponent.
Tom Brady has led the Patriots to 31 regular-season victories over the Bills, his highest victory total over any opponent. Additionally, Brady has thrown more touchdown passes (69) against Buffalo than any other opponent. He has 65 touchdowns against the Dolphins and 57 against the Jets. Brady also has more 300-yard games (11) against Buffalo than any other NFL team. He has eight 300-yard games against Miami.
CB Stephon Gilmore - Cornerback (2012-16).
OL Marshall Newhouse - Offensive Tackle (2018).
Director of Skill Development Joe Kim - Assistant Strength Coach/Pass Rush Specialist (2009).
OC Brian Daboll - Defensive Assistant (2000-01), WR Coach (2002-06), TE Coach (2013-16).
Coaching Assistant Ryan Wendell - OL (2009-15). Won a Super Bowl (2014) and two AFC Championships (2011, 2014).
Buffalo P Corey Bojorquez - Signed (UDFA) 2017 preseason.
The Patriots have not allowed a 300-yard passer in 23-straight regular season games (dating back to Week 8 2018), the longest active streak in the NFL, and will look to extend that to 24-straight games against the Bills. Their current streak of 23 games is the fifth longest such streak in team history and the longest since going 31 straight games without allowing a 300-yard passer from 1981-83.
Since 2001, the Patriots are 97-13 (.882) when they do not turn the ball over and 95-3 (.969) with a positive turnover margin. In 2019, the Patriots lead the league with a +24 turnover margin entering Week 16.
The Patriots have scored 372 points so far in 2019. With 28 or more points against the Bills, the Patriots will reach the 400-point threshold on the season for the 13th consecutive year, extending their own NFL record. The Chargers previously held the record by scoring at least 400 points in eight consecutive seasons from 2004-11. New Orleans has a current streak of eight straight seasons with 400 points (not including 2019).
The Patriots have blocked four punts in 2019, a franchise record. With two more blocked punts this season, they would tie the 1990 Kansas City Chiefs for the most blocked punts in a season in NFL history with six.
With one defensive score, the Patriots will tie the franchise record for most defensive scores in a season with six.
The Patriots defense is leading the league with 25 interceptions through 14 games. They are on pace to finish with 29 interceptions this season, which would tie for the most picks in a season in the Belichick era.
The Patriots have held teams to just 40-for-172 (23.3%) on third down in 2019, the league best. The fewest third downs allowed in a 16-game season is 49 by the 1991 New Orleans Saints. Against the Jets in Week 3, they did not allow a single third-down conversion, a feat they've achieved five times since 2000. Only five teams have managed to allow zero third downs twice in the same season: Packers (2005), Eagles (2009), Giants (2010), Dolphins (2011) and Saints (2013).
Belichick is 41-0 since 2000 when leading the Patriots to a 40-point outing. He is 129-7 (.949) when leading the Patriots to a 30-point outing and 211-35 (.858) when leading them to a 20-point outing.
Entering Week 15, Brady's 538 regular-season touchdown passes are third all-time, behind Drew Brees (541) and Peyton Manning (539).
With 300 or more yards passing, Brady will record his 93rd 300-yard passing game, tying Peyton Manning for second in NFL history. Drew Brees is first with 120 300-yard games. The Patriots are 76-16 in Brady's 300-yard passing games.
With 30 or more completions against Buffalo, Brady will register his 40th career game with 30 or more completions, breaking a tie with Peyton Manning for second-most in NFL history.
Brady has 74,079 career passing yards in the regular season, second-most in NFL history to the 76,884 by Drew Brees.
The Patriots will clinch the 2019 AFC East title, extending their own NFL record to 11-straight division titles (2009-19). It would be the team's 19th division title in Robert Kraft's 26 seasons of ownership, compared to the three division titles the team won during its first 34 years. The Patriots would close the second with 10-straight division titles, a feat never accomplished before.
The Patriots will earn their 16th division title since realignment in 2002, which is the most in the NFL during that span. Green Bay and Indianapolis are tied for second with nine division titles since 2002.
The Patriots will earn their 13th 12-win season since the 1970 merger, tying the San Francisco 49ers for the most 12-win seasons over that span. The Patriots are currently tied with Dallas for the second-most 12-win seasons.
The Patriots own an NFL-best record of 90-24 (.789) in regular-season divisional games since 2001 and can improve that mark with a win against the Bills.
The Patriots will improve to 88-30 (.746) from December through the end of the regular season since Kraft purchased the team in 1994.
The Patriots will improve their winning percentage versus division opponents from November until the end of the season since realignment in 2002.
The Patriots will earn their 114th win on or after Thanksgiving since 2001 (including playoffs).
The Patriots will extend their NFL record for the most regular-season
wins in a decade (2010-present) to 125. The team will also extend their record for the most total wins in a decade to 141, including the playoffs.
... and a player eclipses 100 yards rushing, the team will improve to 52-1 in the regular season since 2000 when a player rushes for at least 100 yards.
The Patriots will improve to 46-7 (.868) against divisional opponents at home since Gillette Stadium opened.
... and hold the advantage at the half, the Patriots will improve to 100-1 all-time at Gillette Stadium when leading at halftime.
The Patriots will earn their 184th home victory since 1994 (including postseason), extending their league record during that time.
Belichick will earn his 13th 12-win season as a head coach, extending his own NFL record. Don Shula is second with eight 12-win seasons. From 2011-17, Belichick also set the NFL record for most consecutive 12-win seasons with eight.
Belichick will claim his 11th consecutive division title and his 17th division title overall, both NFL records. In consecutive division titles, fourth other coaches are tied for second with six-straight division crowns. For overall division titles, Don Shula and Tom Landry are tied for second with 13 division crowns.
Belichick will improve his all-time regular-season record against the AFC East as head coach of the Patriots to 93-30 (.756) and raise his mark against the Bills to 35-5 (.875).
Belichick will earn his 304th all-time win (regular and postseason) as a head coach, which is third in NFL history behind Don Shula (347) and George Halas (324). It will also mark Belichick's 273rd regular-season win, behind Shula (328) and Halas (318).
Brady will lead the Patriots to their 11th-straight division title, an NFL record for a quarterback. It will also be Brady's 17th division title overall, also an NFL record.
Brady will lead his team to a 12-win season for the 13th time in his career, the most by a quarterback in NFL history.
Brady will earn his 86th career regular-season victory against an AFC East opponent, improving his mark as a starter in division play to 86-20 (.811).
Brady will earn his 32nd regular-season victory against the Bills, improving his record as a starter to 32-3 (.914). His 31 wins over Buffalo are the most ever by a quarterback against a single team in NFL history. He is also the only quarterback in NFL history to have more than 20 wins against three different teams.
Brady will improve to 63-15 (.808) in the month of December, the most wins in NFL history. His winning percentage in December is second all-time among quarterbacks in the Super Bowl era with at least 20 starts. Roger Staubach is first (17-3, .850).
Brady will claim his 219th regular-season win, second in NFL history. Brady will earn his 249th career win (including postseason), extending his NFL record for a quarterback. Peyton Manning is second with 200 career wins.
TELEVISION: This week's game will be broadcast by NFL Network and can be seen locally on WBZ-TV Channel 4. Mike Tirico will handle play-by-play duties with Kurt Warner as the color analyst. Peter Schrager will work from the sidelines. The game will be produced by Mark Teitelman and directed by Greg Scoppettone.
NATIONAL RADIO: Saturday's game will be broadcast to a national audience on Westwood One. Scott Graham will call the game with Ross Tucker providing analysis. Hub Arkush will work from the sidelines.
SATELLITE RADIO:  82 (Buf), 83 (NE) - XM: 227 (Buf), 226 (NE)
LOCAL RADIO: 98.5 The Sports Hub is the flagship station for the Patriots Radio Network. A complete listing of the network's 38 stations can be found here. Play-by-play broadcaster Bob Socci will call the action along with former Patriots quarterback Scott Zolak, who will provide color analysis. The games are produced by Marc Cappello.