After two weeks of practice action the Patriots will open the preseason with a visit from the New Orleans Saints Thursday night at Gillette Stadium. The teams got together for two days of joint practices leading up to the game, marking the fourth time New England and New Orleans have done so in recent years.
While all football seasons are eagerly anticipated in these parts, this year's exhibition slate figures to take on some added significance due to the unfortunate situations surrounding Tom Brady. With Brady set to serve a four-game suspension to open the season, all eyes will be on Jimmy Garoppolo, who will be the starter for the team's first four games.
That storyline will dominate the headlines for sure, but it's not the only item of interest. Here are some things to watch for during Thursday night's preseason opener.
Offense
QB reps - There's no way of getting around it, the quarterback situation is not only the biggest storyline in New England but it's one of the biggest in the entire league. Brady has taken the vast majority of first-team reps during camp practices but Garoppolo obviously needs some time to work with the starters to prepare for the regular season. How Bill Belichick chooses to balance those needs will be interesting to watch. We should see Garoppolo for at least the first half. Rookie Jacoby Brissett will likely see some action in the second half.
Tyler Gaffney - The third-year running back has zero experience after spending his first two seasons on injured reserve. He's received plenty of opportunities during camp with Dion Lewis (knee) and Donald Brown (hamstring) both sidelined. He appears to be quick to the hole and has flashed at times on his carries. Now it's time to see if he can he take that practice-field production and carry it into game action.
[wysifield-embeddedaudio|eid="457461"|type="embeddedaudio"|view_mode="full"]
Malcolm Mitchell - The rookie receiver has been impressive at times during camp, using his speed and strong hands to make plays. He watched veteran Aaron Dobson get the headlines early on but lately he's been the better of the two potential outside targets. Mitchell has the potential to be a preseason superstar, which would be a positive development for the fourth-round pick out of Georgia.
Joe Thuney and the offensive line - The rookie out of N.C. State has been rock solid all summer. He's been a fixture at left guard since Day 1 and figures to be at that spot against the Saints as well. How he and the rest of the line performs will be an early indicator on the level of improvement the group has made under Dante Scarnecchia. Obviously there are some members missing (Tre' Jackson, Sebastian Vollmer) and there's still a lot of work to be done, but first impressions will be worth noting.
AJ Derby - Derby spent his rookie season on IR but has been productive at times during camp. The former college quarterback has deceptive athleticism and has shown strong hands during practices. If he can build on the momentum he's started during game action he could vault himself into contention for a roster spot at tight end.
Defense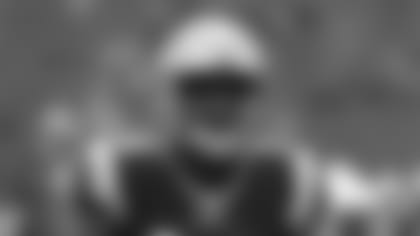 Trey Flowers - Flowers is another young player who missed most of his rookie season. He flashed in the early preseason a year ago and has been noticeable once again during practices. He has an opportunity to create a role for himself as an extra pass rusher, and a strong preseason could solidify that.
Shea McClellin - Not sure how much playing time a veteran like McClellin will receive but I'm curious to see where he lines up and how he's utilized. He's spent most of his time as a defensive end but in recent days has been occasionally off the line as a linebacker. With Rob Ninkovich sidelined for reportedly 4-6 weeks, it will be interesting to see if/how McClellin is affected.
Third corner - Justin Coleman has been more impressive than rookie Cyrus Jones during camp in terms of coverage. He's been competitive and consistent throughout the practices while receiving more reps with the frontline players. The competition will continue throughout in the preseason.
Punt returns - Speaking of Jones, he will likely get plenty of chances in the return game and needs to do a better job of securing the ball. He's been shaky at times receiving punts, although he was flawless in that department during the two days working with the Saints. V'Angelo Bentley has also gotten a boatload of chances as a returner and he should get some work as well.
Jordan Richards - The second-year safety looks much more comfortable and looks to be fighting for a role as a contributor in the secondary after getting very little playing time as a rookie. He's been on the field with Devin McCourty and Patrick Chung at times, and he should receive plenty of opportunities throughout the preseason.