Inured as we've become societally to associating professional sports with bravado and bombast, we're genuinely taken aback when someone therein downplays his or her own athletic attributes. In pro football, it's uncharacteristically rare, if not unheard of, for skill position players to do so.
Yet, listen to Nelson Agholor recount his ascent from shoeless immigrant child unfamiliar with English to polished National Football League wide receiver. He doesn't consider himself naturally gifted, even when he was a kid or a five-star recruit in high school.
"No. Not at all. If anything, the thing I had going for me at that age was my mind. I feel like I became a cerebral athlete. I studied other people and tried to emulate them. Still, to this day, I'd say my talent is my mind… Obviously, God gives us all different gifts. The gift he gave me was to think about ways to get better and ways to work hard and then to execute."
Case in point: Since discovering Pilates in college as a way to lengthen and strengthen his muscles and core, Agholor has become a passionate practitioner of the physical fitness regimen often identified with middle-aged moms.
By his own admission, this young man has always been a bit different. Agholor turns 28 in May, but sounds much older. He speaks with a thoughtfulness and an eloquence beyond his relative youth. "I hold myself accountable," he explains, "because that's what I had to do as a child."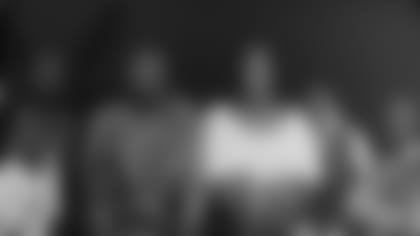 Years ago, students at the University of South Florida may not have given Felix the Janitor much thought if they passed him in the hallway. Perhaps it never occurred to them that this gentleman of humble appearances could be more learned, more worldly than any of them. In fact, before moving to Tampa, Florida, Felix earned a degree from a university in India.
As the1990s were drawing to a close, Felix and his equally erudite wife, Caroline, wanted more out of life for themselves and their then-four children. From their native Nigeria, they set their sights, as many dreamers do, on America.
Lacking necessary funds to pursue the requisite legal channels, but still wanting to play by the rules, Caroline entered her family's names into the U.S. State Department's Diversity Immigrant Visa program, known colloquially as the green card lottery… and won. Granted permanent resident cards, the Agholors would soon leave Lagos, Africa's second-most populous city, and arrive in New York. After a couple months' stay in a hotel there, they eventually settled in Tampa, where Caroline's brother already lived.
"If it wasn't for her luck, we wouldn't even be able to be here," Agholor points out. Earning a respectable living, though, did not come easy for Felix and Caroline, who each worked multiple jobs to support their children. Often, they were both absent from home at the same time and for long periods.
"It actually made me more independent, and it's the reason why I think I have my own sense of accountability," Agholor reflects today. "Sometimes I had to fend for my own food, to figure out a way to eat, honestly. Sometimes, I might go over to friends' houses. Other times, I might find a couple coins around the house and eat whatever I could buy at a corner store.
"It taught you how to hustle a little bit. It also taught you how to value money at a young age. What you had, you saved and used wisely. You used it because you needed it."
Faced with eviction at one point early on, the Agholors stayed in Tampa, but moved to a more costly three-bedroom bungalow. Life in America versus Nigeria may not have looked much different for Felix and Caroline, but the couple remained determined to give their children a more promising future. They found a way, by working hard, to afford both their home and tuition for Nelson, their youngest at the time, and his siblings at Berkeley Preparatory School, an 86-acre campus for day students pre-kindergarten through Grade 12.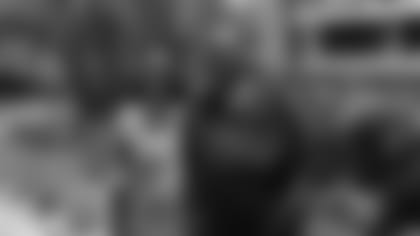 Felix and Caroline also made ends meet well enough that Nelson – or Nelly, as many still refer to him – would eventually be supplanted as the baby of the family. When his youngest sister came along, Nelly was smitten. With a grin that's discernible even over a phone line, he admits, "Yeah, that's my baby," and goes on to explain how, in her, he found inspiration to do the off-field work he's known for today.
Making friends in America initially proved challenging for Nelly.
"That was a tough one," he concedes, "because it was just me and my family, me and my brothers and sisters. You're a true foreigner. You don't know the culture, don't know what's acceptable, really. You don't really know how to communicate because you don't speak English well. You also might be looked at as a little bit odd, you know, because of the cultural things you do, how you dress. Growing up, I didn't wear shoes much. I didn't have shoes."
Sports helped "bridge the gap," as Nelly refers to it. Particularly American football, which he knew absolutely nothing about until he saw his older brothers playing two-hand-touch in the street with other neighborhood kids. Joining in helped jump-start Nelly's assimilation process, and while he might not have seen a future for himself in football at the time, others quickly did.
Berkeley's longtime football coach, Dominick Ciao, promised to turn this once 170-pound high school freshman into a can't-miss college prospect. A bold claim, for while Florida may be a hotbed for football talent, a school like Berkeley rarely saw such students matriculate.
Yet, Nelly listened, learned, and believed in everything Ciao had to teach him about football. By the time his senior season rolled around, Nelly was turning down powerhouse programs like Florida, Florida State, Oklahoma, Notre Dame, and even perennial champion Alabama. He chose to accept the offer from the University of Southern California.
"That's always been my thing, to be able to find a model, an example, and then execute what I see from those people."
EVANGELICAL ABOUT EDUCATION
As a true USC freshman in 2012, Nelly contributed immediately for the Trojans, appearing in all 13 games as a reserve wide receiver. A starter the next season, he came achingly close to the thousand-yard mark in receiving yards – a threshold he'd easily surpass as a junior, with 1,313 yards and 12 touchdowns on 104 catches.
Those numbers led all USC pass catchers and convinced Nelly to forego his senior campaign in favor of the 2015 NFL Draft. Philadelphia subsequently made him the 20th overall pick in Round 1.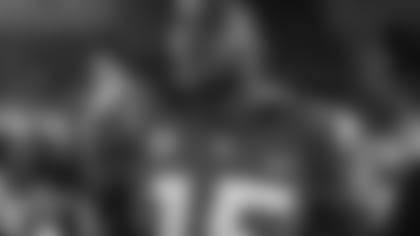 Even as far back as ninth grade, long before he became nationally known, Nelly recognized that he wasn't just trying to emulate his role models, but also becoming one himself. Younger Berkeley students looked up to him, both as a football player and, more importantly to him, as a person. He did his level best to live up to their expectations.
Yet, he also had a protégé much closer to home and to his heart. His baby sister, the apple of Agholor's eye. "I would always talk to her about life," he recalls, "and having true control over her decisions."
She would inspire Nelly, once he became a professional athlete with a powerful platform, to create a nonprofit organization called Our Kids, Our Responsibility.
"Education and experience are key. If you're educated, you put yourself in position to have more experience. Exposing kids' minds to more is what education is," he reasons. "It's just access to information that can be used to want to do more, to accomplish more, to be more. To be more than what you might be able to see. The more kids know, the more places they know, the more they're able to do."
Charity, as the saying goes, starts at home, and Agholor's mission is no exception. He's putting his kid sister through college, helping her become the psychologist she's studying to be so she can make her own way in the world. Along the way, he's also worked and continues to work with numerous middle and high school-aged youths to give them the type of direction he had to learn on his own at their age.
"Not enough, though. I'd say [I've helped] a lot, but not enough. More can be done," Nelly insists. "I look forward to being integrated in our Boston community and nurture the minds of the kids there."
After five seasons with Philadelphia that included a Super Bowl title, Agholor briefly moved on to Las Vegas as a free agent in 2020. When his one-year deal with the Raiders expired this spring, he inked a two-year pact with New England, eager for a chance to continue competing and helping the Patriots return to their winning ways. There's much more he wants to accomplish in football as well as away from it. Both are recognition of how far he's come and where he wants to go next.
"The little memories I have [of Lagos] are obviously my family and I living in a compound that a landlord owned. We had a small house in that compound, a small little humble home. We were a tight group of people. Mom and Dad did everything they could then to provide for us."
Today, he's the one providing for Felix and Caroline and his siblings. He's even helped his mother visit their homeland a number of times, a journey he longs to make himself someday.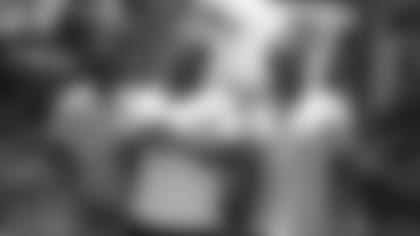 "My return [to Nigeria] is long overdue," he admits. "I do have a desire to go back. I have not been back yet. Right now, I don't have any plans, especially with COVID. It's been tough. But I'd say a random goal I have now is to do it for my little sister's graduation. I think that'd be a really cool thing for her. She's never been because she wasn't born there… That'd be a cool little deal."
In the meantime, Nelly Agholor will do whatever he can here in the States to be the best Patriot, the best person he can be. He learned by example. Now, he wants to be one.
"I know my parents are proud of me," he asserts. "I'm super happy to be able to make them proud and provide for them and represent the Agholor family."