"We were just getting to that point where we were enjoying each other as buddies… It was a very love-filled relationship. He loved me more than anyone; I probably loved him more than anyone else."
Nate Ebner is referencing his late father, Jeff. In his own childhood, Jeff experienced certain challenges which informed the ideal of parenthood that he hoped to achieve someday. As a result, Jeff diligently cultivated his relationship with Nate from the beginning, and, according to Nate's grandmother, Lyla Bailin, "it just kept on developing."
Until, without warning, a stranger interrupted it. Only 53 at the time, Jeff succumbed on Nov. 14, 2008 to injuries incurred a day earlier during a violent assault at the hands of an invader at the Ebner family's junkyard.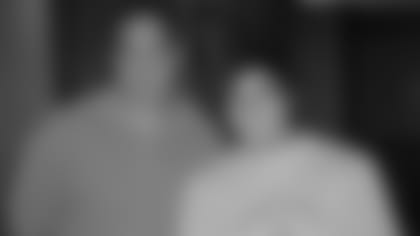 "It just sucks," Nate continues, "to lose not only your parent, but your best friend… No one should die the way he did."
Losing his father in so horrific a manner, at such a pivotal time, presented a fork in his life's road. One direction could have led him down a foreboding trail; with his mother's assistance, Nate instead chose the more constructive course. Grandfather Dick, stepmother Amy, and other family members on both sides also did whatever they could, whenever they could, to help Nate stay true to himself after Jeff's death.
Nate will turn 31 next month. Today, Nancy Pritchett offers a frank assessment of how her son has evolved as a person over the intervening eleven years.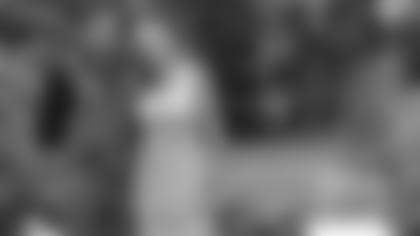 "I think he's gone kind of inside himself. He's put up some walls. He's more serious than maybe he would have been," she estimates. "He's a little heavier [emotionally]. There's a weight he carries around. It's much lighter today than it was 10 years ago, but I think it may have changed his ability to enjoy life to the extent he would have if his dad were still here.
"Time helps heal that. He's better than he was – I think he would have been a different person without football – but it weighs on him when special things happen."
Special things, like his wedding this past spring to longtime girlfriend Chelsey, who Nancy believes has helped ease Nate's burden.
"I don't think he could have picked a better person to be with. They work well together. He knows that she's with him because of him, not because he was an Ohio State football player, not because he's a Patriot. She likes Nate for Nate. That's important to him. They have a lot in common. She's very driven. Very athletic. It'll be interesting if they have kids."
At the end of March, more than a month after winning his third Super Bowl with New England, Nate swept Chelsey off to Rome, then down to Italy's historically beautiful Amalfi Coast. There, the couple married and spent a fortnight enjoying each other's company well into April. Of all the places they explored, none left Nate more spellbound than the cliff-clinging town of Ravello.
"The views and the pictures were… awesome," he pines with a smile. "Between the two of us, we just kind of wanted to get away from the spectacle of things. I'm a non-drama person. I'm going to do all I can to avoid it. She was all about that.
"Obviously, it's a bit selfish on our part, but we had a reception party back home for the rest of the family and friends that wanted to attend."
Upon returning to the U.S., Nate also got back to work, taking part in the Patriots' offseason training program. Starting in mid-April, the workouts, organized team activity practices (OTAs), and minicamp sessions encroached into early June. Almost immediately thereafter, he packed his bags once more for an altogether different, though no less sentimental overseas voyage.
Some six months before Jeff died, Ann Bailin took her half-brother on a trip to Monte Carlo and Barcelona, which she'd earned as a performance-based incentive from her employer. They had no way of knowing at the time just how special it would be. Though not nearly the siblings' first time traveling together, it would prove their last.
After Jeff's death, Ann resolved to attend almost all of her nephew's Ohio State football games, home or away. Week after week, she'd sit in the stands alongside Nate's mom, Nancy.
"I missed two games," Ann explains, "because I was in a wedding, and one game, he didn't play."
For his 21st birthday, she whisked him off to Las Vegas. For the Summer Olympics in 2016, Ann couldn't wait to book her passage to Brazil.
"I wasn't going to miss that!" she exclaims. "As soon as he made the [U.S. Rugby] team, I'm on the phone with the travel agent, talking to his mom… I wouldn't say I put my life on hold, but I did a lot, because I wanted to, just to be there for Nate."
In 2019, Nate's turn came.
For the past several years, Patriots owner Robert Kraft has organized guided tours of Israel for select NFL legends and their invited guests. Unable for various reasons to accept previous offers to join the pilgrimage, Nate finally did so this year. The trip was reserved exclusively for current New England players and Patriots alumni.
When told he could bring a plus-one, Nate naturally first thought of his new wife, Chelsey, but she'd already exhausted her vacation time on their wedding trip. So, he decided to treat Aunt Ann, who celebrated her milestone 50th birthday in 2019.
"I just knew," Nate says, "how much it would mean to take my aunt – being Jewish, not having been to Israel, both of us sharing my dad in a way. I thought she would get the most out of that trip."
Ann admits, "I got a little verklempt, I'm not going to lie. Got a little teary-eyed." It wouldn't be the first time she'd well up in Israel. A visit to Jerusalem's Wailing Wall, she reveals, "brought back memories of my getting Bat Mitzvah and having my brother there."
"The whole trip," adds Nate, "was about going because it was a place [my dad] said, 'You need to go and check this out. It's cooler than people make it out to be.' You hear certain things about the Middle East, then you go there and it's a completely different story.
"[Visiting Israel] changed my perspective. I think of the United States as a very patriotic nation, but Israel, they're on another level of patriotism. And that's because those people are in the middle of sacrificing, and they understand what's on the line for them. They don't want to give that up. They're proud.
"With all Israeli citizens required to serve in their nation's military, they're a lot closer to the sacrifice that's being made for their freedoms as a general population. It's humble patriotism. I think a lot of our country has lost sight of the true sacrifices that are being made daily to protect our freedoms and our way of life. It's more entitled patriotism."
An example of this touched Nate and his aunt in a way they couldn't have anticipated, during a stop at Caliber 3 Ltd., the Israeli Counter-Terror & Security Academy, where many of that nation's military personnel go to train.
"For a lot of people on the trip," Ann recalls, "it was a highlight."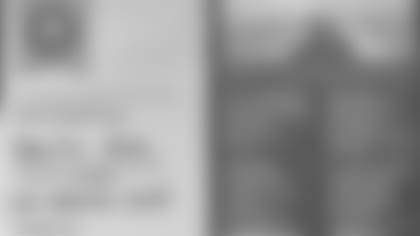 Following a demonstration of military tactics and a basic shooting course, the instructor asked Ann to read aloud a poem to the rest of the group. Whether they somehow knew she was one of the only Jewish people on the Patriots' tour or just selected her at random, Ann is unsure. What she contends is that she was meant to be the one to read it.
The poem, which accompanies a certificate given to all who complete the Caliber 3 shooting training, was penned by a Jewish woman whose brother was killed in action in service of Israel.
"So, of course," Ann adds, "I'm a basket case. I can't even bring myself together. For me, being there with Nate, reading that poem, it put everything in perspective. They didn't know me, didn't know I lost my brother, Nate lost his dad.
"Is it a coincidence," Ann wonders aloud, "or is it a wink from God?"
"I know there's a spiritual part to [Nate], even though he doesn't practice religion," his mother maintains. "I know he said he felt his dad with him when he was at the Olympics."
Which begs the question of Tokyo and the 2020 Summer Olympics. Could Nate Ebner once more travel overseas to represent his country in the Games of the XXXII Olympiad?
"I'm holding out for one more," Ann laughs. "I'm spontaneous. I have a passport, and I travel well."
"If he gets out of this [NFL] season healthy, I think there's a good chance," Nate's mother, Nancy, proclaims. "I certainly think he has the desire, but he's got to have the health. He's got a lot to bring to the [Olympic] team, from the standpoint of professionalism. Some of them haven't been on the same stage Nate's been on. I think he brings a sense of calm."
Only once while retelling his life's most painful parts, Nate bristles a bit – at the mention of his father's killer.
Nate knows the name, but cares not to utter it. He's fully aware that the individual who eventually copped to the crime, now behind bars, could be paroled as early as 2025, but chooses not to dwell on it. He even decided not to attend the trial, when other family members, like his Aunt Ann, did.
"I needed to. I wasn't really at peace," she confesses. "I also needed to be there for my mom. I needed to see that someone was going to be responsible. I want to make sure he doesn't get out. I check every year, call the prison to make sure he's still there. Do I let it overtake my life? No, but for a while, did I? Yeah, probably. I think of my brother every day, and I'm sure Nate does."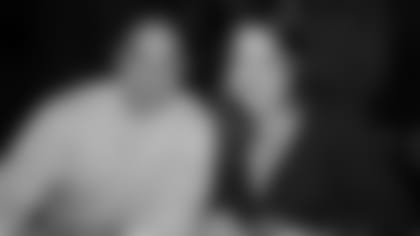 Indeed, Nate understands and respects his aunt's approach; he just simply refuses to give the murderer any more pride of place in the Ebner narrative than he already occupies.
At this juncture, an otherwise impartial outsider might be understandably curious to know any number of details pertinent to Jeff Ebner's death, including more about the man who caused it. Such questions might be normal for others to ponder, yet Nate feels any answers derived from them are immaterial, at least to his mind.
"I can sit here," he expounds, "and worry about how it happened or what happened… none of that matters. It's not going to bring [my father] back. It doesn't matter if I know or don't know. Worrying about that just doesn't do anything for me."
What, then, does matter? The insights Nate can share as a result of his experience and the potential sources of inspiration that people can draw from his life's example.
"I believe anyone can achieve anything within their physical abilities that they want to do," he says, with the qualifier, "if they are willing to sacrifice everything to do it. Most people aren't willing to sacrifice everything. I put everything I had into it and I had the confidence in myself. I had the physical ability to do it, and it worked. It should have worked. Maybe that's arrogant. I don't know, but I hope, from a motivational standpoint, that's one message.
"I'd also hope that, just because a major tragedy happens in your life, doesn't mean your life is over. You can live a life that that person, even yourself, can be proud of. Don't let that tragedy direct the path of the rest of your life."
One more word of advice that Jeff Ebner preached, his family now practices: Life is too precious not to enjoy dessert first every now and then.
"Jeff would always get dessert first," Ann Bailin adds. "On special occasions, we eat dessert first now. It's like Jeff's a part of it, even though he's not here."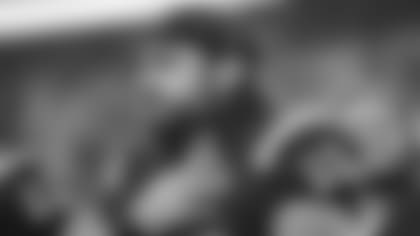 Dictionaries define "fatherland" as a person's native country, especially when referred to in patriotic terms.
"We hear so much complaining about the United States," Nate observes. "I've been all over the world, and there's no place I'd rather be."
Still, no matter where he goes on this planet, there are specific plots of land that Nate closely associates with his late father.
"The times I feel his presence or feel like he would be around, are weight rooms and rugby fields. Just little things, not necessarily big moments."
There might now be a third place on Nate's list.
If you ever find your way to Tel Aviv, do your best to book a hotel overlooking the beach. Facing due west, you'll be treated to the sublime nightly spectacle of an apricot sun gently dunking itself into a Mediterranean the color of grape juice. In Israel, Nate felt closest to his father here in this cosmopolitan coastal city.
"We'd gone out for a drink," he reveals, "and I more or less imagined him being there back in '89, going out with his friends, just being in the city, partying."
Nate longs to visit Tel Aviv again someday. Next time, he says he'll bring Chelsey and they'll linger a while, to savor simply being with loved ones – a joy he's always cherished. After Ohio State victories, when Nate's whole family could be in town, he'd often stay home afterwards and re-watch the game with the entire clan, rather than go out with his friends.
"But that was our thing," adds Ann. "He just liked to be home with us."
Here in Foxborough, Nate assumes a relaxed posture once more. With his left foot anchored to the ground, he pulls his right foot up onto the cushioned bench on which he's sitting. Draping his right arm over his right knee, he rests his back against the closed doors of a teammate's locker. With his left hand, he caresses his FINISH STRONG bracelet.
Eleven years on, he reflects again on the final night he spoke to his father.
"I don't know if I [pursue football] if I don't have that conversation with him and have his blessing, if you will. His confidence – 'Give it all you've got, see if you can get to the NFL' – really gave me the want-to to make it happen for him, in a way. He could tell I wanted it… but I needed to hear that.
"I'm not mad at the way it worked out. My goal was to make it to the league – maybe I saw myself being a safety, but… the power of Ohio State kept me there… and getting to the league was the goal."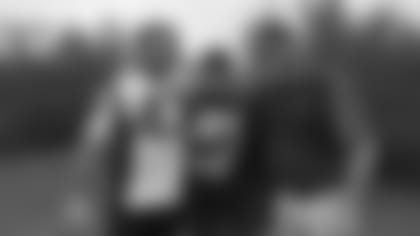 Talking seems cathartic for him today, though he concedes he struggled to get to this point. When it's brought to his attention that he seems utterly at peace with himself – his past, present, and future – Nate nods in agreement.
"Oh, yeah, especially with the society that we live in, where people are so worried about what other people think… They just don't know what's important. Unfortunately, I have [sacrificed], but because of that, I do know what's important. And that's centered me so much to the point that no one can really shake me, honestly."
He explains further, "It's just something, over time, that I've really come to terms with. Once you really can face something and accept it for what it is, it allows you kind of to move forward. Until you do that, you can't really go forward. The only thing I could do at that point is live a life [my father] would be proud of… and I was going to die trying. I hope if he is looking down watching, he's smiling and he's proud of me."
Without question, his mother is.
"[Nate]'s just a really good person," Nancy Pritchett marvels. "He's not that person who seeks the limelight. He's very humble, and wants to be humble. It would really bother him if he came across as being all about him or thinking the world owed him something. And I'm proud of that."
This late Monday afternoon, New England's locker room grows silent. Most of Nate's teammates have either gone home already or are hastening to do so. He casually gets up to say goodbye, although his work is not yet done.
He grabs a clean towel from a nearby shelf, exits the Patriots locker room, and ducks behind a curtain into an adjacent chamber – the team's weight room.
It seems Nate Ebner wants to finish this day strong, in a place where he can be alone, just him and his dad.