An already galvanized crowd required something more – even though the tens of thousands in attendance, including players and coaches, may not have realized it until the time arrived.
In the days immediately following the terrorist attacks of September 11, 2001, a grieving United States of America needed something – anything – to celebrate. And the nation would get it, to a certain extent, with the return of National Football League games after an appropriate weekend off.
Yet, the country's collective pain remained acute. Its wounds, both emotional and physical, still very much raw. Though not directly targeted in the attacks, the New England area perhaps felt a general sense of guilt, or at least shame, what with two of the four hijacked planes having taken off from Boston's Logan International Airport and a pair of the 19 hijackers having begun their diabolical journey in Maine. Subconsciously, perhaps, this entire six-state region maybe needed a more visible, more visceral moment both to express its remorse and reaffirm its allegiance to America's core principles.
Eventually, that latent desire would manifest itself in an unbridled display of unabashed patriotism, just before kickoff of the Jets-Patriots game on September 23. Unlike many tributes paid around the U.S. and the world at the time, this one happened spontaneously, led by someone who'd previously been considered among the most anonymous people on the football field.
"No, I can't believe it's 20 years already," he says, reflecting two decades removed from the entire episode. "I can close my eyes and remember everything – where we were that day, what happened… You don't want to forget."
Former Patriots offensive lineman Joe Andruzzi is speaking of the attacks themselves, the weeks of cleanup and recovery that followed, and his own unplanned role in the aftermath.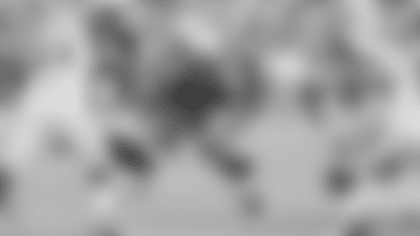 Like many of their fellow early-20th-century paesani, a young Italian couple named Andruzzi looked west, to America, for a better life. The emigrees eventually landed on Ellis Island, settling nearby in the New York metropolitan area. Neither spoke a word of English upon arrival, but they soon learned. The husband also studied a new trade, becoming an electrician to support his ever-growing family.
The Andruzzis refused to speak Italian at home, insisting that they and their eight children, crammed initially into a tiny apartment, employ only the language of their new country. Not that they severed all ties to their homeland. Later, when they could finally afford their own house, the Andruzzis converted their entire back yard into a garden, an altogether common practice for folks of Italian heritage from that generation.
Instilled with timeless values of hard work and dedication to greater, often selfless causes, the first-generation Andruzzi children would grow to adulthood and earn their own livings either in the military or as law enforcement personnel. Bill – youngest of the eight – entered the New York City Police Department and retired 23 years later as a detective. Along the way, he became a father to four boys of his own.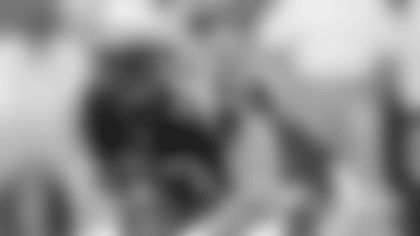 "I would say I grew up in a very patriotic household, yeah," recalls Joe, the third of Bill Andruzzi's four boys, with a chuckle of understatement.
Joe's two older brothers, Billy Jr. and Jimmy, both dedicated their lives to public service with the Fire Department of New York City. The youngest, Marc, followed in their footsteps. Joe might have, too, were it not for his physical and athletic gifts, which first took him to Southern Connecticut State University in New Haven. A versatile offensive lineman, he started all four years.
"I'm sure if football would have ended [for me] after college, I would have taken the [fire department] test. But I guess I'm the odd man of the family," he laughs again. "I was the only one who played soccer for eight years, the only one who stuck with football. I'm the biggest one."
Ironically, though, Joe's size led more than one talent evaluator to conclude that he wasn't cut out for the National Football League. Too big and stiff, they declared.
"It made me work harder," Joe explains. "It's pretty amazing … Having that hard work and dedication allowed me to go to college, make the NFL as an undrafted rookie, and make the opening day roster with the defending Super Bowl Champion Green Bay Packers at the time."
This was 1997. A year later, the Pack told Joe to pack up and move overseas, where he'd play one season on loan with the Scottish Claymores of the now-retired NFL Europe league. After another full season with Green Bay in 1999, Joe was released in 2000, but quickly found work with New England. He started 11 games at left guard during Bill Belichick's first season as Patriots head coach.
As the 2001 season got underway, Joe moved over to right guard. He had no way of knowing then that he would go on to play an integral role in the first three of New England's six Super Bowl victories. Nor could he have predicted that, just two days following a frustrating 23-17 road defeat to the Cincinnati Bengals on opening day, Joe would come seconds away from suffering a much more painful, personal loss.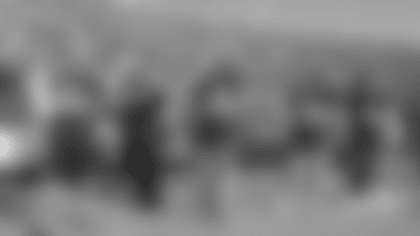 While a stunned planet collectively watched the surreal images of iconic America come crashing down on a cloudless Tuesday, Joe's oldest brother, Billy, raced to the World Trade Center scene in his FDNY role. Marc, the youngest Andruzzi brother, had graduated the firefighter academy only a week earlier and had been scheduled to start his first official day on the job a few days after 9/11. But while driving over the Verrazzano-Narrows Bridge from Staten Island to Brooklyn, Marc got a call to respond as well.
"He had to break his bunker gear out of plastic," Joe remembers. "That's how new he was." Billy and Marc would spend the rest of the day like many of their colleagues, searching through a smoky haze of rubble and debris from the collapsed buildings in lower Manhattan.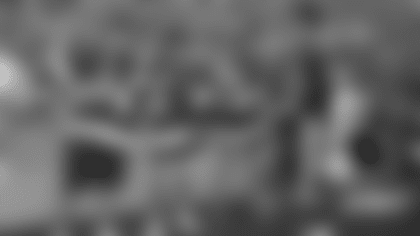 Throughout most of that day, none of the Andruzzis had heard from Jimmy, the second-oldest son, who was on duty and whose FDNY battalion had responded to Tower 1. Mobile phones were still relatively nascent technology and signal strengths often proved unreliable, even in the best of times. On 9/11, countless New Yorkers had difficulty getting through to loved ones.
Meanwhile, unaware that Tower 2 had already fallen, Jimmy and his fellow firefighters began descending a staircase, having done all they could at that point in Tower 1. Around the 25th floor, one of their colleagues started experiencing chest pains, so they stopped to assist him. Turned out to have been nothing more than a strained muscle. But the delay nearly cost them all. As they exited Tower 1, the structure came crashing down. Jimmy and his fellow firefighters narrowly escaped with their lives.
As the sun began casting long shadows, Jimmy eventually found someone on the street who had an operable cell phone and asked if that person could call the Andruzzi family to alert them that he was safe. The news came as a relief to Joe and his family, but the overall events shook them nevertheless.
"That day and the days after, when I went to work, I wasn't really there [mentally], if you know what I mean," Joe explains. "When the NFL shut down for the weekend, I went to Bill [Belichick] and told him, if it's okay, I'm going home to be with my family. He said, 'Sure, no problem. Go right ahead.'"
While Joe's wife, Jen, and their then-two children held down the fort in New England, Joe raced down to his parents' home on Staten Island, stopping first in the city to pick up one of his brothers at the firehouse. With both hands on the wheel and one eye on the skyline, Joe drove dumbfounded at the gaping void where once the towers proudly stood. Smoke and carnage had taken their place.
"On FDR Drive – I've been there many times, but the smell in the air was eerie. Windows of buildings were blown out. It looked like a scene from a movie. But the smell overpowered it. It was a burning of cement, rocks, flesh, and other things."
Finally safe at his parents' home, Joe saw Jimmy for the first time since the attacks.
"No words were said," Joe recalls. When Jimmy's eyes met Joe's, the older brother held his thumb and index finger as close together as possible without them touching. "That was his way," adds Joe, "of saying how close he was [to dying]… it was a tough time for everybody."
What was supposed to be Week 2 of the 2001 NFL season got postponed till the end of the year, out of respect for the victims and their loved ones. The nation needed a moment to mourn.
The following weekend, when football resumed, the Patriots were scheduled – in a fitting coincidence – to host the Jets, a team from Joe's hometown. New England invited his three firefighter brothers to Foxborough that Sunday to serve along with him as honorary captains for the game.
"People always say that guys who play [football] on Sundays are heroes. I don't think so," Joe reflects, 20 years on. "[My brothers and my dad] are more heroes than I'll ever be. I look up to them."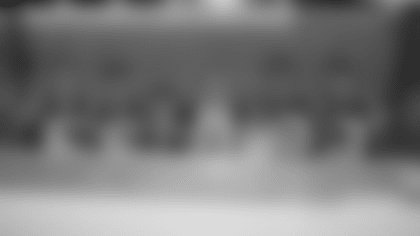 With his three siblings already outside, Joe made his way to join them, walking down the concrete tunnel leading from the Patriots locker room to the field. At some point, he must have asked himself why he was the only Andruzzi not to have entered the family business.
"I'm sure it's in my blood somewhere," he observes today. He would get his chance to prove this on another occasion. Unbeknownst to him at that point, though, something else had begun inhabiting Joe's bloodstream. Something potentially pernicious that wouldn't be discovered until several years later.
For the time being, all Joe knew was that he wanted his brothers to receive their deserved tribute and make their symbolic statement. He didn't yet realize that his role would be to provide the exclamation point.
People always say that guys who play football on Sundays are heroes. I don't think so. My brothers and my dad are more heroes than I'll ever be. I look up to them. - Joe Andruzzi
Early in Joe's Patriots career, he and Jen had befriended a local cancer patient, a young boy named C.J. Buckley who suffered from an inoperable brain tumor. Heartbroken when C.J. died in 2002, the Andruzzis established a research fund in the boy's name at Boston Children's Hospital.
In late spring 2007, Joe was training, as usual, in hopes of extending his 10-year NFL career to an 11th season. He'd just been released by Cleveland, for whom he'd played the previous two campaigns after leaving the Patriots via free agency. Having visits scheduled with the Jets and Dolphins, Joe had every reason to be optimistic. So much so that he and Jen bought a new house in New Jersey, even before they'd sold their primary residence in New England.
As Joe prepared to board a flight for one of his NFL visits, he received a call from one of the cancer doctors he'd met during his time with C.J. They'd discovered a large mass in and around Joe's colon. The diagnosis: Stage 4, non-Hodgkin's Burkitt's lymphoma.
The malign mass' ability to double in size in 24 hours demanded immediate action. Doctors informed Joe he had to start aggressive chemotherapy sessions the very next day.
"We sold our house in Jersey and came back to our house in New England. I spent 50 days in the hospital," Joe says, almost matter-of-factly. During Joe's third month of treatments at Dana-Farber Cancer Institute and Brigham and Women's Hospital in Boston, doctors declared him cancer free. Briefly on his death bed, Joe's life wasn't over… only his life as a pro football player.
Over the next year convalescing at home, he and Jen had plenty of time to ponder their next move. They decided to remain based in New England and start a new charitable endeavor, the Joe Andruzzi Foundation, with the express goal of helping local cancer patients and their families with financial support of various kinds to help them through the treatment and recovery processes. Joe's initiative has helped raise millions of dollars for thousands of needy New England families afflicted with cancer.
Often, Joe and his brothers would also visit Walter Reed, America's military hospital in Bethesda, Maryland. There, they'd host Super Bowl parties, interact with the personnel and patients there, showing off Joe's Super Bowl rings, taking photos, and generally having a good time.
In addition, Joe's foundation qualifies runners for the Boston Marathon. At the fateful 2013 running, Joe and Jen stood outside, positioned near the finish line to await their team of runners, when the first bomb exploded. The couple then tried to seek shelter at the nearby Forum restaurant, where they'd been hosting a watch party. A second bomb detonated at that exact spot, moments before Joe and Jen could get there.
Amid the ensuing chaos on Boylston Street, Jen spotted three young girls trying to carry an older woman on their backs.
"So, I ran across the street and said, 'Let me help,'" Joe recalls. "I picked her up and carried her down the block to an ambulance I saw at the side of the road. The EMTs weren't in there, so, I sat there and tried to calm her down."
A short time later, when Joe and Jen finally got to the Forum, they found it a police scene, blood splattered along the back door. "My heart went into my throat," Joe admits as he revisits the unsettling notion that it could have been his and his wife's had they been in that location just a few minutes earlier.
Instead, a news photographer famously captured the moment when Joe was carrying an injured victim to safety. The woman in Joe's arms would not only recover from her wounds, but also run the Boston Marathon the following year… on behalf of the Joe Andruzzi Foundation.
"It's about reacting," he continues. "I did that my whole life, on the football field, reacting to life. Helping others. As simple as holding a door open for someone, to helping a woman who's injured on Boylston Street."
Or, as Joe Andruzzi discovered that first game after 9/11, seizing an invaluable opportunity that he never expected.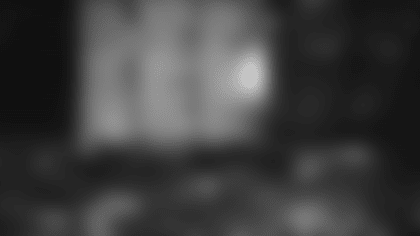 LEARN FROM YESTERDAY, LIVE FOR TODAY
A phalanx of teammates, cheerleaders, and dignitaries, including his three brothers, awaited Joe as he stood at the mouth of the tunnel. At the sound of his name over the public address system, he would run onto the field to join them.
"[My brothers] weren't there for me or [Robert] Kraft or the Patriots or the Jets," Joe maintains. "They were there for their colleagues in the fire department."
Instructed to pause momentarily for the announcer to introduce him, Joe noticed a pair of hand-held American flags taped to the wall in an X shape.
"By then, everyone knew my story, my brothers were out there waiting for me. I grabbed those flags off the wall. It wasn't planned, but when they called my name, I ran out and held them high in the air. The crowd needed to see that and move forward with their lives. I knew the next few hours would help them get their mind off things and help them heal."
Joe was overcome by the Foxboro Stadium crowd's response. "Cheering my brothers on for what they stood for. They had their firemen uniforms on, held their helmets high. The next day, they went back to work and helped with the rescue efforts and cleanup.
"Looking around, seeing the whole crowd, New York Jets fans and Patriots fans together. Hopefully," he jokes today, "it'll be the first and last time we see them holding hands."
Joe can find both the humor and the humanity in his memory of that day. He's had two decades to process what the 9/11 attacks meant to him, his family, his country, and how they still help inform the way he lives today.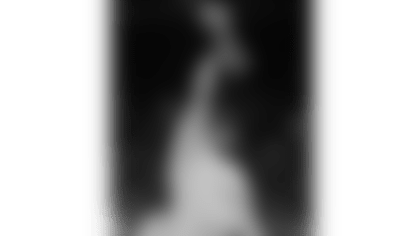 "I'm still a big guy, just can't play O-line anymore," he laughs. "The body definitely deteriorated. In the last 20 years, my knees, back, neck, shoulder… the aches and pains catch up with you later in life. I've had multiple surgeries. But with the life-altering events of 9/11, having cancer, the Boston Marathon bombings, it's how you move forward. Time heals. Your mind and body. So, hopefully you can move on with your life."
Billy, Jimmy, and Marc Andruzzi have remained firefighters long after 9/11. Though an on-the-job injury would later force Billy into early retirement, he stays involved however he can. Jimmy has risen to the rank of lieutenant at his firehouse in Brooklyn. Marc celebrates his 20th work anniversary in the FDNY this year.
Several years passed before Joe could bring himself and his children to visit Ground Zero, the former site of the Twin Towers, where the 9/11 Memorial and Museum now honors those who perished and those, like the Andruzzi brothers, who helped bring at least part of Lower Manhattan back to life.
"I told [Jimmy] after 9/11," Joe recalls, "'God didn't choose you this time. There'll be a time when He does, but you're still here with us. You're still here to help others. You're still here to pay it forward.' It wasn't his time. Same with my other brothers."
The Jets-Patriots game in Foxborough on September 23, 2001 signified more than just a chance for Americans in this part of the country to begin healing. It also signaled the start of a new era of success for the Patriots franchise. An injury to starting quarterback Drew Bledsoe opened the door for backup Tom Brady, whom Joe would help protect as New England won three Super Bowls over the next four years.
"Here we are, still in Massachusetts," Joe observes. "We love the area. We're adopted Bostonians. Those values – hard work, dedication – were instilled in me and my brothers. I try to instill those values in my own kids.
"Can't live in the past, and you don't know what the future brings. Live for today," Joe emphasizes. "Try and be the best person you can every day, and when you have a chance to pay it forward and help others, do so."