It's been a difficult two-plus seasons in New England for N'Keal Harry. After being selected in the first round in 2019, Harry soon was beset by injuries and suffered through a lost rookie year. Things didn't get much better in 2020 when the entire offense never seemed to come together and once again Harry was on the outside looking in.
As the spring practices wrapped up and attention began to turn toward training camp, Harry's agent sent out a message to the Patriots and the rest of the league indicating that his client wished to be traded.
That led to lots of speculation regarding Harry's future, and most felt the wideout's days in Foxborough had just about come to an end. When camp opened last week he got off to a promising start, making a few plays and appearing to put his off-field issues on the back burner while he got to work.
However, he was much quieter over the ensuing four days and made very few catches during that time. On Monday, Bill Belichick was asked about Harry's trade request and how that has affected him during the early days in camp.
"I think N'Keal, like really all the other players that are out there, are working hard," Belichick said. "They're improving. We just need to keep the arrow pointing up and stay on the field and continue to progress from a scheme standpoint as we do more things and from a fundamental and technique standpoint for each individual player at his position.
"That's really the time of year we're at now, so N'Keal's in good condition. He's working hard. Again, keep taking it day by day, and as the competition unfolds, see how things stack up everywhere, not just with him, but all the way across the board. It's really the same for everybody."
Things changed a bit for Harry on Tuesday when the pads came on as he seemed to enjoy the contact and thrived in that environment. Most of his production came early on during 1-on-1 drills, but the most promising element of the three catches was the fact that he was open each time downfield.
First he got the better of Joejuan Williams and made a nice leaping catch on a deep ball from Cam Newton. A few plays later he got behind Michael Jackson for another big play, and perhaps the most impressive rep came when he raced past Jonathan Jones, one of the fastest players on the team, to gather in another deep ball down the right sideline. All three plays resulted in gains of 40-plus yards.
Once the full team work got underway he wasn't quite as active but did chip in with a couple of catches near the sidelines. With a glaring lack of depth at the position there is still an opportunity for Harry to establish some consistency and emerge as an option in the rotation.
In order for that to happen Harry needs to show he can do it on a daily basis, the way Belichick explained. To this point that hasn't happened, but there's still time for him to salvage his career entering his third season and find a way to prove his lofty draft status was warranted.
Here are one man's impressions of the rest of the goings on at Day 6 of training camp.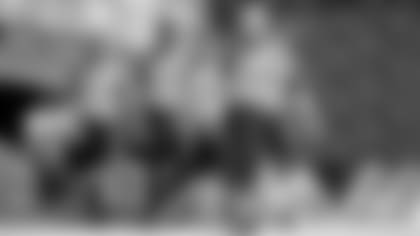 *In addition to pads, the Patriots worked out with officials on the field for the first time this summer as well. Referee Clete Blakeman and his crew observed the action and dropped their share of flags throughout the morning. The clear highlight for the zebras came late in practice when Mac Jones tried to hit Nelson Agholor coming across the end zone toward the left sideline. Jones' pass led the wideout a bit too much and Agholor was ruled out of bounds by the side judge Scott Edwards. Agholor protested a bit before Newton raced over to continue the argument. Newton waved a towel toward Edwards and then placed it over his head as if to simulate a ref going under the replay hood to further review the play. The crowd enjoyed the interaction.
*Belichick gathered the team together before warmups to address he players briefly before they got into their normal pre-practice routine.
*Tedy Bruschi made another appearance at camp and was seen chatting with former teammate Troy Brown on the field prior to practice. Bruschi also said hello to rookie Mac Jones when the quarterback came out to warm up. He later spent several minutes with Belichick. After practice he joined rookie Ronnie Perkins for some 1-on-1 work. Perkins, like Bruschi, had more of a defensive line background in college and is looking to add some linebacker responsibilities as a Patriot.
*Prior to the start of training camp I felt the abundance of options among the front seven would make roster decisions extremely tough. In particular I thought some veterans like Ja'Whaun Bentley and Chase Winovich might be hard-pressed to keep their spots on the team. Through the first week of camp we've seen a lot of Bentley lining up next to Dont'a Hightower at the start of full team periods. Terez Hall, who emerged late last season as a thumper on the inside, has yet to practice and remains on PUP. He could also be a candidate for a job when he returns, as will be the case with Raekwon McMillan, and the competition will be tough.
*Speaking of McMillan, he was forced to leave practice about 30 minutes early with an apparent injury. He walked to the locker room with a member of the training staff.
*The first full contact work of the summer came in the form of some blocking drills with tight ends and wide receivers working against defensive ends and corners. Quarterbacks worked on stretch handoffs and the backs would read the blocks and either cut inside or try to spilt the pair on the edge. There also was some passing out of these looks and generally the receivers were able to get behind the coverage.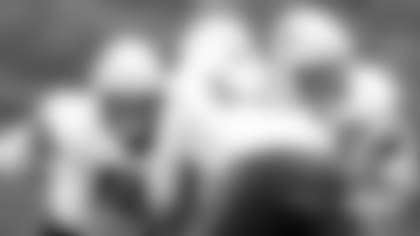 *Newton was a bit erratic in early 7-on-7 work as Kyle Dugger knocked away a pass intended for Hunter Henry and later he underthrew Harry on a deep ball. Jones made a good throw to Jakobi Meyers on his first rep, hitting the receiver on a deep crossing route.
*The 1-on-1s involving offensive and defensive linemen resulted in plenty of laps for violations. Mike Onwenu hit the road twice, Ronnie Perkins, Carl Davis, Isaiah Wynn, Christian Barmore and Will Sherman all were guilty of infractions. The offensive linemen seemed to get the better of things with Onwenu taking care of Lawrence Guy and Justin Herron handling Josh Uche sticking out. After the Herron/Uche rep the entire defense did some pushups.
*In addition to McMillan, Barmore also had to leave practice early. Barmore appeared to suffer a left foot injury and was with head trainer Jim Whalen toward the end of practice. Barmore had his left cleat off while the final team periods were taking place. His status will be worth monitoring going forward.
*Newton executed a terrific play action fake in the red zone before finding Henry open behind Dugger for a touchdown. Nice execution on the play and the defense took a lap shortly after.
*Kyle Van Noy was seen doing sprints on the lower rehab field during the latter part of practice.
*Quinn Nordin handled the field goals at the end of practice and appeared to make four out of five attempts ranging from 30-46 yards.
*Bentley, Jones, Devin McCourty, Onwenu, Kristian Wilkerson and Deatrich Wise were among those who spoke to the media after practice.
*The Patriots will be back at it on Wednesday with practice scheduled for 9:15 a.m. and gates set to open at 8:30 a.m.