NEW ENGLAND PATRIOTS (10-2) at KANSAS CITY CHIEFS (8-4)
Sunday, December 8, 2019 at 4:25 p.m. ET. Gillette Stadium.
The New England Patriots return home this week to take on the AFC West-leading Kansas City Chiefs at Gillette Stadium for the third consecutive year. The Chiefs beat the Patriots in the 2017 season opener and New England won a 43-40 decision at home in 2018. The two clubs also met in the 2018 AFC Championship Game in Kansas City and the Patriots came away with a 37-31 overtime win en route to Super Bowl LIII.
Kansas City holds an 18-14-3 lead in the all-time regular-season series, while New England has won both postseason matchups following the 2015 and 2018 seasons. The Patriots own a 5-1 advantage when playing the Chiefs at Gillette Stadium, a mark that includes one playoff victory in Foxborough.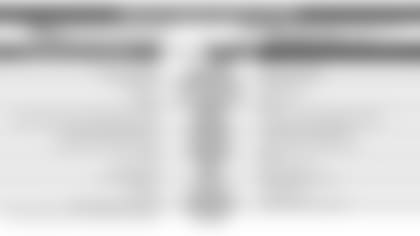 The New England Patriots and Kansas City Chiefs will meet for the first time since the 2018 AFC Championship Game played in Kansas City, a game the Patriots won, 37-31, in overtime. It was the second meeting of the season between the two teams. New England hosted Kansas City on Oct. 14 and won, 43-40.
Kansas City holds a 18-14-3 edge over New England in the all-time series, including an 11-3-1 advantage in games played in Kansas City and a 5-1 record at Arrowhead Stadium. The Chiefs are 7-11-2 in games played at New England, including 1-4 at Gillette Stadium (1-5 including playoffs).
New England is 2-0 against Kansas City in the postseason after a 27-20 win on Jan. 16, 2016, in a 2015 AFC Divisional Playoff Game and last year's 37-31 overtime win the AFC Championship Game on Jan. 20, 2019 at Kansas City.
The two teams played twice a year from 1960 until the 1970 AFL-NFL merger as two of the original American Football League teams.
REGULAR SEASON SERIES BREAKDOWN
KANSAS CITY 18, NEW ENGLAND 14
Record in New England, 11-7-2
Record in Foxborough, 8-3
Schaefer/Sullivan/Foxboro Stadium, 4-2
Gillette Stadium, 4-1
Record in Boston, 3-4-2
Record in Kansas City, 2-9-1
Municipal Stadium, 1-4-1
Arrowhead Stadium, 1-5
Record in Dallas, 1-2
Since 1970 AFL-NFL Merger: 9-9
Largest Margin of Victory: 10 points (11/21/11)
Largest Margin of Defeat: 34 points (12/11/60)
SCOUTING THE MATCHUPS
When the Patriots run - Edge: Patriots
Statistically the Patriots enjoyed a strong night on the ground in Houston, but the numbers seemed to outweigh the overall effectiveness. Sony Michel opened the first drive – the Patriots best of the night – with six carries for 33 yards, one of which resulted in a 17-yard pick up. But he was barely used from there and wound up with just 45 yards on 10 carries. The Patriots piled up 145 yards rushing on 29 attempts for a solid 5-yard average, but virtually all of James White's 79 yards came after the game had been decided. Kansas City allows 141.3 yards per game on the ground, which ranks 30th in the NFL. Part of that has been due to some injuries sustained up front, but the Chiefs run defense is porous even at full strength. The question becomes, can the Patriots stick with the run and be productive enough to make sure the Chiefs weakness has an impact on the game? Michel appeared to be off to a decent start in Houston but Josh McDaniels used him on just 15 snaps. He should see more action at home Sunday evening as the Patriots try to control the ball and clock against the Chiefs.
When the Patriots pass - Edge: Chiefs
Kansas City's secondary has fared much better than the run defense, both due to improved play in the secondary and a solid pass rush. Both elements could give the Patriots sputtering passing game some problems. The Chiefs allow 230.8 yards per game through the air, which ranks smack dab in the middle of the league at 16th overall. Newcomers Tyrann Mathieu and rookie Juan Thornhill form a solid duo at safety and have combined for five picks. Corners Charvarius Ward and Bashaud Breeland join Kendall Fuller and Morris Claiborne to provide depth. And up front Chris Jones (six sacks) and Frank Clark (five) have provided most of the heat for a group that has 34 sacks on the year. Meanwhile Tom Brady is still searching for some reliable options beyond Julian Edelman at wideout. The Patriots continue to struggle in the red zone and haven't been able to make many plays down the field over the past couple of months. White enjoyed a huge fourth quarter in Houston but was largely taken out of the game previously as the Texans devoted corners and safeties to him. That's a tactic several teams have used lately to contain the dangerous White. Brady needs someone other than Edelman to step up, and thus far that hasn't happened with any level of consistency.
When the Chiefs run - Edge: Patriots
For all the problems the Patriots defense had dealing with Deshaun Watson and the Texans, stopping the run was not one of them. Lawrence Guy in particular was dominant as he helped limit Houston to 52 yards on 23 carries for a 2.3-yard average. The front seven appears to have straightened out some of the issues it had earlier in the season containing the run. Kansas City doesn't pose much of a ground threat anyway with LeSean McCoy, Damien Williams and Darrell Williams splitting the duties. McCoy leads the group but has just 410 yards on 84 attempts with four touchdowns. The Chiefs average just 94 yards on the ground, which is 24th in the league. Kansas City's offensive line has dealt with injuries all season but is currently operating close to full strength. That shouldn't matter against a Patriots front that has shut down more talented rushing attacks in recent weeks than Kansas City's.
When the Chiefs pass - Edge: Chiefs
Patrick Mahomes continues to fight through injuries and has maintained a high level of play virtually throughout. Despite dealing first with an ankle injury and then a dislocated kneecap that cost his almost three games, Mahomes has been quite effective with 20 touchdowns against just two picks. He has plenty of options to choose from, and most are familiar names for Patriots fans. Travis Kelce sees the most action but Tyreek Hill, Sammy Watkins and DeMarcus Robinson all factor in as well. This group will be a handful for a Patriots secondary that struggled at times last week in Houston. Stephon Gilmore will likely get Watkins while Jonathan Jones figures to be involved with double coverage on Hill. Gilmore could also see Kelce, which was the case in last year's AFC title game at Arrowhead. The backs are also heavily involved in the passing game, which was trouble for the linebackers in Houston. The Patriots will need to get some pressure on Mahomes and force him into some mistakes. The Patriots secondary continues to lead the league with 20 interceptions, and Mahomes has been confused at times by the Patriots in the past. This will be a fascinating chess match to watch featuring strength vs. strength.
Special Teams - Edge: Chiefs
The Patriots continue to have problems in the kicking department. Nick Folk's appendectomy forced Bill Belichick to sign his fourth kicker of the year and Kai Forbath then proceeded to miss an extra point in Houston. He was sent packing shortly thereafter. That situation bears watching as the team returns to blustery Foxborough and Gillette Stadium this week. The Chiefs have Harrison Butker, who has missed just four of his 29 field goals this season, three of which came from beyond 50. Both teams have solid punters as KC's Dustin Colquitt has just two touchbacks on 39 attempts while Jake Bailey has five on 66. The coverage units for both sides have been solid but the Chiefs are outstanding, ranking fourth in kick return average and third covering punts. The Patriots rank seventh and 11th, respectively. Neither side generates much in the return game, although rookie Mecole Hardman has some explosiveness to his game with returns of 34 yards (kick) and 36 yards (punt) to his credit. Both teams are sound on special teams but the uncertainty in the Patriots kicking situation gives the visitors the edge.
Table inside Article

| 2019 REGULAR SEASON | NEW ENGLAND | KANSAS CITY |
| --- | --- | --- |
| Record | 10-2 | 8-4 |
| Divisional Standings | 1st | 1st |
| Total Yards Gained | 4,329 | 4,616 |
| Total Offense (Rank) | 360.8 (14) | 384.7 (4) |
| Rush Offense | 96.3 (21) | 94.5 (24) |
| Pass Offense | 264.4 (8) | 290.2 (3) |
| Points Per Game | 26.8 (6) | 29.0 (3) |
| Total Yards Allowed | 3,096 | 4.465 |
| Total Defense (Rank) | 258.0 (2) | 372.1 (25) |
| Rush Defense | 94.5 (5) | 141.3 (30) |
| Pass Defense | 163.5 (2) | 230.8 (16) |
| Points Allowed / Game | 12.1 (1) | 22.0 (16) |
| Possession Avg. | 32:27 | 28:50 |
| Sacks Allowed / Yards Lost | 22/156 | 20/160 |
| Sacks Made / Yards | 40/270 | 34/262 |
| Total Touchdowns Scored | 38 | 39 |
| Penalties Against / Yards | 76/689 | 78/738 |
| Punts / Avg. | 66/44.9 | 39/44.1 |
| Turnover Differential | +18 (1) | +8 (16T) |
RB Brandon Bolden - Grandfather Frank Pitts played in Super Bowls I and IV with Chiefs.
Run Game Coordinator/ DL Coach Brendan Daly - DL Coach (2014-2018)
QB Coach Mike Kafka - Quarterback (2013)
VP of Sports Medicine Rick Burkholder - Training Staff Summer Intern (1986)
DT Mike Pennel - Defensive Lineman (2019)
PATRIOTS ON VERGE OF ANOTHER 11-WIN SEASON
The Patriots have won 11 games 20 times in team history, including a current streak and NFL-record nine consecutive years dating back to 2010.
MOST 11-WIN SEASONS SINCE 1970 MERGER
New England: 20
Dallas: 17
Pittsburgh: 17
Denver: 15
San Francisco: 15
Since 2001, the Patriots are 96-13 (.881) when they do not turn the ball over and 94-2 (.979) with a positive turnover margin. In 2019, the Patriots lead the league with a +18 turnover entering Week 14.
The Patriots have blocked three punts in 2019, which ties a franchise record. With two more blocked punts, they would tie the 1990 Kansas City Chiefs for the most blocked punts in a season in NFL history.
With one defensive score, the Patriots will tie for third-most defensive scores in a season (5) in franchise history.
The Patriots defense is leading the league with 20 interceptions through 12 games. They are on pace to finish with 26 interceptions this season, which would be the second-highest tally in the Belichick era.
The Patriots have held teams to just 31-for-143 (21.7%) on third down in 2019, the league best. The fewest third downs allowed in a 16-game season is 49 by the 1991 New Orleans Saints. Against the Jets in Week 3, they did not allow a single third-down conversion, a feat they've achieved five times since 2000. Only five teams have managed to allow zero third downs twice in the same season: Packers (2005), Eagles (2009), Giants (2010), Dolphins (2011) and Saints (2013).
Belichick is 41-0 since 2000 when leading the Patriots to a 40-point outing. He is 128-7 (.948) when leading the Patriots to a 30-point outing and 210-35 (.857) when leading them to a 20-point outing.
Entering Week 14, Brady's 535 regular-season touchdown passes are second-most in NFL history. He will look to edge closer to Peyton Manning, who holds the record with 539 touchdown passes. Drew Brees is third with 532 passing touchdowns.
With 300 or more yards passing, Brady will record his 93rd 300-yard passing game, tying Peyton Manning for second in NFL history. Drew Brees is first with 118 300-yard passing games. The Patriots are 76-16 in Brady's 300-yard passing games.
With 30 or more completions against Kansas City, Brady will register his 40th career game with 30 or more completions, breaking a tie with Peyton Manning for second-most in NFL history. Drew Brees is first with 63 such games.
Brady has 73,782 career passing yards in the regular season, second-most in NFL history to the 76,228 yards by Drew Brees.
With 62 receiving yards, Edelman (6,305) will move past Troy Brown (6,366) for fourth in receiving yards in franchise history.
With 85 receiving yards, Edelman will reach 1,000 yards on the season and tie Randy Moss and Stanley Morgan for third-most 1,000-yard seasons in franchise history. He previously hit the 1,000-yard benchmark in 2013 (1,056 yards) and 2016 (1,106 yards).
The Patriots will have an opportunity to clinch a spot in the playoffs for the 27th time in the team's 60-year history, with 21 of those playoff berths coming in Robert Kraft's 25 seasons of ownership, compared to the team's six playoff appearances in the team's prior 34 years of existence.
The Patriots will have an opportunity to extend their own NFL record with their 11th-straight playoff berth (2009-19). The club set a new NFL record last season with their 10th consecutive postseason appearance.
The Patriots will claim their 11th victory of the season for the 21st time in team history and extend their NFL record to 10 consecutive seasons with at least 11 wins. The Patriots have had 11 or more wins 16 times in Robert Kraft's 25 seasons of ownership after having only four 11-win seasons prior to Kraft purchasing the team (1976, 78, 85-86).
The Patriots will earn their 113th win on or after Thanksgiving day since 2001 (including playoffs).
The Patriots will improve to 87-29 (.750) from December through the end of the regular season since Kraft purchased the team in 1994.
The Patriots will extend their NFL record for the most regular-season wins in a decade (2010-present) to 124. The team will also extend their record for the most total wins in a decade to 140, including the playoffs.
The Patriots will improve to 19 straight regular-season wins at Gillette Stadium, the second-longest home win streak in the franchise's history.
The Patriots will earn their 22nd-straight overall win at Gillette Stadium (regular and postseason), setting a new franchise record.
The Patriots will earn their 184th home victory since 1994 (including postseason), extending their league record during that time.
The Patriots will improve to 46-8 (.852) in regular-season games following a loss since 2003. They have dropped back-to-back regular-season games in 2006, 2009, 2011, 2012, 2015 (twice) and 2018 (twice). As a starter in his career, Tom Brady is 47-12 in games following a loss.
... and hold the advantage at the half, the Patriots will improve to 100-1 all-time at Gillette Stadium when leading at halftime.
... and a player eclipses 100 yards rushing, the team will improve to 52-1 in the regular season since 2000 when a player rushes for at least 100 yards.
Belichick will earn his 303rd all-time win (regular and postseason) as a head coach, which is third in NFL history behind Don Shula (347) and George Halas (324). It will also mark Belichick's 272nd regular-season win, behind Shula (328) and Halas (318).
Brady will improve to 62-14 (.816) in the month of December, the most wins in NFL history. His winning percentage in December is second all-time among quarterbacks in the Super Bowl era with at least 20 starts. Roger Staubach is first (17-3, .850).
Brady will claim his 218th regular-season win, second in NFL history.
Brady will earn his 248th career win (including postseason), extending his NFL record for a quarterback. Peyton Manning is second with 200 career wins.
TELEVISION: This week's game will be broadcast by CBS and can be seen locally on WBZ-TV Channel 4. Jim Nantz will handle play-by-play duties with Tony Romo as the color analyst. Tracy Wolfson will work from the sidelines. The game will be produced by Jim Rikhoff and directed by Mike Arnold.
NATIONAL RADIO: Sunday's game will be broadcast to a national audience on ESPN Radio. Marc Kestecher will call the game with Dusty Dvorcek providing analysis. Jeff Darlington will work from the sidelines.
SATELLITE RADIO: 138 (KC), 82 (NE) and XM: 381 (KC), 227 (NE)
LOCAL RADIO: 98.5 The Sports Hub is the flagship station for the Patriots Radio Network. A complete listing of the network's 38 stations can be found here. Play-by-play broadcaster Bob Socci will call the action along with former Patriots quarterback Scott Zolak, who will provide color analysis. The games are produced by Marc Cappello.
INTERNATIONAL: Former Patriots Sebastian Vollmer and Markus Kuhn will broadcast this week's game live from Gillette Stadium on Germany's main sports network, ProSieben. This is the second consecutive season a Patriots game has been produced in this way with the play-by-play coming directly from Foxborough.