This week the writers of Patriots Unfiltered take a closer look at a Patriots team coming off a much-needed bye week and lock in on an AFC East matchup against the Jets that figures to have major playoff implications.
Who is one Patriots player who needs to step up the most over the final eight games, starting Sunday?
Mac Jones. Whatever is going on around him is what it is. He needs to rise above it. -Fred Kirsch
Mac Jones. The offensive struggles are certainly not all on him, but the quarterback is the centerpiece and he needs to up his production. -Paul Perillo
Since I can't pick a coach, Mac Jones. I've been as vocal as anyone when it comes to the offense's struggles being about the whole system rather than just Mac. But it's time to whittle things down to a package of plays that work and start executing. Starts with the quarterback, who needs to see the field clearer and process things faster to get the ball to open receivers. -Evan Lazar
Yup, it's Mac and though it's unfair to put it all on him, the team needs him to make the plays that are there and play safe with the ball. Of course Mac's performance will be largely tied to how well the blockers up front are doing their jobs. -Mike Dussault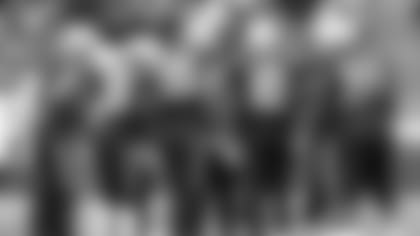 What kind of difference can DeVante Parker and David Andrews make assuming they both return this weekend? Parker played just one snap vs the Jets last time.
Immense. Andrews helps two positions, his and left guard in terms of communication. Parker can give the Jets Sauce Gardner someone to think about, maybe freeing up others to make plays. You can't have too many good players on the field, right? -FK
Andrews should have a huge impact in the middle of a struggling offensive line. He also should help Cole Strange settle down a bit at guard. I'm not expecting much more than an occasional contribution from Parker, who has just 15 catches all season. -PP
Andrews makes a huge difference against an elite interior defensive line. He seems to keep the train on the tracks from a communication and assignment standpoint, while also holding his own as a top center in the NFL. This is a tough matchup even with Andrews, but I expect things to run smoother. With Parker, he'll allow the Pats to move Tyquan Thornton around the formation and away from press coverage. Without Parker, Thornton was lining up as the X receiver where he'll see a lot of man coverage on the backside. Parker is still their best wideout to play the X and win a one-on-one when the safeties roll towards the passing strength of the formation. I like how the routes distribute themselves more with Parker out there. -EL
I'm excited to get Andrews back and optimistic that his return will help resettle Cole Strange and at least get the middle of the line all on the same page. Not sure how much he can do about the right tackle spot, we'll see how that all looks after a week to consider changes. As for Parker I hope he can help occupy Sauce Gardner a bit and maybe free others up to make plays. Parker has had some flashes this year, I think his absence over the last two games has hurt a bit more than we realize. -MD
How confident are you that the offense can use the bye week to finally get on track? What do you believe is their ceiling for these last eight games?
Coach Belichick referred to making "scheme adjustments" just before the bye. That's pretty broad and there's no telling what he is specifically referring to. That said, after nine games there's enough data to know what players can do well, and what the team as a whole can do. It starts with the offensive line. Settle on the starting five and go from there. If they can build consistency it will give Mac confidence and then we can make progress. The pieces are there. -FK
There's nowhere to go but up for the offense and I do expect some improvement. Andrews should solidify things up front and the running game should be better. The ceiling is getting to the point where the turnovers and penalties stop, which should improve production. -PP
I'm not expecting anything. They should be able to find a run game, play-action, and move the sticks formula. Essentially, get back to where they were last year. But that's their ceiling, and I'm skeptical that they'll reach it. -EL
I gotta be honest, I'm not that confident they're suddenly going to be a top-10 offense but at the very least eliminating the mistakes should get them to them back to the middle of the pack. If the defense and special teams keep up their pace, just an average offense could very well be enough to get them into the playoffs. But given their opponents it will be no easy task on any side of the ball. -MD
What happens if Zach Wilson doesn't throw multiple interceptions this time around?
Look for a close game where points are at a premium. -FK
The Patriots offense needs to protect the ball. Don't give the Jets any free points and make them earn it. Even if Wilson protects the ball the Jets don't figure to light up the scoreboard. -PP
Then we'll see if this offense can finally score on a good defense. I expect the Pats defense to control the game, even if Wilson isn't turning the ball over, so I think there will be some short fields. If the Pats offense can't cash in when the defense sets them up to score, they'll be looking at an L. -EL
A straight-up game against a talented Jets team? Oh boy. That's a game where we'll really find out exactly what the Patriots have in the tank, a must-win game against a bitter rival at home where you have to do it all on your own without the opponent handing the game over. -MD
What is your key to a Patriots victory?
Limit mistakes. Establish the run. Play fast but don't rush on offense. The Jets have a solid defense so the Patriots aren't going to roll out and beat them even if the offensive issues of late somehow improve. A handful of plays will win this game for either side. -FK
Sticking with the same theme – protect the ball, win the field position battle and force Zach Wilson to make plays. -PP
It's all about the trenches. The Pats controlled the line of scrimmage on defense and forced the game into Wilson's hands with the Jets offense in long yardage situations. Stop the run, get them into third-and-long, and let the pass rush hurry Wilson into mistakes. That's their formula. -EL
Attack Zach. I think the Patriots defensive front is the wild card here and they have the ability to force the Jets into mistakes. They have to outperform what the Jets defense does on the other side of the ball. -MD