This week the writers of Patriots Unfiltered preview a big Thanksgiving night matchup for the Patriots against the Minnesota Vikings, as the Pats try to extend their winning streak to four games and continue to solidify their spot in the playoff hunt.
Can the Patriots overcome attrition along their o-line to get their offense on track?
It's going to be difficult. Looks like Andrews and Wynn will both miss games, maybe the season for the Captain. "On track" can mean different things depending on one's level of expectation. At this point mine is four scoring drives per game with at least two of them ending in touchdowns. If they can get on track enough to do that, perhaps the defense can keep them in games. That's my hope. -Fred Kirsch
The offensive line needs to get five guys playing an extended time together in order to gel. If that happens I think things will improve. -Paul Perillo
I believe they can but they'll need to build their entire offense around the reality that their offensive line is a weakness. Run schemes with multiple lead blockers, play-action with seven-plus blockers, and manageable third down situations are key. The vertical passing game and early-down shotgun package will need to be used sparingly unless the line shocks us all. -Evan Lazar
This is a really big question. Seems like Andrews and Wynn's status and futures for this season are vey much up in the air based on various reports. It's hard to see them breaking out of their funk if Andrews is out for the rest of the season. They've looked overwhelmed without him for the majority of the last three weeks, with the 10 negative plays against the Jets standing out. Yodny Cajuste and James Ferentz will have a lot of attention on them, and I wonder if Kody Russey gets any kind of consideration, he had a pretty good camp. -Mike Dussault
I can't confidently say the Patriots can overcome the offensive line issues in time for the Vikings game especially with the uncertainty of David Andrews and Isaiah Wynn being in the lineup due to their injuries. Mac Jones at times barely has two seconds to throw the ball and I don't see that being an overnight fix with the turnstile of an offensive line that they have right now but maybe they can bring in some depth from another practice squad to help them out. -Tamara Brown
Are the Vikings weapons enough to overcome their mounting injuries?
Vikings are beat up in several areas but the area that hurts the most is their offensive line. The Cowboys were in the Minny backfield all day on Sunday as a result. Even the Vikings best player, Justin Jefferson, is playing through a toe injury. With the way the Patriots defense is dialing up heat on opposing QBs, I don't see the Vikings able to overcome their wounded. -FK
I think the Vikings have the pieces in place to be explosive on offense, but I don't have faith in Kirk Cousins to get it done. He's been an average quarterback throughout his career despite having some excellent weapons at his disposal. -PP
The Pats will have a giant advantage against backup left tackle Blake Brandel with Christian Darrisaw out, and these weapons didn't scare me a ton anyways. Belichick will have a plan for Justin Jefferson, it's an under-center rushing attack with Cook without a mobile QB, and the quarterback can't handle pressure. It's a winnable formula: stop the run on first down, tee off on Cousins, and take Jefferson out on third down. -EL
I think it depends on Kirk Cousins. Yes, Jefferson is going to make some acrobatic catches even when he's closely covered and Cook will probably rip off a couple good runs, but if the Patriots can get pressure on Cousins and force him into mistakes I think that will be enough to overcome the Vikings talent. The loss of left tackle Christian Darrisaw is every bit as frightening for the Vikes as losing David Andrews is for the Pats. -MD
The Vikings weapons don't seem like it is enough to overcome their mounting injuries. A 40-3 loss to the Dallas Cowboys at home was inexcusable, especially when you have Dalvin Cook and Justin Jefferson. -TB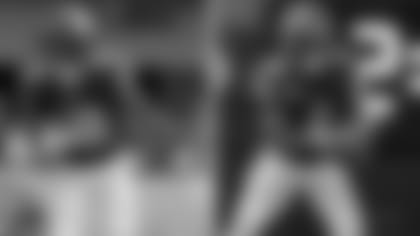 Who should scare the Patriots defense more, Justin Jefferson or Dalvin Cook?
On a normal day, Jefferson. He's playing as well or better than any receiver in the league this season. That said, not sure he'll be 100% for this game. If the Patriots can get a lead and take away the run and Cook, it will be a Happy Thanksgiving for New England. -FK
There's no question both guys are explosive but I always worry more about weapons in the passing game. Jefferson is the more talented and dangerous player. -PP
The Patriots run defense has been rock-solid against traditional rush offenses that don't feature mobile quarterbacks, so I'll go with Jefferson. The Cowboys kept him in check because they have a lockdown corner in Trevon Diggs, who shadowed Jefferson. Is that Jon Jones? Will we see doubles or brackets? Belichick isn't going to pull a Buffalo where he leaves his corners on islands against Jefferson. -EL
I'm coming around on the Patriots run defense, at least against a traditional attack like this one (mobile quarterbacks are different), so yeah it's got to be Jefferson as I'm not sure the Patriots have seem a threat quite like him. Sure, the explosiveness of Hill and Waddle from Week 1 was a challenge, but Jefferson's size and contested catch ability make him a new and unique challenge to handle. That said, I still have some trepidation about Cook getting loose for big gains. -MD
The Patriots defense should be more scared of Dalvin Cook because of their past history with stopping the run. Last season they avoided playing a lot of the league's top running backs and still struggled with stopping the run. -TB
What kind of a game will the Patriots need from Mac Jones to win?
Believe it or not, if he has similar numbers to last Sunday -- with a couple touchdowns added to his stat line -- we're good. -FK
Jones just needs to continue playing smart football and avoid turnovers. He also needs to be more aware of the pass rush, but those things go hand in hand. -PP
If he plays like he did with the Jets but keeps them in more manageable situations in scoring territory, they'll be okay. The majority of the sacks weren't on Jones. Still, you can't take six sacks every game. They have to find a way to get the ball out of Mac's hands, and that's on him at times, too. -EL
Just keep the safe play rolling. Take what's there and focus on doing what Mac does best. Last week against the Jets was to me his best game of the season and the closest he's looked to how he played last year. If he can just put a few games like that together, things downfield could start to open up a bit as well. -MD
The Patriots will need another mistake free game from Mac Jones to win. Despite the chaos up front, he needs to find the confidence to create plays especially in the red zone so the Patriots can stop relying on field goals and the defense to win games. -TB
What is your key to a Patriots victory?
Don't beat yourself. There's no better example of that than against the Jets on Sunday, getting to the 7-yard line and getting pushed back to the 26 with a penalty and sack and coming away with no points. Unacceptable. -FK
The defense needs to continue to generate pressure on the quarterback. Make Cousins uncomfortable and the Vikings offense will have no answers. -PP
Turn Kirk Cousins into a Thanksgiving pumpkin pie (😉). Cousins beat pressure with a quick release, but he's not mobile and will hold the ball and make mistakes when he's forced to progress past his first read. Cousins is the type of quarterback that Belichick usually feasts on, and the Pats defense will need to do that to get a win. -EL
Overwhelm the Vikings offensive line. I'm under no delusions about what this Patriots team is, their strength is in the front and they need to play like it and take the game over. ­-MD
A key to a Patriots victory is not letting negative plays negate good offensive series. There were multiple drives in the Jets game that started off strong and when they reached Jets territory, sacks and penalties destroyed the momentum. The Patriots need to stop beating themselves on offense when they are already struggling to find an offensive rhythm. -TB
Thanksgiving Bonus – What is your favorite thing about Thanksgiving?
It's about a month away from Christmas. Not a huge Thanksgiving guy. -FK
The leftovers … nothing better than turkey and stuffing sandwiches on Friday watching football. -PP
Besides football, it's the side dishes. Mashed potatoes and stuffing is one hell of a combination. -EL
Even though I haven't gone to a high school Thanksgiving football game in a while (they're less meaningful now with the state playoffs) those games from my youth are among my favorite things about the holiday. The food is great of course, but there's just something about those high school rivalry games that were special to me, the atmosphere, the pureness of the sport and the passion of the players and fans. -MD
My favorite thing about Thanksgiving is great food and football; mainly the sweet potato pie. -TB