WEEK 7 · Sun 10/22 · 1:00 PM EDT
AT
Patriots
New England Patriots
The New England Patriots will begin a two-game stretch against AFC East Division opponents, starting this Sunday when they host the Buffalo Bills. Following the Buffalo game, the Patriots will travel to Miami to face the Dolphins.
The Patriots are 1-1 so far against AFC East teams with a 24-17 loss at home against Miami on Sept. 17 and a 15-10 victory at the New York Jets on Sept. 24.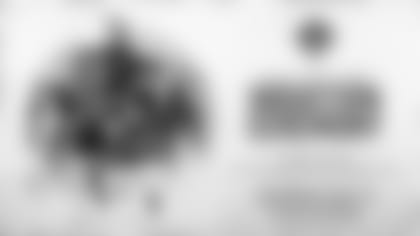 VRABEL AND SCARNECCHIA HALL OF FAME CEREMONY
Patriots fans can celebrate when the team hosts their 2023 Patriots Hall of Fame induction ceremonies for Mike Vrabel and Dante Scarnecchia on Saturday, Oct. 21. The ceremonies will begin at noon ET. The annual ceremony will be held on the Enel Plaza just outside the Patriots Hall of Fame presented by RTX. The outdoor ceremony is free and open to the public. Fans of all ages are welcome and encouraged to attend. The ceremony will also be streamed on Patriots.com.
Vrabel was voted into the Patriots Hall of Fame by the fans as the 34th inductee. During his eight-year tenure in New England, Vrabel appeared in 142 of 145 possible games, starting 127, including all 17 playoff games. He played a major role in the Patriots dynastic run that included three Super Bowl championships in four years (2001, 2003 and 2004).
Scarnecchia was named as a contributor to the Patriots Hall of Fame by Chairman and CEO Robert Kraft when the Patriots Hall of Fame nomination committee held their annual meeting in April. Scarnecchia spent 36 years in the NFL, including 34 seasons with the Patriots (1982-88, 1991-2013, 2016-19). He was the longest tenured NFL coach when he retired following the 2019 season.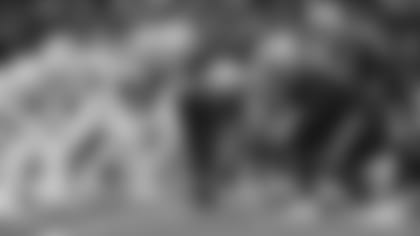 SCOUTING THE MATCHUPS
When the Patriots run - Edge: Patriots
The Patriots showed a slight glimmer of hope on the ground early in the second half of their loss to the Raiders in Vegas. Rhamondre Stevenson and Ezekiel Elliott didn't exactly light it up, but both finished with averages above 4 yards per carry and provided some life to the offense. New England will try to build on that against a Bills defense that traditionally allows yardage on the ground and this season has been no exception. Buffalo ranks 25th in the league, allowing 133.7 rushing yards per game and 31st in yards per carry at 5.4. A big part of the problem for the Bills has been the absence of star middle linebacker Matt Milano, who missed most of the past two games with a broken leg, and stout defensive tackle Daquan Jones, who also is on IR. The Jags and Giants both enjoyed success on the ground with that pair out of the lineup. Terrel Bernard and Tyrel Dodson have tried to fill the void but Sean McDermott will need better play from Jordan Phillips and Ed Oliver up front to help protect the young linebackers. Stevenson showed some burst for the first time this season and perhaps is ready to get the running game in gear. If the Patriots can remain competitive and are able to continue running the ball, the opportunity for a productive game on the ground exists.
When the Patriots pass - Edge: Bills
Mac Jones also showed slight improvement in Vegas, and had DeVante Parker been able to hold onto a perfectly thrown deep ball late in the game the Patriots may have found a way to come out on top. But the bottom line is Jones was not great for the balance of the game, throwing a costly interception in the first half and nearly had another in the fourth quarter when Raiders linebacker Robert Spillane allowed a potential game-sealer to sail through his hands. Jones continues to face heavy pressure as the banged up offensive line deals with issues with health and consistency. The Patriots could use Cole Strange (knee) and Mike Onwenu (ankle) back in the lineup on a full-time basis to allow rookies Atonio Mafi and Sidy Sow more time to develop. Until then Jones will need to figure out how to deal with a Bills secondary that has performed well even without Tre'Davious White (Achilles), who is out for the year. Corners Christian Benford, Dane Jackson (who missed the Giants game with foot injury), Taron Johnson and Kaiir Elam, along with the excellent safety duo of Micah Hyde and Jordan Poyer, allow just 190.2 yards per game through the air (7th in the NFL) and 6.2 yard per pass play (12th). The Bills also get plenty of heat on the passer, led by Leonard Floyd (6.5 sacks), A.J. Epenesa (4), Oliver (4) and Greg Rousseau (3). Von Miller recently returned to that talented group, so pass protection will once again be an issue for the Patriots.
When the Bills run - Edge: Patriots
The Bills running game has improved with the ascension of James Cook to the lead back role in favor of the departed Devin Singletary. Cook averages almost 5 yards per carry while leading Buffalo with 363 yards on the ground. Josh Allen hasn't called his own number as often thus far in 2023 but still ranks second on the team with 131 yards on the ground, followed by veteran journeyman Latavius Murray with 128. As a team the Bills rank 13th in the league, averaging 118.2 yards per game on the ground and 10th with a 4.4-yard average per rush. Still, Buffalo isn't the type of team that can line up and be physical enough to control a game on the ground, and the Patriots tough front should be able to keep this group in check. Lawrence Guy has played well as of late, and Davon Godchaux has shown improvement in recent weeks after a slow start. In Vegas it was third-year man Christian Barmore who flashed, coming up with a key stop on Josh Jacobs on third-and-2 with the game on the line. That group, joined by linebackers Ja'Whaun Bentley and Jahlani Tavai, will need to be aware of Allen's ability to break out of the pocket and pick up yards with his legs. He has just 22 attempts in six games but still can be dangerous as a runner, particularly near the goal line as his three touchdowns suggest. 
When the Bills pass - Edge: Bills
Buffalo's passing game has been oddly sporadic this season. It started with a clunker against the Jets and then rebounded with three straight explosions before sputtering again the last two weeks. But Allen's performance has been pretty solid since the disastrous opener that saw him turn it over four times. He's done so just three times in the five games since, and is completing better than 71 percent of his passes and has 13 touchdowns. Stefon Diggs remains Allen's top target and leads the way with 49 grabs for 620 yards and five touchdowns. He's been particularly effective over the years against the Patriots and will be a tough cover for Jonathan Jones, J.C. Jackson and Myles Bryant. Gabe Davis (21 catches, 341 yards, 4 TDs) remains the No. 2 option and still is searching for some consistency. Allen uses tight ends Dalton Kincaid (17 receptions) and Dawson Knox (14 receptions) on underneath throws while also incorporating Cook (14 grabs) into the mix. It's an explosive passing attack that Bill Belichick has tried to contain by forcing Allen to throw short and hoping to force a mistake or two in the red zone. While that style has allowed the Patriots to remain competitive, it hasn't translated to much success in recent meetings.
Special Teams - Edge: Bills
The Patriots continue to find problems with penalties on special teams, this week getting flagged for a leverage infraction on a Raiders field goal to give Vegas another crack at a touchdown. It was one of many missteps the Patriots have suffered through in that regard this season. Bryce Baringer also has a 34-yard punt to give the Raiders the ball at their 40 in the first quarter. Rookie Chad Ryland did connect on a 43-yard field goal after struggling in recent weeks. The Bills Tyler Bass missed his first two kicks of the season after making his first 29 (20 PATs/9 FGs), pushing 52 and 53-yarders to the right in the win over the Giants. Punter Sam Martin doesn't see much action and has just a 40.5-yard net average, which is slightly better than Baringer's 39.2 number. Neither side has generated much in the return game this season. Deonte Harty handles punts while Khalil Shakir takes back the kicks. Former Patriot Damien Harris turned in a 41-yard kick return on his only attempt but was carted off the field with a scary neck injury during the Giants game and taken to the hospital. The Bills coverage has been excellent throughout the season.
New England and Buffalo will meet for the first of two contests in 2023 when the Patriots host the Bills at Gillette Stadium on Sunday. The Patriots will travel to Buffalo on Dec. 31. Buffalo swept the season series last year with a 24-10 win at Gillette on Dec. 1 and a 35-23 victory in the regular season finale in Buffalo on Jan. 8, 2023.
This week's game will be the 128th meeting between the two teams. New England holds a 77-49-1 edge in the series and has won 36 of the last 46 regular season games between the clubs, dating back to 2000. 
The Patriots are 39-24 at home against Buffalo, including a 16-5 record at Gillette Stadium. 
The series between the AFC East rivals began in 1960. The Patriots 77 wins over the Bills are their highest victory total over any opponent, three higher than their next highest win total against the New York Jets (74).
After seven straight series sweeps and 15 consecutive Patriots wins from 2003-10, Buffalo ended the streak with a 34-31 victory at Ralph Wilson Stadium in the first meeting between the teams in 2011. The 15-game win streak is tied for the longest streak over a single opponent in team history with the 15 straight wins over the New York Jets.
The teams have had many memorable matchups over the years, including a span from 1999 to 2001, where four-of-five contests were decided in overtime.
Record in Foxboro: 33-19
Foxboro Stadium: 17-14
Gillette Stadium: 16-5
Record in Boston: 6-5
War Memorial Stadium: 7-6-1
Ralph Wilson/Rich Stadium/New Era/Highmark: 31-19
Largest Margin of Victory: 46 points (2007)
Largest Margin of Defeat: 35 points (1970)
Longest Win Streak: 15 games (2003-2010)
Bill Belichick vs. Buffalo: 36-12 (36-11 with NE)
Sean McDermott vs. New England: 6-7
QUICK HITS
The Patriots have recorded 77 wins over the Bills, the most by the Patriots against any one opponent. The Jets are second on that list with 74 wins by the Patriots.
The Buffalo Bills snapped a streak of 13 straight road losses to the Patriots, including 12 straight wins by the Patriots at Gillette Stadium, with their 17-9 win in the 2014 regular season finale on Dec. 28, 2014. 
Bill Belichick has a 103-41 (.715) all-time regular season record against the AFC East as head coach of the Patriots.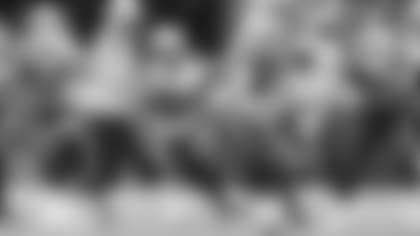 Table inside Article

| 2023 REGULAR SEASON | NEW ENGLAND | BUFFALO |
| --- | --- | --- |
| Record | 1-5 | 4-2 |
| Divisional Standings | 4th | 2nd |
| Total Yards Gained | 1,696 | 2,249 |
| Total Offense (Rank) | 282.7 (27) | 374.8 (5) |
| Rush Offense | 83.7 (26) | 118.2 (12) |
| Pass Offense | 199.9 (22) | 256.7 (8) |
| Points Per Game | 12.0 (31) | 28.8 (3) |
| Total Yards Allowed | 1,840 | 1,943 |
| Total Defense (Rank) | 306.7 (10) | 323.8 (12) |
| Rush Defense | 104.0 (15) | 133.7 (25) |
| Pass Defense | 202.7 (12) | 190.2 (7) |
| Points Allowed/Game | 25.3 (24T) | 14.8 (3) |
| Possession Avg. | 27:18 | 31:21 |
| Sacks Allowed/Yards Lost | 14/93 | 9/36 |
| Sacks Made/Yards | 12/88 | 24/151 |
| Total Touchdowns Scored | 8 | 21 |
| Penalties Against/Yards | 39/297 | 37/295 |
| Punts/Avg. | 33/44.1 | 16/46.4 |
| Turnover Differential | -8 (31T) | +4 (10T) |
RB Damien Harris (2019-22)
Patriot to Watch - Kendrick Bourne: WR Kendrick Bourne had a career-high 10 receptions last week at Las Vegas. If he has 10 or more receptions against Buffalo, he will be the first Patriots player since WR Julian Edelman opened the 2015 season with backto-back games with 10 or more receptions. Edelman had 11 receptions vs. Pittsburgh on Sept. 10 and followed that performance with 11 receptions at Buffalo on Sept. 20.
One Win Away: With a victory this week against Buffalo, Bill Belichick will join Don Shula and George Halas as the only NFL coaches with 300 regular season wins.
Bentley's Tackle Count: LB Ja'Whaun Bentley is tied with S Kyle Dugger for the team lead with 40 total tackles. Bentley is on pace to finish the season with 113 total tackles. It would be his third straight season with 100 or more tackles, the most since LB Jerod Mayo began his career with five straight 100-tackle seasons (2008-12).
Tavai's Interception: LB Jahlani Tavai recorded his second career interception and first as a member of the Patriots last week at Las Vegas. If he registers a pick this week against Buffalo, he will be the first Patriots linebacker with an interception in back-to-back games since LB Jamie Collins in 2016 when he had a pick on Sept. 18 vs. Miami and Sept. 22 vs. Houston. The last Patriots player with an interception in back-to-back games was Jack Jones last season – at Green Bay on Oct. 2 and vs. Detroit on Oct. 9.
J.C. Jackson: CB J.C. Jackson leads the NFL with 26 interceptions since entering the NFL in 2018 as a rookie free agent with New England. Jackson has four interceptions against Buffalo during his career, including a two-interception game on Sept. 29, 2019 at Buffalo.
Bryce Baringer: Rookie P Bryce Baringer is leading the NFL with 16 punts placed inside the 20-yard line. He is on pace to finish the year with 45 punts inside the 20-yard line. That mark would be tied for third in NFL history. The Patriots record for most punts inside the 20-yard line in a season is 36 by Jake Bailey in 2019.
TELEVISION: This week's game will be broadcast by CBS and can be seen locally on WBZ-TV Channel 4. Ian Eagle will handle play-by-play duties with Charles Davis as the color analyst. Evan Washburn will provide updates from the sidelines. The game will be produced by Mark Wolff and directed by Suzanne Smith.
INTERNATIONAL TELEVISION: This week's game will also be broadcast by RTL in Germany. Sebastian Vollmer and Markus Kuhn will be calling the game. Florian Ambrosius will be the presenter. The game will be produced by LTN and directed by Jens Schmitz and Jost Niemann.
LOCAL RADIO: 98.5 The Sports Hub is the flagship station for the Patriots Radio Network. A complete listing of the network's 33 stations can be found here. Play-by-play broadcaster Bob Socci will call the action along with former Patriots quarterback Scott Zolak, who will provide color analysis. The games are produced by Marc Cappello.
For information on how to stream the game please visit our Ways to Watch guide.