With Mac Jones expected to start what kind of game do you expect from him from both a gameplan and execution perspective?
It will start with establishing the run. If that can happen, Mac's passing game will be built off that. We'll also see a lot of two tight-end sets to have that extra blocker in there as well as an additional target in the passing game. It's all about giving Mac time. He'll need to play fast but not rush, if that makes any sense. -Fred Kirsch
What kind of game do I expect or what kind of game do I hope they'll call for him? I expect more of the same. Vertical concepts, heavy shotgun, and moments of optimism mixed with uncertain decisions. I hope we see a new approach that resembles the short and intermediate passing game from last season with timely downfield shots. Here's to hoping. -Evan Lazar
I expect to see much of the same when it comes to game plan: run the ball, take some occasional shots downfield while doing a better job of protecting the ball. -Paul Perillo
With this being a must-win game, if Mac does start on Sunday I would want a game plan drawn up that he could comfortably execute just like they did for Bailey Zappe against the Lions and Browns. This game plan might not be as visually appealing as seeing a ton of downfield passes but it's the best option right now for this Patriots team that is in desperate need of a win. -Tamara Brown
I would expect a run-heavy, intermediate pass game that sets Mac up for success early and then rely on play action to get the ball vertical. -Alexandra Francisco
I think the formula is pretty much set for what these Patriots need to do to win regardless of who is at quarterback – good start, no turnovers, strong defensive finish. That said, I remain hopeful that the offense under Mac Jones can find a new level of efficiency and explosiveness. -Mike Dussault
After Mac, who is a key Patriots player who can make a difference this week?
Pick any player, really. I'll go with Tyquan Thornton. If he can come up with a big play or two and get the Jets defense worried about his speed, it will open things up underneath and opposite wherever he is. Don't make the Patriots offense easy to defend! -FK
Jets QB Zach Wilson is the worst quarterback in the NFL while under pressure in PFF grade and passer rating. Pressure Wilson, and he'll give you the game on a silver platter. The Pats need a big game from Judon to make that happen. -EL
Jakobi Meyers has been the Patriots most consistent offensive player and he will keep the chains moving against a tough Jets defense. -PP
After Mac, the key player that can make a difference is Rhamondre Stevenson. The running backs were pretty silent last game and getting them back in a grove could alleviate some pressure off of Mac Jones. -TB
Matthew Judon has potential to be a nightmare for Zack Wilson with the Jets without valuable o-lineman. -AF
Let's go with what should be the rested legs of Damien Harris, but I think it's going to be a tough game for him and a banged up offensive line. It's just hard to see the offense having a winning game if their running game can't get going. Harris is under the radar behind Stevenson but still can be a game changer. -MD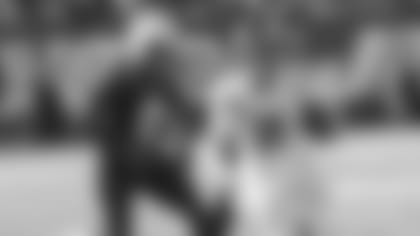 The loss of Breece Hall is a major one for the Jets, how do you see the Patriots defense defending them?
There's no need to do anything exotic on Sunday. It starts with stopping the run, even without Hall. Smart, disciplined play should do the trick. Don't overrun, mind your gaps and keep things in front. QB Zach Wilson hasn't been turning the ball over like he did last season but he's still not a huge passing threat so don't overthink it. -FK
I wouldn't sleep on the Jets running game just because Hall is out. It's a good scheme, the line run blocks well, Michael Carter ran well in the first matchup last season and James Robinson can take advantage of good blocking. Without a true mobile QB threat, I expect the Pats to use a similar approach as Weeks 5-6 to get the game in Wilson's hands on third down: five or six-man fronts, base defense versus heavy personnel, and bear fronts with the three big DLs (Guy, Davis, Godchaux). I don't think Hall being out will change the game plan much. -EL
Nothing really changes for the Patriots defensive game plan. They still need to be ready to stop the run and force Zach Wilson to beat them from the pocket. -PP
Even without Breece Hall, I think the Patriots defense will still respect the Jets running game especially with the addition of James Robinson in his place but I predict that a lot of the focus will be on forcing Zach Wilson to make bad throws and commit turnovers. With him not being able to lean on his star running back and have to throw more, I suspect the Patriots should come away with at least two turnovers. -TB
The trade for James Robinson means the Pats aren't completely off the hook against the run, so containing those efforts is as important as pressuring Wilson. -AF
This is a very good ground game, but a conventional one so I think the Patriots defensive front should have success containing it. They have to put the game into Zach Wilson's hands and then hope he short circuits. -MD
Is this a must-win for the Patriots?
If a winning record and playoffs are a goal, yes. It's that simple. -FK
Yes. They have won 12-straight against the Jets and can't lose any more ground in the AFC East. This is a get-right game. Another loss and this could get away from them. -EL
Yes. The Patriots need to string together some wins and dropping a game to a team you're already behind will make it awfully tough to make the playoffs. -PP
 This is a must-win game for the Patriots. Another bad game could cause things to snowball and the locker room needs a pick-me-up. A win against the Jets, a team that is on a winning streak and has a better record could boost the Patriots' morale; especially with a tough stretch of games in the horizon. -TB
It's still October but yes, yes it is. -MD
Your key to a Patriots victory against the Jets?
Everything above and limit mistakes. -FK
Do the cliche things: win in the trenches, stop the run, build a lead, and put the game on Wilson's shoulders. When the Patriots play on their schedule, they're tough to beat. -EL
Protecting the football. When the Patriots don't turn the ball over they're tough to beat. -PP
The key to the Patriots victory against the Jets is going to be a mistake-free game from Mac Jones. The Patriots have shown that they are unable to play from behind and are already having trouble with Mac Jones leading the offense being able to string together plays and put touchdowns on the board. The Patriots offense cannot allow the Jets to capitalize on Mac Jones' mistakes and underwhelming year two in the NFL. -TB
Get back to the solid defensive play that has, thus far, led to success on both sides of the ball in most games that weren't against the Bears. -AF
Execute the formula. As said above, we all know exactly what it is after a few years of it… good start, no turnovers, defensive finish. -MD