FOXBOROUGH, Mass. – Ironically, the nadir of Nick Folk's National Football League career began during a game against the team with whom he's now enjoying a zenith. On an October Thursday in Florida four years ago, the then-Buccaneers kicker missed all three of his field goal attempts (from 56, 49, and 31 yards away), contributing to Tampa Bay's 19-14 loss to New England that night.
Four days later, the Bucs – his third NFL team at the time – placed Folk on their injured reserve list, immediately ending his 11th professional season. Folk never kicked again for Tampa Bay and went entirely without a job in football in 2018.
Then, a brand-new club called the Arizona Hotshots of the now defunct Alliance of American Football (AAF) threw Folk a lifeline in February 2019, giving him a fourth chance to kick professionally. However, when that startup league abruptly folded and filed for bankruptcy two months later, Folk figured his football days might finally be over. Yet, back home in Dallas, Texas, he still clung to a thread of hope.
"It was always in the back of my mind a little, when you have a break for that long," he admits during a conversation this past week. "I never shut it down. I kept working out, kept training, kept kicking. If nothing happened at the end of that 2019 season, my wife and I had talked about figuring out something new. I'd already started planning a commercial real estate job. I finished my MBA in 2019, so, I had some stuff I was planning for life after football."
Meanwhile, up here in Massachusetts, New England's near-perfect succession of capable kickers appeared to be derailing. Having seamlessly transitioned from 10-year legend, three-time Super Bowl winner, and future Hall of Famer Adam Vinatieri (1996-2005) to rookie draft choice Stephen Gostkowski in 2006, the Patriots watched Gostkowski escape from Vinatieri's considerable shadow to help the franchise win three more Super Bowls over the next 13 years.
Along the way, Gostkowski earned First Team All-Pro honors twice, was named to four Pro Bowls, and was chosen for the NFL's All-Decade team for the 2010s. Even when Gostkowski missed half of the 2010 campaign because of a quadriceps injury, New England's kicking operation didn't suffer. NFL veteran Shayne Graham stepped in and went 12-for-12 on field goals for the Patriots the remainder of that season.
After only four games in 2019, Gostkowski went on injured reserve with a hip problem. The Patriots worked out a number of kickers, including Folk, but elected to go with Mike Nugent. When Nugent proceeded to miss three field goals and an extra point over the next four games, Folk was summoned back to Foxborough.
"Luckily enough," he recalls, "I came up here for a workout, kicked pretty well, and a couple weeks later, they called me back up, and we've kept it going ever since."
Barring a one-game hiatus that 2019 season to heal from an emergency appendectomy, Folk has put New England's placekicking unit back on solid footing. Midway through this 2021 season, as the Patriots prepare to host the New York Jets in Week 7, Folk finds himself just one field goal away from a summit that fewer than three dozen NFL kickers have ever reached. And to think, his football career very easily could never have gotten off the ground at all.
FROM ONE FOOTBALL TO ANOTHER
Born and raised in Southern California to a German immigrant father (and an American mother with direct ties to the Mayflower), Folk and his two younger brothers lived and breathed soccer as children. When Nick became a teenager in the Los Angeles suburb of Sherman Oaks, Chris Sailer, an alum of Folk's Notre Dame High School, convinced him to play both soccer and football.
Sailer saw in Folk a similar potential to be the same type of two-sport star that he'd been at Notre Dame before kicking in college for the UCLA Bruins. "I kind of became his first recruit," Folk remembers, as Sailer would go on to establish a popular camp for aspiring kickers and punters. In the interim, Sailer talked Notre Dame's longtime head football coach into adjusting his practice schedules to accommodate Folk's commitments to his local club soccer team.
"We would go out – we call them 'early outs,'" Folk explains. "We'd do our kicking and punting and long snapping, kickoff, all that stuff, kind of like you'd see in pregame. The team would come out and stretch, do our special teams work in the beginning, then I would leave and, most days, go home, change, get a snack, do homework, whatever, and go to soccer practice from 6-8. I would only miss my club soccer practice on Fridays when we played our football games."
By rule, California club soccer seasons had to end around Thanksgiving so that players like Nick could suit up for their high school soccer teams, whose seasons, thanks to the region's mild weather, began in wintertime. Nick eventually became Notre Dame's soccer captain, but also earned statewide honors for his placekicking and punting on the gridiron.
As a result, several colleges offered him partial scholarships to play soccer, and with Sailer's help, Folk received a full football scholarship offer to the University of Arizona. Time to choose between the two sports. With ambivalence, he opted for football.
"Yes, it was difficult," he admits, "because I knew I was giving up [soccer], something I really enjoyed. No, in the fact that I had a full ride to Arizona, where soccer [scholarships] were either just tuition or just books or just room and board or some combination of those."
Even though Nick would soon start for a high-profile program in one of the most competitive college conferences in the country, it hadn't yet occurred to him that anything more might come of his football career.
Folk's historical bio page on Arizona's website shows that, in 2003, his first as a Wildcat, he only attempted three field goals, all of which were less than 40 yards and unsuccessful. The NFL, he maintains, could not have been further from his mind. "I never really thought about it. I just thought about getting better all the time while I was at Arizona. That was my goal – put in the time and work to become a much better student of the game."
Gradually, he did so, improving to the point that, toward the end of his junior year, pro scouts stunned him by requesting interviews. "I was like, 'You want to talk to me? About football?' I had an inkling then that there was a little bit of interest."
More than a little bit, as it turned out. The Cowboys would choose Folk in Round 6 (178th overall) of the 2007 NFL Draft. During his three seasons with Dallas, Nick met a local woman named Julianne Plauche, who would later take his last name. The couple, married since 2012, now have four children: twin boys age 8, plus a 6-year-old daughter and 4-year-old son.
Though the family lived with Nick when his football work took him from Texas to New Jersey (seven season with the Jets from 2010-16) and Florida, the Folks always maintained a permanent home base in the Dallas area. That's where Julianne and the kids have remained since Folk became a Patriot in 2019. For the approximately six months of football season, Nick lives temporarily in this area. Whenever New England's seasons end, he goes back to rejoin them in Texas.
This coming weekend, however, the entire clan will be in Foxborough to see Nick kick against his old team, the Jets, when Folk could connect on his 300th NFL field goal – a career achievement that only 33 other kickers have ever claimed.
"I heard that for the first time today," says Folk. "I mean, yeah, it's great to be in that company. There are some great kickers out there that have done a lot of great things. But it's one more kick we've got to go out and perform. Hopefully, we can get a win."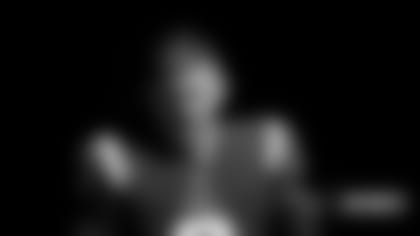 Verging on age 37 (his birthday is November 5), Folk is in the midst of one of his most productive periods as a professional kicker. Since signing with New England, Folk has thus far drilled 54 of 60 field goal attempts. In another ironic twist, his streak of 36 consecutive made field goals came to an end when a 56-yarder clanged off the left upright here at Gillette in Week 4 this year against Tampa Bay.
However, Folk's impressive run ranks longest in Patriots history – Gostkowski, with 31 straight, and Vinatieri, at 25, place second and third behind him. In addition, the 36 in a row are tied (with former Raven Matt Stover) for sixth-best in NFL history (Vinatieri, as an Indianapolis Colt, made the record 44 straight from 2015-16).
Folk's performance against the Houston Texans in Week 5 this year – 4-for-4 on field goals, including the game-winner – earned him AFC Special Teams Player of the Week, his seventh such distinction overall and third as a Patriot. Only Vinatieri (eight) and Gostkowski (six) have more with New England.
"Anytime you can be in a similar conversation," adds Folk, "as Adam Vinatieri and Stephen Gostkowski, it's always welcoming. Those two have done so much for this organization. They're both great kickers. Again, it comes back to, it's really just the next kick. That's all I'm trying to focus on. The next kick is the most important one.
"As you get older, you have to figure out the small little nuances [of kicking]. I feel pretty good. One day at a time. That's all I can do."
A self-proclaimed "big fan at heart," Folk still loves watching soccer, but has no regrets about choosing football nearly two decades ago. "I really do enjoy playing football. It's a lot of fun. There's kind of nothing like it, going out there, just you and your teammates to go win some games. It's a good time.
"In the end, I guess it's worked out a little bit," he remarks, chuckling. "The Lord works in mysterious ways. I'm lucky to be up here and excited to keep it going."