WEEK 15 · Sun 12/18 · 4:05 PM EST
Patriots
New England Patriots
AT
The New England Patriots will continue their West Coast trip with a meeting with the Las Vegas Raiders at Allegiant Stadium on Sunday. The Patriots played on Monday Night Football at Arizona and then practiced during the week at the University of Arizona in Tucson.
The Patriots and Raiders held joint practice sessions together this past summer at the Raiders practice facility prior to the final preseason contest, a 23-6 Las Vegas victory.
AIMING TO BECOME FIRST TEAM TO FINISH IN TOP 10 FOR 11 STRAIGHT SEASONS
The 2022 New England Patriots are 5th in the NFL, allowing 18.4 points per game and can become the first NFL team since the 1970 merger to finish in the top 10 for fewest points allowed in 11 straight seasons. The Patriots have finished in the top 10 for fewest points allowed in each of the last 10 seasons (2012-2021) to tie Tampa Bay, who became the last team to reach 10 straight seasons (1996-2005) for the fewest points allowed. The 2021 Patriots finished second in the NFL with 17.8 points allowed per game. Buffalo finished first with 17.0 points allowed per game.
The Patriots and Raiders held joint practice sessions this past summer prior to a preseason meeting for the first time since 1995. It was New England's first visit to Allegiant Stadium since the Raiders move from Oakland to Las Vegas in 2020.
The Patriots and Raiders will play their first regular season game in Las Vegas this week. The Patriots have won the last six regular season games against the Raiders, including the last games between the two on Sept. 27, 2020 at Gillette Stadium when the Patriots took a 36-20 victory. That meeting marked the Patriots first game against the Raiders as the Las Vegas Raiders after the franchise relocated from Oakland.
The Patriots hold an 18-14-1 lead in the regular season against the Raiders. The teams have met three times in the playoffs, producing a memorable, classic encounter on each occasion. In 1976, the Patriots beat the Raiders, 48-17, in the regular season before losing a playoff game in Oakland, 24-21. The Patriots advanced to their first AFC Championship Game in 1985 after beating the Raiders, 27-20, in Los Angeles. In 2001, the Patriots beat Oakland, 16-13, in overtime in the last game ever played in Foxboro Stadium, en route to winning Super Bowl XXXVI.
The series between the two charter members of the American Football League dates back to 1960, the inaugural season for each club.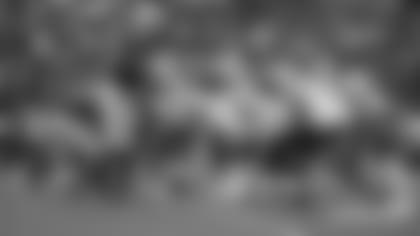 SCOUTING THE MATCHUPS
When the Patriots run - Edge: Raiders
The Patriots struggles to regain their early-season form when running the football appeared to be in full effect in Arizona, and when Rhamondre Stevenson limped off the field with an ankle injury things looked bleak. But rookies Kevin Harris and Pierre Strong provided a lift and perhaps a glimpse of things to come. Prior to that Stevenson had been forced to carry the load alone for the better part of the past month, and injuries along the offensive line had impacted the blocking up front. The results overall have been average at best, as Stevenson at times has created yards on his own but New England has been unable to control the ball consistently. Las Vegas has been effective stopping the run with Bilal Nichols, Andrew Billings and Jerry Tillery up front protecting linebackers Denzel Perryman and Luke Masterson. That group has allowed the Raiders to rank ninth in the league, allowing 110.5 yards per game on the ground, and seventh at 4.2 yards per carry. It would help the Patriots cause if Damien Harris (thigh) could return to 100 percent and continue his role alongside Stevenson, who is showing signs of wear and tear from an abnormally heavy workload in recent weeks. It also would help if some of the banged-up pieces of the offensive line could return, allowing the best five to perform together on a more regular basis. But until that happens it's hard to have faith that the ground production that was evident in early-season wins over the Lions and Steelers will return.
When the Patriots pass - Edge: Patriots
The Raiders secondary has struggled all season long and ranks 29th in passing yards allowed (254.5) and 28th in yards per pass play (7.2). Whether it's been health, inconsistency or poor play, Las Vegas hasn't been able to contain quality passing games all year. Corners Rock Ya-Sin, Nate Hobbs, Sam Webb and Amik Robertson join safeties Tre'von Moehring and Duron Harmon, but nothing has worked. Ya-Sin is dealing with a knee injury that kept him out of last week's loss to the Rams, and the group is still dealing with the sting of the late-game collapse that saw the Raiders allow a pair of touchdowns in the closing minutes. The Patriots passing game has obviously not been effective most of the season. Mac Jones has dealt with an ankle injury, spotty pass protection and an at time curious set of game plans and it's added up to a regression in his second season. Jakobi Meyers was forced to sit out the Cardinals game with a concussion and his status is uncertain, and DeVante Parker was knocked out of that game with a possible concussion as well. Kendrick Bourne, Nelson Agholor and Tyquan Thornton will be available, and Stevenson has emerged as Jones' favorite target in many games. The key factor in this matchup is the pass rush, and although the Raiders haven't been great getting after the passer they certainly have the ability to do so with Maxx Crosby (11.5 sacks) and Chandler Jones (4.5) coming off the edges. They will need to be dealt with to have success.
When the Raiders run - Edge: Patriots
It will be interesting to see how Bill Belichick attempts to deal with the Raiders offense. When the Patriots have been focused on shutting down the run (Minnesota, Cleveland, Detroit, Jets twice) the defense has been up to the task. At other times teams like Green Bay and Buffalo enjoyed tremendous success on the ground as the defense was more worried about the opposing quarterback. Arizona's James Conner enjoyed success Monday night, averaging almost 6 yards per carry. Las Vegas' Josh Jacobs is an effective runner who can make plays inside and out. He leads the team 1,402 yards on 269 carries for a 5.2-yard average and has 11 touchdowns. He most likely will occupy Belichick's focus in this matchup. Assuming that's the case, the Patriots front seven should be able to neutralize Jacobs as he operates behind a spotty offensive line. New England has done a great job of winning at the point of attack with Lawrence Guy, Davon Godchaux, Carl Davis and Deatrich Wise controlling their gaps and preventing opposing runners from taking advantage. The Raiders are among the league's best, averaging 5.1 yards per carry (third in the league) as a team. The Patriots, meanwhile, allow just 4.2 yards per rush, which ranks eighth in the league. That should continue as the Patriots game plan should involve containing Jacobs first and foremost.
When the Raiders pass - Edge: Raiders
At times the Raiders offense looks as dangerous as any in the league. Derek Carr mixes Jacobs runs and effective passes spread around to an array of talented receivers, led by Davante Adams. But for long stretches the group goes into hibernation, and Carr hasn't had any answers. That's the main reason Vegas has somehow lost four times this season after holding leads of 13 points or more, the most recent coming last Thursday night against the Rams. Carr has completed 62 percent of his passes for 3,117 yards with 20 touchdowns against 10 picks. Adams has been as advertised with 82 catches for 1,247 yards and 12 touchdowns, but a couple of talented pieces have been missing as tight end Darren Waller (hamstring) and slot receiver Hunter Renfrow (ribs/oblique) have been on injured reserve. Both are eligible to return for the Patriots but that's no sure thing. Mack Hollins (47-588-3) has performed well in their place, as has backup tight end Foster Moreau (25-316-2). Jacobs and fellow running back Ameer Abdullah are effective pass catchers, but this will come down to Carr. Injuries are starting to pile up in the secondary as Jalen Mills missed the Cardinals game and Jack Jones left it early with a knee injury. That group struggled with Adams & Co. in the summer during joint practices, but it will be up to the quarterback to make sure he finds the proper matchups. He should have enough options to move it effectively against the Patriots.
Special Teams - Edge: Raiders
After enjoying a near-perfect season, kicker Nick Folk is struggling a bit. He's missed three field goals in his last four games and is now 27 of 32 on the season after a nice bounce back in Arizona where he connected from 51 yards out to close the first half. He came up short on a couple of 48-yard attempts in previous weeks, perhaps showing some fatigue late in the season. Belichick activated Tristan Vizcaino off the practice squad against Buffalo to handle kickoffs to take some burden off Folk, but the veteran handled those duties in Arizona and his performance is worth monitoring. The Raiders counter with Daniel Carlson, one of the best in the game. He's connected on 28 of 31 attempts with two of the misses coming from beyond 50 yards. The Patriots have an edge in the return game, however, with Marcus Jones continuing to add juice on both kicks and punts. The Raiders haven't gotten much in that department with Abdullah (kicks) and D.J. Turner (punts) struggling to provide much production. Punter A.J. Cole has been effective, averaging 50 yards per punt with a 44-yard net, numbers that dwarf Michael Palardy's 43.2 yards with a 40.4-yard net. In a game that figures to be close and could come down to game-winning kick, Carlson gives the home team a slight edge.
Table inside Article

| 2022 REGULAR SEASON | NEW ENGLAND | LAS VEGAS |
| --- | --- | --- |
| Record | 7-6 | 5-8 |
| Divisional Standings | 3rd | 3rd |
| Total Yards Gained | 4,155 | 4,705 |
| Total Offense (Rank) | 319.6 (24) | 361.9 (8) |
| Rush Offense | 104.8 (23) | 128.5 (10) |
| Pass Offense | 214.8 (21) | 233.5 (12) |
| Points Per Game | 21.2 (18) | 23.7 (11) |
| Total Touchdowns Scored | 28 | 33 |
| Total Yards Allowed | 4,064 | 4,745 |
| Total Defense (Rank) | 312.6 (6) | 365.0 (24T) |
| Rush Defense | 111.3 (12) | 110.5 (10) |
| Pass Defense | 201.3 (9) | 254.5 (29) |
| Points Allowed/Game | 18.4 (5) | 24.1 (24T) |
| Possession Avg. | 29:25 | 29:57 |
| Sacks Allowed/Yards Lost | 33/223 | 23/158 |
| Sacks Made/Yards | 45/287 | 25/171 |
| Penalties Against/Yards | 80/670 | 86/726 |
| Punts/Avg. | 59/42.4 | 43/50.0 |
| Takeaway/Giveaway Ratio | +3 (8T) | -3 (24T) |
Dave Ziegler
Josh McDaniels
Carmen Bricillo
Cameron Clemmons
Patrick Graham
Bo Hardegree
Mick Lombardi
Rob Ryan
Jerry Schuplinski
Brandon Bolden
Tashawn Bower
Jermain Eluemunor
Jalen Elliott
Duron Harmon
Jacob Hollister
Justin Herron
Jakob Johnson
Chandler Jones
Chris Lacy
Jarrett Stidham
Isaiah Zuber
Nelson Agholor
Trent Brown
Raekwon McMillan
WHAT TO LOOK FOR THIS WEEK
The Patriots scored on defense for the fourth time in 2022 at Arizona, the second-most in the NFL to the five defensive scores by Arizona. DB Kyle Dugger forced a fumble after a short reception by WR DeAndre Hopkins and LB Raekwon McMillan returned the ball 23 yards for a touchdown in the third quarter. DB Jack Jones returned an interception 40 yards for a touchdown at Green Bay on Oct. 2, DB Kyle Dugger returned a fumble 59 yards for a touchdown vs. Detroit on Oct. 9, and CB Jonathan Jones returned an interception 17 yards for a touchdown vs. Indianapolis on Nov. 6. The Patriots record for most defensive scores in a season is six in 2007.
The Patriots now have 45 sacks for the year, third in the NFL behind Philadelphia (49) and Dallas (48). The Patriots are on pace to finish with 58 sacks. If the Patriots continue the current pace they will finish tied for the second-most sacks in team history to the 66 sacks recorded in 1963. The Patriots also had 58 sacks in 1977. The most sacks the team has had under Bill Belichick is 49 sacks in 2015.
K Nick Folk enters this week with 58 straight field goals under 40 yards. His last miss under 40 yards was a 21-yard field goal attempt on Oct. 12, 2017 vs. New England when he played for Tampa Bay. The NFL record for most consecutive field goals made under 40 yards is 70 by Baltimore's Justin Tucker (2016-2020).
Folk is third in field goals with 27 behind the 28 by Justin Tucker and Daniel Carlson. He is on pace to finish with 35 field goals His career-high is the 36 field goals he had in 2021. If Folk connects on 30 field goals in 2022, he would become one of six NFL players with at least five seasons with 30 field goals.
LB Josh Uche followed a 2-sack performance vs. Buffalo with a 3 sack performance at Arizona. He now has a career-high 10 sacks, all in the last six games. The only Patriots player in team history with back-to-back games with 3 sacks was Andre Tippett with 3 sacks in 1987 - vs. Dallas on Nov. 15 and vs. Indianapolis on Nov. 22.
The most sacks by a New England player over a three-game stretch were 7 sacks by Andre Tippett in 1987 with on 1 sack at the New York Giants on Nov. 8, and then 3 sacks vs. Dallas on Nov. 145 and 3 sacks vs Indianapolis on Nov. 22.
RB Rhamondre Stevenson enters this week third in the NFL among running backs with 58 receptions and fourth in the NFL with 385 receiving yards.
Stevenson has a team leading 58 receptions and is on pace to finish the season with 76 receptions, which would be the third most in a season for a New England running back to the 87 by RB James White in 2018 and the 77 by Tony Collins in 1986. New England has had a running back lead the team in receptions eight times.
Stevenson has averaged 6.0 yards per carry in two games so far in 2022 with a 6.1 average (12-73) vs. Baltimore (9/25) and a 6.4 average (25-161) vs. Detroit (10/9). The last Patriots player to have three games averaging 6.0-yards per carry in a single season was Dion Lewis in 2017. The most games in a season for the Patriots with a 6.0-yard average is RB Carl Garrett with four games in 1969.
Stevenson leads the team in rushing attempts (164) and receptions (58). The Patriot have had a player lead the team in rushing attempts and receptions three times – 1987 – Tony Collins, 1977 – Sam Cunningham and 1974-Mack Herron.
Rookie Marcus Jones, who won the 2021 Paul Hornung Award as the nation's most versatile player after returning two punts and two kickoff returns for a touchdown in college in 2021, ranks first in the NFL with 799 total return yards (301 punt return yards and 498 kickoff return yards).
Jones is first in the NFL with a 14.3 punt return average and third in the NFL with a 24.9-yard kickoff return average.
Jones returned a punt 84 yards for a touchdown in the win against the Jets on Nov. 20. He will look to become the first Patriots player to ever return a kickoff for a touchdown and punt for a touchdown in the same season and the first NFL player to accomplish the feat since 2019 when Jamal Agnew did so for Detroit.
Jones will look to become the second Patriots defensive player to have more than one offensive touchdown in a season, joining LB Mike Vrabel who had two touchdown receptions in 2004, three in 2005 and two in 2007. The last defensive player with two touchdowns in a single season in the NFL was DL J.J. Watt in 2014 with Houston with three touchdown receptions.
WR Matthew Slater has 8 special teams tackles and needs two more to reach double-digit special teams tackles for the 11th time in his career. The 10-time special teams Pro Bowler has the third-most special teams tackles in the NFL among all player since 1994 with 167, behind Larry Izzo (205) and Keith Burns (197).
LB Matthew Judon is tied with Nick Bosa for first in the NFL with 14.5 sacks and is on pace to finish with 19 sacks. The Patriots have never had a player lead the NFL in sacks.
Andre Tippett is the only Patriots player that has had more sacks in a season than Judon. Tippett had 18.5 sacks in 1984 and 16.5 sacks in 1985.
Judon has recorded three games with at least two sacks in a game in 2022. The team record is six games with at least two sacks by Andre Tippett in 1984. The NFL record is eight games by Reggie White with Philadelphia in 1987. Micah Parsons from Dallas has six such games so far in 2022.
Rookie free agent DB Brenden Schooler is leading the team with 13 total special teams tackles. He needs four more special teams tackles to set the team record for most special teams tackles by a rookie. DB Willie Andrews had 16 total special teams tackles as a rookie in 2006.
TELEVISION: This week's game will be broadcast by FOX and can be seen locally on WFXT-TV Channel 25. Kenny Albert will handle play-by-play duties with Jonathan Vilma as the color analyst. Shannon Spake will provide analysis from the sidelines. The game will be produced by Fran Morison and directed by Bryan Lilley.
NATIONAL RADIO: This week's game will be broadcast by ESPN Radio. Marc Kestecher will handle play-by-play duties with Kirk Morrison as the color analyst.
LOCAL RADIO: 98.5 The Sports Hub is the flagship station for the Patriots Radio Network. A complete listing of the network's 33 stations can be found here. The television broadcast will simulcast the game on the radio during the preseason.