Aqib Talib has generated more than his share of attention since arriving via trade from Tampa Bay two weeks ago. He'll likely make his debut in a Patriots uniform on Sunday against the Colts, and no doubt should help a secondary that has struggled in coverage for much of the season.
Now the question turns to Bill Belichick and how he plans to use his new cornerback. Many onlookers in Tampa felt his skills were best suited for a man-to-man scheme where he could be asked to take on an opponent's top receiver. But that's not generally the style Belichick has used in New England, even when he had the likes of Ty Law and Asante Samuel at his disposal.
So, we thought we'd offer our opinions on the matter, since we know how much the Patriots coach loves it when we offer suggestions. For our Samsonite Make Your Case poll this week we ask, Should the Patriots match up Talib on the opponent's top receiver? PFW's Paul Perillo says ...
Yes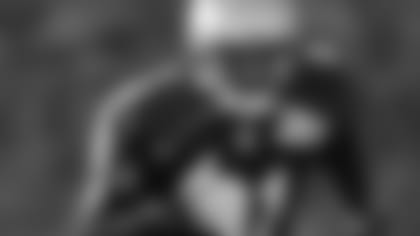 I understand the Patriots don't normally match up their corners with opposing wideouts but the pass defense hasn't generally struggled as much as it has recently. Talib is capable of playing man to man and there's no reason why Bill Belichick shouldn't ask him to handle the opponent's top receiver.
First, that should help Talib assimilate into the Patriots system without asking him to learn all of the intricacies of the system. It also would help the rest of the secondary as they would be dealing with secondary targets, and with more bodies to do so.
The final reason is the most simple – it's the style that Talib is most comfortable with. Most people who have watched him play feel he is not as effective working in zone coverage and excels when he gets a chance to be physical in man schemes.
What the Patriots have done thus far obviously hasn't worked, and there's a reason Belichick went out and acquired Talib in the first place. Lock him up on the other team's best receiver and let him do what he does.
--PP
* * No
No player is bigger than the system, and the Patriots system doesn't call for the type of game plan where one corner takes one receiver exclusively. Talib may turn out to be the Patriots best cover man but that doesn't mean he should be treated differently from the rest of the corners.
Bill Belichick prefers to use different coverages and asks his players to be versatile. He's fond of saying things like, "If we had Jim Brown we'd run him 30 times a game." Well, if Talib were Deion Sanders maybe I'd rethink my position, but as far as I can tell that's not the case, so asking him to play like Sanders doesn't make sense.
If the Patriots are going to improve on pass defense they're going to need all of the members of the secondary – not to mention the pass rush – to get better. It's not just about one player taking out one player on the other team and let the other 10 fend for themselves.
That's never been the Patriots way and it's not the way Belichick should go now. Play Talib the same way as the other corners and hopefully by the end of the season the performance will improve.
--AH
**Now it's the fans turn to cast their vote in this week's Samsonite Make Your Case poll question.
http://polldaddy.com/poll/6696438/ **