WEEK 7 · Mon 10/24 · 8:15 PM EDT
AT
Patriots
New England Patriots
This week, the Patriots will play the first of five primetime games on the schedule when they host the Chicago Bears on Monday Night Football. The Patriots will have a stretch of four straight primetime games for the first time in team history later in the year. The stretch begins with a Thanksgiving Night game at Minnesota, followed by a Thursday Night game vs. Buffalo, and then a Monday Night Football game at Arizona followed by a Sunday Night contest at Las Vegas.
BELICHICK IS TIED FOR SECOND ALL-TIME
Bill Belichick won his 324th overall game as a head coach last week at Cleveland to tie George Halas for second place all-time among all NFL coaches. He needs one more win to move past Halas into sole possession of second place, behind the 347 victories by Don Shula.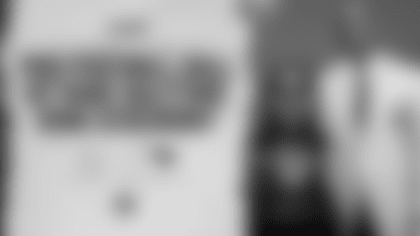 RICHARD SEYMOUR TO BE HONORED AT HALFTIME
Former New England Patriots defensive lineman Richard Seymour was selected for enshrinement in the Pro Football Hall of Fame the night before Super Bowl LVI and joined the Hall of Fame Class of 2022 at an induction ceremony in Canton, Ohio, this past summer. Seymour will receive his Pro Football Hall of Fame ring at halftime of the Patriots game against the Chicago Bears on Monday Night Football.
This week's game will mark the 15th meeting overall between the Patriots and Bears (including Super Bowl XX). The Patriots have won the last five meetings including a 38-31 win at Chicago on Oct. 21, 2018 in the last meeting between the two teams. Chicago is 0-2 in their only two visits to Gillette Stadium, losing 17-13 in 2006 and 51-23 at Gillette Stadium in 2014.
This week's game will be the third straight meeting in late October. The teams met on Oct. 26, 2014 at Gillette Stadium and on Oct. 21, 2018 at Chicago.
The Patriots hold a 10-3 overall lead in the regular-season series, but Chicago claimed a victory in the teams' only postseason matchup, taking a 46-10 decision in Super Bowl XX. Since Super Bowl XX, the Patriots have recorded a 8-1 edge against Chicago.
One of the more memorable games between the two teams was in 2002, when the Bears played their home games at the University of Illinois during the remodeling of Soldier Field. New England staged one of the most memorable comebacks in team history, rallying from a 27-6 deficit late in the third quarter to pull out for a 33-30 win that was clinched on a 20-yard touchdown pass from Tom Brady to David Patten with 21 seconds left in the game.
When the Patriots run - Edge: Patriots
Stop me if you've heard this before, especially recently: The Patriots will face a poor run defense this week. Chicago enters the Monday night game with the 29th-ranked rush defense, allowing 163 yards per game and 24th in yards per attempt (4.8). Coming off a rare subpar rushing performance in Cleveland, expect the attack to bounce back strong. Rhamondre Stevenson still managed to run for a pair of touchdowns, including a 31-yarder on a third-and-10 draw, but managed just 76 yards against the league's worst run defense. Overall the Patriots averaged only 3.4 yards per carry against the Browns, and that number is expected to rise going against a Bears front that includes Justin Jones and Angelo Blackson inside of Al-Quadin Muhammad and Robert Quinn. Roquan Smith is a standout middle linebacker but is a bit undersized and at times can be pushed around. That group has struggled to contain the run most of the year, although they have faced San Francisco, Green Bay and the Giants, who all have strong running games. Look for Stevenson to continue to carry the load as Damien Harris tries to work his way back from a sore hamstring. Rookies Kevin Harris and Pierre Strong filled in with four carries between them, but the running game will once again fall on Stevenson's shoulders.
When the Patriots pass - Edge: Patriots
Chicago hasn't done much right thus far in 2022 but one element of the team that has performed well is the secondary. The Bears are fourth in the league, allowing just 178.7 yards per game through the air, although the number rises to 11th at 6.5 yards per attempt, which is an indication that opponents have been largely willing to run the ball against Chicago's leaky front. Safety Eddie Jackson has played well, leading the team with three interceptions. But otherwise there aren't many household names in the secondary. Corners Jaylon Johnson and Kyler Gordon join Jackson and fellow safety Jaquan Brisker in the starting lineup, although Johnson has dealt with a quad injury. Kindle Vildor serves as the nickel back, which the Bears use more than half the time. Quinn, the veteran pass rusher, hasn't posed much of the threat thus far with just one sack while the Bears have only 11 as a team. The Bears have been helped by the early-season schedule as they took on the Niners in a monsoon on opening day and Washington's Carson Wentz couldn't crack triple figures as he played with a fractured finger last week. Mac Jones is nearing a return and could be ready to go Monday night. He'll join an offense that has rookie Tyquan Thornton in the lineup and making plays. If Jones can't go, look for Bailey Zappe to continue to spread the ball around and remain efficient.
When the Bears run - Edge: Bears
Chicago's offense hasn't produced much thus far but that has not been true of the ground game. Despite injuries to David Montgomery, the Bears have been effective grinding out yards on the ground. Chicago is second in the league, averaging 170.8 yards per game and seventh at 5.2 yards per carry. Montgomery averages 4 yards per carry as the lead back but Khalil Herbert offers more explosiveness and averages 6.4 yards on the same amount of attempts (Herbert has 63 to Montgomery's 62). Quarterback Justin Fields also offers a running element with 54 carries for 282 yards and a 5.2-yard average. Expect the Patriots to load the box and get extra bodies in the running lanes to effectively force Chicago to throw. New England overcame injuries to Lawrence Guy and Christian Barmore and came up with its strongest effort of the season in holding Cleveland's Nick Chubb to 56 yards on 12 carries. The Browns finished with only 70 rushing yards, which was more than 120 yards below their season average. Davon Godchaux and Carl Davis were stout up front and they will be tested once again on Monday. As long as the game remains competitive, the Bears will continue to run the football.
When the Bears pass - Edge: Patriots
The reason that last sentence is true is that first-year coach Matt Eberflus has yet to figure out how to protect his young quarterback, and asking him to throw more than 25 passes, which he's done just once, is asking for trouble. While Fields has struggled mightily as the lowest-ranked passer in football, he's also been sacked 23 times. That total is astounding considering he's attempted only 115 passes. That means Fields is sacked a whopping 20 percent of the times he drops back to pass, a total which is far and away the worst in the league. Darnell Mooney is his favorite target, leading the Bears with 17 catches for 241 yards. Tight end Cole Kmet and Montgomery (10 apiece) are the only others with double digit receptions. Equanimeous St. Brown and Dante Pettis account for three of Fields' four touchdown passes for a passing attack that is far from dangerous. Expect the Patriots secondary to continue to lock down on the outside and force Fields to show that he can consistently complete passes to move the ball. Based on the results this far, which include a league-worst 122 yards per game through the air, Fields doesn't figure to be able to do that Monday night.
Special Teams - Edge: Patriots
Nick Folk finally proved to be human when he misfired on a 45-yard field goal in Cleveland to snap his streak of 64 straight makes from inside 50 yards. Despite that hiccup he remains a huge strength for a Patriots offense that has had its struggles from inside the red zone. Chicago's Cairo Santos hasn't had many opportunities but he's been solid as well, making all seven of his field goals including three from beyond 50. Punter Trenton Gill has been effective with seven kicks downed inside the 20 against just two touchbacks while averaging almost 49 yards per punt. Jake Bailey has been a bit inconsistent but is coming off a game in which he pinned the Browns inside the 20 three times on his four attempts. The Patriots kickoff coverage continues to be a concern as Cleveland's Chester Rodgers brought three back to the 25 or beyond. But the Patriots also came up with another turnover on special teams, taking advantage of a muffed punt. Chicago's Velus Jones handles both punts and kicks, as Marcus Jones has done for New England. Marcus Jones has provided a lift, particularly on punts, and the Bears have been susceptible in that department in the early going, allowing almost 10 yards per return.
Table inside Article

| 2022 REGULAR SEASON | NEW ENGLAND | CHICAGO |
| --- | --- | --- |
| Record | 3-3 | 2-4 |
| Divisional Standings | 3rd (T) | 3rd |
| Total Yards Gained | 2,128 | 1,762 |
| Total Offense (Rank) | 354.7 (13) | 293.7 (28) |
| Rush Offense | 131.3 (10) | 170.8 (2) |
| Pass Offense | 223.3 (19) | 122.8 (32) |
| Points Per Game | 23.5 (11T) | 15.5 (31) |
| Total Touchdowns Scored | 16 | 9 |
| Total Yards Allowed | 2,027 | 2,050 |
| Total Defense (Rank) | 337.8 (13) | 341.7 (16) |
| Rush Defense | 119.0 (17) | 163.0 (29) |
| Pass Defense | 218.8 (14) | 178.7 (3) |
| Points Allowed/Game | 18.8 (7T) | 19.7 (11T) |
| Possession Avg. | 30:51 | 27:28 |
| Sacks Allowed/Yards Lost | 11/79 | 23/132 |
| Sacks Made/Yards | 17/89 | 11/71 |
| Penalties Against/Yards | 38/299 | 31/253 |
| Punts/Avg. | 22/43.8 | 25/48.7 |
| Takeaway/Giveaway Ratio | +1 (13T) | -2 (21T) |
DL Angelo Blackson
WR N'Keal Harry
DL Mike Pennel Jr.
WHAT TO LOOK FOR THIS WEEK
The Patriots are undefeated against Chicago at home in the regular season with a 4-0 record overall and a 2-0 record at Gillette Stadium.
The Patriots have allowed just two rushing touchdowns in the first six games, but none of those rushing touchdowns have been by an opponent's running back. QB Lamar Jackson scored on a touchdown run vs. Baltimore and WR Christian Watson scored on a run at Green Bay. The longest the Patriots have gone without allowing a running back to score on a touchdown run is eight games in 2019. The Patriots are the only team in 2022 that has not allowed an opponent running back to score.
Since the Patriots franchise began play in 1960, the Patriots have the fourth-most wins with 569 total victories.
Bill Belichick enters this week tied with former Chicago Bears legendary head coach and Pro Football Hall of Famer George Halas for second place among all NFL coaches with 324 total wins. A win this week over Chicago will give Belichick his 325th overall win and sole possession of second place, just 22 wins behind the 347 total wins by Don Shula.
Belichick enters this week tied with Don Shula (Miami) for second all-time with 257 regular season wins as a head coach of the New England Patriots. With a win this week against Chicago, Belichick will be in sole possession of second place for most regular season wins with one team with 258, behind the 318 regular season wins by George Halas.
LB Matthew Judon has six sacks in 2022 and is inching closer to his second straight double-digit sack total. He led the team with a career-high 12.5 sacks in 2021 and can become the fourth Patriots player with back-to-back 10-plus sack totals, joining Garin Veris (10 in 1985 and 11 in 1986), Andre Tippett (18 1/2 in 1984 and 16 1/2 in 1985) and Tony McGee (12 in 1977, 11 1/2 in 1978 and 10 1/2 in 1979). Judon can join Tippett (3), McGee (3), Veris (2) and Jones (2) as the only Patriots to register more than one double-digit sack total.
DB Jalen Mills has two interceptions so far in 2022. He needs one more interception this year to match his career-high of three interceptions that he had in 2017 with Philadelphia.
DL Deatrich Wise Jr. has 5 sacks so far in 2022 to tie his career high of 5 sacks set as a rookie in 2017. With one more sack he will establish a new single-season career high.
RB Rhamondre Stevenson had his third two-touchdown game, including his second against Cleveland. Stevenson scored on a 31-yard touchdown run in the second quarter and a 6-yard run in the fourth quarter last week at Cleveland. He also had two rushing touchdowns on Nov. 18, 2021 vs. Cleveland and vs. Jacksonville on Jan. 2, 2022 as a rookie. RB Damien Harris was the last Patriots player with back-to-back games with at least two rushing touchdowns when he scored three vs. Buffalo on Dec. 26, 2021 and then two vs. Jacksonville on Jan. 2, 2022. Harris and Sam Cunningham (1974) own the Patriots record with five total touchdowns in a two straight games.
Stevenson has had two 30-yard runs in the last two games with a 49-yard run vs. Detroit on Oct. 9 and a 31-yard touchdown run at Cleveland on Oct. 16. The last Patriots player with at least one 30-yard run in three straight games was RB Antowain Smith in 2001 with a 38-yard run at Buffalo on Dec. 16, a 44-yard run vs. Miami on Dec. 22 and a 32-yard touchdown run at Carolina on Jan. 6.
WR Tyquan Thornton scored his second touchdown of the day on a 19-yard touchdown run at Cleveland on Oct. 16, 2022. He is the sixth Patriots wide receiver to score on a touchdown run and first since Cordarrelle Patterson in 2018. If Thornton has a rushing touchdown this week he will become the first Patriots wide receiver with two rushing touchdowns in the same season and would join Darryl Stingley as the only other Patriots wide receiver with two rushing touchdowns for his Patriots career.
DB Devin McCourty is one of four active players with at least 30 interceptions. He has 31 career picks and needs one more to tie Baltimore's Marcus Peters for the most interceptions among all active players with 32 picks. McCourty, Peters, Harrison Smith (Minnesota) and Patrick Peterson (Arizona and Minnesota) are the only active players with at least 30 interceptions.
Matthew Slater has played in 212 career games and is tied with Bruce Armstrong for the second-most games played all-time with New England. He will take sole possession of second place this week when he plays in his 213th game, behind the 285 games played in a New England uniform by Tom Brady.
TELEVISION: This week's game will be broadcast by ESPN and can be seen locally on NBC Boston Channel 10. Joe Buck will handle play-by-play duties with Troy Aikman as the color analysts. Lisa Salters will provide analysis from the sidelines. The game will be produced by Phil Dean and directed by Jimmy Platt.
NATIONAL RADIO: Monday's game will be broadcast to a national audience on Westwood One Sports. Kevin Harlan will call the game with Kurt Warner providing analysis.
LOCAL RADIO: 98.5 The Sports Hub is the flagship station for the Patriots Radio Network. A complete listing of the network's 33 stations can be found here. Play-by-play broadcaster Bob Socci will call the action along with former Patriots quarterback Scott Zolak, who will provide color analysis. The games are produced by Marc Cappello.