WEEK 5 · Sun 10/09 · 1:00 PM EDT
AT
Patriots
New England Patriots
The New England Patriots will return to the confines of Gillette Stadium to face their second straight game against an NFC North foe when they host the Detroit Lions and their top ranked offense. Last week, the Patriots lost in overtime at Green Bay, 27-24. Following a trip to Cleveland on Oct. 16, the Patriots will continue play against the NFC North when the Chicago Bears come to Foxborough for a Monday Night game on Oct. 24. The Patriots final contest against an NFC North team will be on Thanksgiving night when the team travels to Minnesota to face the Vikings.
The Patriots will wear throwback uniforms that are based on the ones worn from 1984-1992 and then sporadically from 1994-2012 as an alternate uniform. The Patriots will wear red jerseys with white pants and a white helmet featuring the 'Pat Patriot' logo with white facemasks. The Patriots are 9-3 in throwback uniforms. The team last wore the throwback uniform in a 29-26 overtime victory over the New York Jets on Oct. 21, 2012 at Gillette Stadium. The Patriots will wear the throwback uniforms for a second time this year when they host the Buffalo Bills on Dec. 1.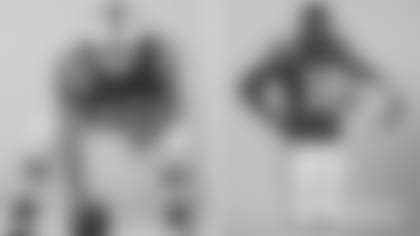 The New England Patriots will meet the Detroit Lions for the first time since losing, 26-10, in a Sunday Night Football game at Ford Field on Sept. 23, 2018 when Patriots Senior Advisor/Offensive Line coach, Matt Patricia, was the head coach of the Lions.
This week's game will be Detroit's third visit to Gillette Stadium and their first since a 34-9 Patriots victory on Nov 23, 2014. The Patriots are 2-0 against Detroit at Gillette Stadium. The Lions lost, 28-21 on Dec. 3, 2006 in their first visit to Gillette Stadium. Overall, Detroit is 2-4 on the road against New England.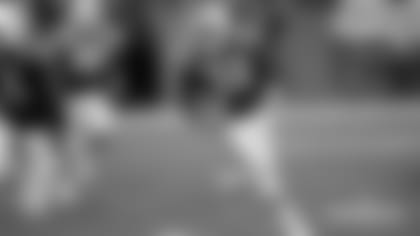 Schaefer/Sullivan/Foxboro Stadium: 2-2
Gillette Stadium: 2-0
Pontiac Silverdome: 1-2
Ford Field: 2-1
When the Patriots run - Edge: Patriots
The Lions come to Foxborough with the worst defense in football, and that includes their run defense. The Lions allow 165.5 yards per game (30th in the league) and 5.6 yards per carry which ranks dead last. The personnel up front isn't awful with veteran Michael Brockers inside and highly touted rookie Aidan Hutchinson manning one of the ends. Linebackers Alex Anzalone and Malcolm Rodriguez are active as well, but Detroit simply has been powerless to stop the run thus far this season. That was true in Week 4 when Seattle's Rashaad Penny racked up 151 yards and two touchdowns on just 17 carries in the Seahawks 48-45 win in Detroit. Big plays have been a huge problem for the Lions, as Penny had touchdown runs of 41 and 36 yards. Meanwhile the Patriots have consistently been able to grind out chunks of yardage with both Damien Harris and Rhamondre Stevenson. That tandem was excellent in Green Bay on Sunday, combining for 152 yards and a touchdown on 32 carries. Given the uncertainty at the quarterback position for the Patriots, expect Bill Belichick to continue to pound away at a Detroit front seven that hasn't provided much resistance thus far, especially considering the solid work being done by his offensive line in that department.
When the Patriots pass - Edge: Patriots
This matchup is tricky to predict with the identity of the Patriots quarterback unknown. Mac Jones was unable to practice last week due to a reported high ankle sprain. His progress will be monitored throughout the week. Brian Hoyer left the Packers game with a head injury, leaving his status up in the air as well. Bailey Zappe took the reins and was able to move the team for a couple of second-half touchdown drives, and he will get his first start if Jones and Hoyer are unavailable. Still, even with so much uncertainty, the Lions secondary has been shredded by all comers this season. Detroit ranks 30th in the league, allowing 279.3 passing yards per game and dead last with 444.8 total yards per game. Whether it's Jones, Hoyer or Zappe, there will be opportunities to make plays in the passing game. Amari Oruwariye and Jeff Okudah are the starting corners with Kerby Joseph and DeShone Elliott manning the safety spots. Joseph replaced the injured Tracy Walker, leaving an already porous secondary even more vulnerable. And that group doesn't get much help from a pass rush that has only seven sacks this season. If Zappe gets the start, the Patriots should be able to pick their spots off play action and find some easy throws for the rookie against a secondary that has just one pick in four games all season.
When the Lions run - Edge: Lions
Adding to the Lions troubles are some significant injuries on offense. Impressive running back De'Andre Swift missed the Seahawks game with a shoulder injury and his status for the Patriots game is unknown. He averaged over 8 yards per carry in the first three weeks. Jamaal Williams is no slouch, averaging 4.5 yards on 62 carries with a team-best six touchdowns. The Lions have been able to run the ball effectively with either player, but Swift is far more dynamic. That could spell trouble against a Patriots front that has struggled badly to stop the run each of the last two weeks. Aaron Jones in particular was a problem in Green Bay, averaging 7 yards per carry in route to a 110-yard day. His style is closer to Swift's while Williams more resembles the power brought by the Packers A.J. Dillon, who added 73 yards on 17 attempts. Detroit has shown balance in most games and even without Swift will try to establish Williams to prevent the Patriots from honing in on Jared Goff. Lawrence Guy missed the Packers game with a shoulder injury and his absence was noticed. He did not practice last week so he's iffy for Sunday. Christian Barmore will need to fill the void inside along with Carl Davis and Deatrich Wise. That group, in addition to the linebackers, needs to be more stout against the run to make the Lions more one-dimensional.
When the Lions pass - Edge: Lions
More injury problems for the Lions have impacted their passing game with wideouts Amon-Ra St. Brown and D.J. Chark both missing the Seahawks game. Still, Goff was able to shred Seattle with four touchdown passes while racking up 45 points. He did so thanks to some quality work from Josh Reynolds and a career afternoon from T.J. Hockenson. The tight end exploded with eight catches for 179 yards and a pair of touchdowns, allowing Detroit to stay in the game. Tight ends have been an occasional problem for the Patriots. Baltimore's Mark Andrews gave the Patriots trouble two weeks ago, and although Robert Tonyan only had two catches for the Packers one went for a 20-yard touchdown. St. Brown is one of the most productive pass catchers in football with 23 receptions for 253 yards and three touchdowns in only three games. His ankle injury will be monitored throughout the week, and if he returns the Patriots secondary will have its hands full. Belichick has enjoyed some success against Goff in the past, most notably in Super Bowl LIII, but he has matured with experience and is enjoying a solid season with 11 touchdowns against just three picks to lead the high-flying Lions attack. Rookie Jack Jones filled in for the injured Jalen Mills and caused two turnovers in Green Bay, likely earning more playing time even if Mills' balky hamstring is healed. Given the Lions early-season production, this should be a fun matchup to watch.
Special Teams - Edge: Patriots
The Lions health concerns trickled all the way down to the kicker as Austin Seibert is nursing a groin injury that caused him to miss the Seattle game. Practice squad call-up Dominik Eberle took his place and promptly missed a pair of PATs. Seibert is expected to return, but at less than full strength. Punter Jack Fox has been effective, averaging 49.5 yards with a 44.3-yard net with four kicks downed inside the 20 against zero touchbacks. The Patriots Jake Bailey has struggled with a net average of just 34.5 yards, which is the worst number in the league. He also has four touchbacks on just 16 punts. But Nick Folk continues to be almost automatic, giving the Patriots a huge edge at the kicker spot. In addition, rookie Marcus Jones gave the team a huge lift in the return game at Lambeau Field. He had returns of 37 yards (kickoff) and 29 yards (punt), and another 20-yarder to set up the Patriots near midfield in overtime. He showed excellent ball security and decision-making in handling the first punts of his career. The Patriots special teams still have to clean up some things, such as three penalties in Green Bay, but the performance overall was an improvement and Folk gives them a leg up over Detroit.
Table inside Article

| 2022 REGULAR SEASON | NEW ENGLAND | DETROIT |
| --- | --- | --- |
| Record | 1-3 | 1-3 |
| Divisional Standings | 4th | 4th |
| Total Yards Gained | 1,365 | 1,747 |
| Total Offense (Rank) | 341.3 (18) | 436.8 (1) |
| Rush Offense | 128.5 (10) | 164.0 (6) |
| Pass Offense | 212.8 (22) | 272.8 (5) |
| Points Per Game | 18.5 (23T) | 35.0 (1) |
| Total Touchdowns Scored | 9 | 18 |
| Total Yards Allowed | 1,387 | 1,779 |
| Total Defense (Rank) | 346.8 (19) | 44.8 (32) |
| Rush Defense | 135.8 (26) | 165.5 (30) |
| Pass Defense | 211.0 (11) | 279.3 (30) |
| Points Allowed/Game | 24.5 (22) | 35.3 (32) |
| Possession Avg. | 29:41 | 29:20 |
| Sacks Allowed/Yards Lost | 9/71 | 5/41 |
| Sacks Made/Yards | 11/63 | 7/43 |
| Penalties Against/Yards | 20/161 | 23/188 |
| Punts/Avg. | 16/43.6 | 14/49.5 |
| Takeaway/Giveaway Ratio | -3 (28T) | -1 (22T) |
Jahlani Tavai (Lions: Player LB 2019-20, Patriots: Player LB 2021-)
Bill Belichick (Lions: WR Coach 1977, Asst. SPT/TEs/WRs 1976; Patriots: Head Coach 2000-)
Matt Patricia (Lions: Head Coach 2018-20; Patriots: Snr. FB Advisor/OL 2022-)
Evan Rothstein (Lions: HC Asst/R&A 2018-20, Off. Asst/R&A 2015-17, Special Projects 2014, Quality Control/ST 2012-13; Patriots: Offensive Assistant 2022-, R&A 2021)
Billy Yates (Lions: Asst. OL Coach 2020, Minority Coaching Asst./Def 2018-19; Patriots: Asst. OL Coach 2021-)
WHAT TO LOOK FOR THIS WEEK
Since Gillette Stadium opened in 2002, the Patriots own a 30-11 record against NFC opponents. With a win this week against Detroit, the Patriots will match Pittsburgh and Baltimore for the most home wins against NFC opponents since the 2002 season.
A win this week against Detroit will give Bill Belichick his 323rd win overall and one win away from tying George Halas for second place all-time among all NFL coaches, behind the 347 victories by Don Shula.
With a sack this week against the Lions, LB Matthew Judon will become the first Patriots player to start a season with a sack in each of the first five games. The last player in the NFL to accomplish a sack in the first five games of the season was LB Clay Matthews with the Los Angeles Rams in 2019 when he had a sack in each of he first six games of the season.
Judon has registered a sack in each of the first four games to become just the second New England player to start a season with at least one sack in each of the first four games to start a season. Patriots and Pro Football Hall of Famer Andre Tippett began the 1986 season with one sack in each of the first four games.
Judon has four sacks through the first four games of the 2022 season. In his first season with the Patriots in 2021, Judon set a team record with 6 1/2 sacks through the first five games. The previous record was 5 1/2 sacks by Chandler Jones in 2015 and Andre Tippett in 1984. With a 2 1/2 sack performance against Detroit this week, Judon can surpass his own record. Judon has had two games in his career with 2 or more sacks. He had 2 1/2 sacks vs. New Orleans on Sept. 26, 2021 while with the Patriots and a career-high 3 sacks vs. Oakland on Nov. 25, 2018 while with Baltimore.
K Nick Folk extended his NFL record to 58 straight field goals made under 50 yards with a 37-yard field goal in the second quarter at Green Bay last week. Folk's last miss from inside the 50-yard line was a 45-yard field goal attempt in the 2020 season-opener vs. Miami on Sept. 13.
RB Damien Harris scored on a 5-yard touchdown run at Green Bay last week and now has 20 career rushing touchdowns to become the 14th Patriots player to reach 20 career rushing touchdowns. He needs two rushing touchdowns this week against Detroit to move into a tie for 10th on the Patriots all-time rushing touchdown list with Tom Brady and Stevan Ridley. Harris has three games in his career with two or more touchdown runs.
DB Devin McCourty is one of three active players with at least 30 interceptions. He has 31 career picks and needs one more to tie Baltimore's Marcus Peters for the most interceptions among all active players with 32 picks. McCourty, Peters and Harrison Smith (Minnesota) are the only active players with at least 30 interceptions.
McCourty is currently tied for 7th in team history with Patriots wide receivers/kickoff returners coach Troy Brown with 192 regular season games played and will move into sole posssession of 7th place and one game behind Mosi Tatupu (194) this week against Detroit. McCourty has started in every game that he has played.
Deatrich Wise Jr. has 4 sacks so far in 2022. He needs one more sack to tie his career high of 5 sacks set as a rookie in 2017.
Jack Jones forced and recovered a fumble in the first quarter at Green Bay last week and also returned an interception for a touchdown in the second quarter. He will look to become the first Patriots player since LB Jamie Collins Sr. in 2019 to have a forced fumble in back-to-back games. Collins forced a fumble on Oct. 6, 2019 at Washington and on Oct. 10, 2019 vs. the New York Giants. If Jones returns an interception for a touchdown this week against Detroit, he will be the first Patriots player with a pick-six in back-to-back games. The last NFL player to return a pick for a touchdown in consecutive games was CB Rasul Douglas of Green Bay with a 33-yard return for a touchdown on Nov. 28, 2021 vs. the Los Angeles Rams followed by a 55-yard return for a touchdown on Dec 12, 2021 vs. Chicago.
WR Jakobi Meyers has scored on three two-point plays and needs one more two-point score to tie Julian Edelman and Gino Cappelletti with four for the most in team history.
2022 third-round draft pick DB Marcus Jones lined up to return punts for the first time in 2022 at Green Bay last week and averaged 24.5 yards on two returns. His first NFL punt return was for 29 yards in the second quarter, followed by a 20-yard punt return in overtime. The 2021 Paul Hornung Award winner as the nation's most versatile player will look to become the first NFL player with two 20-yard punt returns in consecutive games in a season since Devin Hester in November of 2011. Jones can become the first Patriots player to accomplish the feat since Troy Brown had two 20-yard punt returns in back-to-back games on Sept. 3, 2000 vs. Tampa Bay (39 and 66-yard touchdown return) and vs. New York Jets on Sept. 11, 2000 (31, 21 and 38-yard returns).
TELEVISION: This week's game will be broadcast by FOX and can be seen locally on WFXT-TV Channel 25. Kenny Albert will handle play-by-play duties with Jonathan Vilma as the color analyst. Shannon Spake will provide analysis from the sidelines. The game will be produced by Fran Morison and directed by Bryan Lilley.
LOCAL RADIO: 98.5 The Sports Hub is the flagship station for the Patriots Radio Network. A complete listing of the network's 33 stations can be found here. Play-by-play broadcaster Bob Socci will call the action along with former Patriots quarterback Scott Zolak, who will provide color analysis. The games are produced by Marc Cappello.