WEEK 8 · Sun 10/30 · 1:00 PM EDT
Patriots
New England Patriots
AT
The New England Patriots return to division play this week when they travel to face the New York Jets. Following that game, New England will return home to face Indianapolis and then enjoy a Bye Week before playing the Jets again on Nov. 20 at Gillette Stadium. This is the second straight season in which the Patriots play a division foe in a three-game stretch that includes the Colts and a Bye Week. Last season, the Patriots played at Buffalo, had a Bye Week, traveled to Indianapolis and then returned home to face the Bills at home.
PATRIOTS HAVE WON 12 STRAIGHT OVER THE JETS
The Patriots have won 12 straight games over the New York Jets with six straight series sweeps (2016-21). If the Patriots win their 13th straight game against the Jets this week, they will tie the Kansas City Chiefs (13 straight wins over Denver) for the longest current streak in the NFL.
SERIES HISTORY
The New England Patriots and New York Jets will meet for the first of two meetings this season when the Patriots travel to the Jets. The Patriots enter this week with 12 straight wins over the Jets, including series sweeps in each of the last six seasons. The 12 straight wins are second in team history to the 15 straight wins the Patriots had over Buffalo (2003-10) and the six straight series sweeps are second to seven straight over Buffalo (2004-10).
Overall, the Patriots have 22 series sweeps over the Jets with 13 under Bill Belichick and 15 under Robert Kraft.
New England leads the series, 71-54-1 overall. The Patriots are 38-25-1 all-time in home games against the Jets, including 18-4 at Gillette Stadium.
The teams have played in the postseason three times – a 1985 Wild Card game, a 2006 Wild Card game and an AFC Divisional game in 2010. New England beat the Jets, 26-14, in 1985 at the Meadowlands en route to Super Bowl XX. In 2006, the Patriots defeated the Jets, 37-16, at Gillette Stadium and the Jets beat the Patriots, 28-21, in the 2010 Divisional playoff game in Foxborough.
New England is 42-16 against the Jets since Robert Kraft purchased the team in 1994.
New England's 71 overall victories over the Jets (including two playoff wins) are the second-most over any single opponent, trailing only the 77 all-time wins over Buffalo.
SERIES TRENDS
NEW ENGLAND 71, NEW YORK 54, 1 TIE
(INCLUDING NEW ENGLAND 2, NEW YORK 1 IN PLAYOFFS)
Home Record: 38-25-1 (incl. 1-1 in playoffs)
Record in Foxborough: 34-19
Gillette Stadium: 18-4 (incl. 1-1 playoffs)
Foxboro Stadium: 16-15
Record in Boston: 4-5-1
Record in Birmingham, Ala.: 0-1
Road Record: 33-29 (incl. 1-0 in playoffs)
MetLife Stadium: 9-3
Giants Stadium: 17-10 (incl. 1-0 playoffs)
Shea Stadium: 5-14
Polo Grounds: 2-2
Seasonal Sweeps: Patriots 22 (most recent '21), Jets 14 ('00)
Bill Belichick vs. N.Y. Jets: 36-12 (35-11 with New England)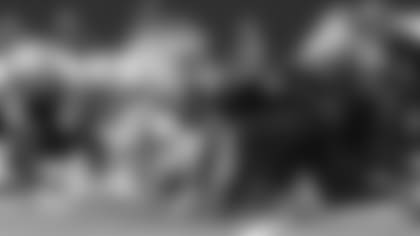 SCOUTING THE MATCHUPS
The Patriots and Jets will meet on Sunday in a key matchup in the suddenly competitive AFC East.
When the Patriots run - Edge: Jets
The Patriots challenge to continue running the ball at a high level will raise significantly on Sunday on the road against the Jets. New York's stout front is one of the best in football, led by Quinnen Williams, Sheldon Rankins and Solomon Thomas in the middle. They spearhead a run defense that allows just 105.3 yards per game (11th in the league) and even more impressively just 3.9 yards per carry, which ranks third. Veteran middle linebacker C.J. Mosley has helped solidify things for the young Jets defense as well, while Kwon Alexander and Quincy Williams surround him behind stout ends Carl Lawson and John Franklin-Myers. That group will make life difficult for the Patriots, who have struggled to run the ball against poor run defenses each of the past two weeks. Both Rhamondre Stevenson and Damien Harris have been effective on the ground at times, with Stevenson recently emerging as the lead back as Harris dealt with hamstring issues, but it's been tough sledding as of late. The offensive line, which had solidified in recent weeks, may be without center David Andrews who left the Bears loss with a head injury. This will be a significant challenge as the young Jets defense has led the way during the team's four-game winning streak.
When the Patriots pass - Edge: Jets
New York's secondary has been almost as impressive as the front seven, allowing just 209 yards passing per game (12th in the league) and 6 yards per play, which is good for seventh. Making that performance even more noteworthy is the presence of rookie Sauce Gardner as New York's top corner. Rookies are usually picked on but Gardner has more than held his own for a secondary that has made plays all season. Veteran D.J. Reed mans the other corner while Michael Carter serves as the nickel back. Safeties Lamarcus Joyner and Jordan Whitehead have been solid on the back end, with Joyner leading the team with three picks. The Patriots are still finalizing their plans at quarterback with Bailey Zappe and Mac Jones both seeing time last week against the Bears. Jones was shaky in his first action after suffering a high ankle sprain in the Week 3 loss to Baltimore, but he appeared to make it through the game without any further setbacks so it's possible that he will look more comfortable against the Jets. Jakobi Meyers continues to be the most reliable target among the wideouts, and DeVante Parker and rookie Tyquan Thornton have been in the mix as well. Williams can wreak havoc in the backfield and leads the team with five sacks, putting the spotlight on the interior offensive line. That group must hold up to allow whichever quarterback plays the time to exploit the young secondary.
When the Jets run - Edge: Patriots
New York was dealt a huge blow when it lost star rookie running back Breece Hall to a torn ACL. Hall was averaging almost 6 yards per carry and recently had been red hot, including Sunday in Denver when he ripped off a 62-yard touchdown run before leaving with the devastating knee injury. He had 463 yards and four touchdowns, but now the Jets must find production elsewhere. One place they may find it is Jacksonville, where the Jaguars sent running back James Robinson north in a trade earlier in the week. Second-year back Michael Carter (no relation to the cornerback) has 228 yards and a pair of touchdowns but averages just 3.5 yards per carry, a huge dropoff from Hall. Since allowing nearly 200 yards in a loss in Green Bay, things had improved for New England's run defense. The Patriots controlled Detroit and Cleveland on the ground, and they'll need to continue that strong play against a Jets team that wants to be physical. Chicago had its way with the Patriots Monday night and that can't continue. Hall isn't the only key part of the Jets running game that will be missing as guard Alijah Vera-Tucker is out for the season thanks to a torn triceps suffered Sunday in Denver. Vera-Tucker has been a steady component along an offensive line that has dealt with several injuries during the season. Coach Robert Saleh wants his team's identity attached to the running game, and the Patriots must meet the challenge.
When the Jets pass - Edge: Patriots
Second-year quarterback Zach Wilson has done a much better job of avoiding turnovers and negative plays this season, but he hasn't made many big plays either. Wilson is 4-0 after missing the first three weeks due to a knee injury suffered during the preseason, but he's been mostly a caretaker rather than a driving force behind the success. Wilson attempted only 101 passes in those four starts while his backup, Joe Flacco, threw 155 times in his three starts. Wilson is completing only 57.4 percent and has just one touchdown pass against two picks despite the presence of a solid group of receivers. Rookie Garrett Wilson leads the team with 28 catches for 314 yards and a pair of TDs while Corey Davis (19-351-2) and Elijah Moore (16-203-0) also have been featured. Moore has been unhappy with his role in the offense and was a healthy scratch in Denver after requesting a trade. Saleh says he's going nowhere, and that's not surprising given his talent. Look for his return Sunday. Braxton Berrios is used in a variety of ways and has a pair of rushing touchdowns to his credit. And tight end Tyler Conklin (26-230-1) and Carter (20-151-0) are also huge parts of the passing game. Wilson hasn't been bad for most of the season but he hasn't shown the dynamic flashes he did as a rookie when he made too many mistakes to minimize the impact of those splash plays. The Patriots secondary has been solid over the past month, last week notwithstanding, and given Wilson's limitations that should continue.
Special Teams - Edge: Jets
The Patriots have been sporadic on special teams for most of the season. The kickers on both sides have been effective with New York's Greg Zuerlein (13 of 15 on FGs) and Nick Folk (10 of 12) both approaching perfection. Rookie Marcus Jones has given the punt return game a lift, averaging 13.5 yards on seven returns while Berrios has been solid for the Jets as well, averaging 13 yards on his seven attempts. Both hold their own on kickoff returns also with Berrios averaging 26 yards with a long of 42 while Jones averages 23.7 yards with a long of 37. Punters Jake Bailey and Braden Mann haven't been as effective as their teammates, particularly Bailey, who ranks near the bottom of the league with a 35.4-yard net average. Mann has managed to put 11 punts inside the 20 against just three touchbacks, but he gets much more work than Bailey. The Jets have punted 36 times while the Patriots have only done so 26 times. Bailey's struggles have led to some breakdowns in punt coverage as well, and Berrios has taken advantage in similar situations this season.
BELICHICK AGAINST THE AFC EAST
Bill Belichick has a 99-38 (.723) all-time regular season record against the AFC East as head coach of the Patriots in the regular season, including a 34-10 record against the Jets.
Table inside Article

| 2021 REGULAR SEASON | NEW ENGLAND | N.Y. JETS |
| --- | --- | --- |
| Record | 3-4 | 5-2 |
| Divisional Standings | 4th | 2nd |
| Total Yards Gained | 2,388 | 2,318 |
| Total Offense (Rank) | 341.1 (17) | 331.1 (21) |
| Rush Offense | 122.6 (12) | 117.0 (17) |
| Pass Offense | 218.6 (21) | 214.1 (23) |
| Points Per Game | 22.1 (16T) | 22.7 (14) |
| Total Yards Allowed | 2,417 | 2,203 |
| Total Defense (Rank) | 345.3 (15) | 314.7 (10) |
| Rush Defense | 136.7 (125) | 105.3 (11) |
| Pass Defense | 208.6 (12) | 209.4 (13) |
| Points Allowed/Game | 20.8 (14T) | 19.6 (10T) |
| Possession Avg. | 29:43 | 29:19 |
| Sacks Allowed/Yards Lost | 12/87 | 17/114 |
| Sacks Made/Yards | 21/121 | 15/100 |
| Total Touchdowns Scored | 18 | 17 |
| Penalties Against/Yards | 42/329 | 48/526 |
| Punts/Avg. | 26/43.3 | 36/43.4 |
| Turnover Differential | -2 (21T) | +2 (10t) |
CONNECTIONS
Braxton Berrios
Greg Scruggs
Leon Washington
WHAT TO LOOK FOR...
The Patriots will be looking for their 13th straight victory over the New York Jets.
Since the Patriots franchise began play in 1960, the Patriots have the fourth-most wins with 569 total victories. A victory this week can move the Patriots into a tie with Green Bay for the third-most overall wins since 1960.
Bill Belichick enters this week tied with former Chicago Bears legendary head coach and Pro Football Hall of Famer George Halas for second place among all NFL coaches with 324 total wins. A win this week over the New York Jets will give Belichick his 325th overall win and sole possession of second place, just 22 wins behind the 347 total wins by Don Shula.
With a win this week against the New York Jets, Belichick will move ahead of Don Shula (Miami) into sole possession of second place for most regular season wins with one team with 258, behind the 318 regular season wins by George Halas (Chicago).
LB Matthew Judon is leading the NFL with 8 1/2 sacks in 2022 and is inching closer to his second straight double-digit sack total. He led the team with a career-high 12 1/2 sacks in 2021 and can become the fourth Patriots player with back-to-back 10-plus sack totals, joining Garin Veris (10 in 1985 and 11 in 1986), Andre Tippett (18 1/2 in 1984 and 16 1/2 in 1985) and Tony McGee (12 in 1977, 11 1/2 in 1978 and 10 1/2 in 1979). Judon can join Tippett (3), McGee (3), Veris (2) and Jones (2) as the only Patriots to register more than one double-digit sack total.
Judon had 2 1/2 sacks last week vs. Chicago for his 10th game with at least 2 sacks and second 2-sack game of the 2022 season. Trey Flowers was the last Patriots player with back-to-back games with two sacks in 2016 – at Buffalo (10/30) and vs. Seattle (11/13).
DB Jalen Mills has two interceptions so far in 2022. He needs one more interception this year to match his career-high of three interceptions that he had in 2017 with Philadelphia.
DL Deatrich Wise Jr. has 5 sacks so far in 2022 to tie his career high of 5 sacks set as a rookie in 2017. With one more sack he will establish a new single-season career high.
RB Rhamondre Stevenson has averaged 6.0 yards per carry in two games so far in 2022 with a 6.1 average (12-73) vs. Baltimore (9/25) and a 6.4 average (25-161) vs. Detroit (10/9). The last Patriots player to have three games averaging 6 yards per carry in a single season was Dion Lewis in 2017. The most games in a season for the Patriots with a 6.0-yard average is RB Carl Garrett with four games in 1969.
WR Tyquan Thornton scored on a 19-yard touchdown run at Cleveland on Oct. 16, 2022. He is the sixth Patriots wide receiver to score on a touchdown run and first since Cordarrelle Patterson in 2018. If Thornton has a rushing touchdown this week he will become the first Patriots wide receiver with two rushing touchdowns in the same season and would join Darryl Stingley as the only other Patriots wide receiver with two rushing touchdowns for his Patriots career.
DB Devin McCourty is one of four active players with at least 30 interceptions. He has 31 career picks and needs one more to tie Baltimore's Marcus Peters for the most interceptions among all active players with 32 picks. McCourty, Peters, Harrison Smith (Minnesota) and Patrick Peterson (Arizona and Minnesota) are the only active players with at least 30 interceptions.
WR DeVante Parker is second in the NFL with a 21.4-yard average per reception. Buffalo's Gabe Davis is first with a 27.4-yard average. The last Patriots player to average over 20 yards a reception was Rob Gronkowski in 2016 with a 21.6-yard average. The highest average in a single season for New England was Stanley Morgan in 1978 with a 24.1-yard average. Parker's best average was in 2015 as a rookie in Miami when he averaged 19.0 yards per reception.
BROADCAST INFORMATION
TELEVISION: This week's game will be broadcast by CBS and can be seen locally on WBZ-TV Channel 4. Ian Eagle will handle play-by-play duties with Charles Davis as the color analyst. Evan Washburn will work from the sidelines. The game will be produced by Mark Wolff and directed by Suzanne Smith.
NATIONAL RADIO: Sunday's game will be broadcast to a national audience on Sports USA. Josh Appel will call the game with Brandon Noble providing analysis.
LOCAL RADIO: 98.5 The Sports Hub is the flagship station for the Patriots Radio Network. A complete listing of the network's 33 stations can be found here. Play-by-play broadcaster Bob Socci will call the action along with former Patriots quarterback Scott Zolak, who will provide color analysis. The games are produced by Marc Cappello.