Well, that's it until July 29, folks.
The Patriots' three-day mini-camp officially concluded Thursday, marking the end of the on-field portion of the off-season program. The next time New England takes the field will be six weeks from today to begin training camp for the 2010 season.
But much has already been accomplished this spring with organized team activities and mini-camp practices.
"Going all the way back to the rookie mini-camp," observed quarterbacks coach Bill O'Brien, "you start out with trying to lay a foundation for everybody and then build from there based on the personnel. So, we got a lot installed, went over the basis of the offense … got a lot done."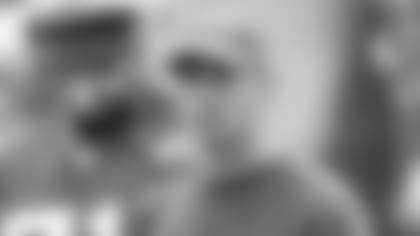 ]()"It's been a great spring," added wide receivers coach Chad O'Shea. "The guys have worked really hard, they've done what we asked them to do. We're real pleased with their progress and how hard they've come out here and worked. We're happy with where they are right now."
O'Brien doesn't have the title of offensive coordinator, though he appears to take on that role when the offensive works as a group. When asked about the unique situation among the New England coaching staff (which doesn't have an official defensive coordinator either), O'Brien demurred.
"No, I'm coaching the quarterbacks. It's a collaborative effort with the other assistants. We all work together and try to determine what we have out there offensively and go to practice every day to try to accomplish certain goals. So, not a lot has changed."
"We have a great coaching staff on offense," echoed O'Shea. "It's a staff that I enjoy working with. Each one of us has a certain role that we're asked to do. It's clearly defined within our building. We work really well together … it's a great system."
"Billy's been coaching a long time. He's a great coach, he understands the offense extremely well, communicates well with not only the quarterbacks, but the entire offense. When he speaks, people listen," lauded director of player personnel Nick Caserio.
"Billy's a great coach … we've got a lot of great coaches on the offensive side of the ball and they all work well together. So, the job gets done, everything gets communicated, and, in the end, we want to make sure the players can execute on the field. I think we're moving in the right direction."
Caserio pointed out that he's been pleasantly surprised by the development of some of the younger players in such a short time.
"The rookies have only been here for about four to five weeks, so, their improvements are a little bit on a smaller scale. But I think some of the second-year players – Patrick Chung, Darius Butler, Julian Edelman– those are guys that had a great offseason, they were some of our offseason award winners. It's sort of carried over into the spring. That's a tribute to what they did."
Not surprisingly, the Patriots coaching staff is also ecstatic about the progress made by Pro Bowl wide receiver Wes Welkerin his effort to overcome major knee surgery.
"Wes Welker's worked extremely hard, just like Brandon Tatehas, in the rehab process. He's come out here and done everything we've asked him to do, that the doctors and trainers have allowed him to do so far. We're just happy that he's able to be with us right now."
Mini-Camp Notes, Quotes, and Anecdotes
Left tackle Matt Lightwas absent from Thursday's final mini-camp practice, joining left guard Logan Mankinsas the only missing Patriots. Mankins, of course, is locked in a contract dispute with the team; it's unclear why Light did not participate today.
Welker, whose routine this spring has been to take part in the first 30-minutes or so of practice, in individual and position drills, then retreat to the indoor practice facility or locker room for the remainder of practice, stayed out about 15 minutes longer than usual today to watch the offense and defense work together in 7-on-7 action. Afterward, Welker went back to the locker room and did not return to the field.
In full-squad scrimmage simulation, the play of the day was made by rookie TE Rob Gronkowski. In a red-zone situation, Gronkowski ran what looked like a skinny-post pattern, but was surrounded by about four blue-shirted defenders. Nevertheless, quarterback Tom Bradyfired a pass in Gronkowski's direction, albeit a bit high and slightly behind him. The 6-6 Gronkowski made a great adjustment, twisting his body 180-degrees counterclockwise while leaping and extending for the ball in between the converging defense. Gronkowski came down with the ball and crossed the goal line without breaking stride.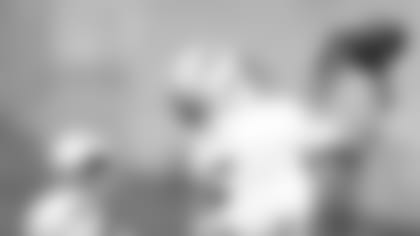 ]()Later, in a 7-on-7 period, backup QB Brian Hoyerfound rookie TE Aaron Hernandezin another red-zone opportunity. Hernandez, who was being blanketed by safety Brandon McGowan, ran a short up-and-out pattern to the right side of the end zone. Hoyer rifled a pass on a rope to Hernandez's outside shoulder, where only he could catch it, beyond the outstretched arms of McGowan. Hernandez got both hands on the ball and tip-toed in bounds to finish of the scoring play.
Hoyer had his ups and downs, however. In full squad action, he threw an out-pass to his right that was picked off by Butler, who timed his jump in front of the ball just right. Had it been game conditions, Butler would likely have taken the INT the remaining 50 yards for a touchdown.
Kickoff returns were a focus for part of practice. Tate, Edelman, and Butler each took turns as the returners, with Matthew Slater, Kevin Faulk, and rookie Devin McCourtyas the up-men, respectively.
Kicker Stephen Gostkowskihad a good day during team field goal work. He appeared to nail every kick but one from within 30-45 yards. The lone miss looked, from an awkward angle, to be very wide right from 40 yards out.