Every year tells a story, and on Patriots.com, 2019 was filled with stories, both moving and funny, lighthearted and heart-warming. They range from fans in action to Patriots players opening up about who they are. There were big moments (a Super Bowl, a dent) and smaller moments too, but no matter where they land on that scale, they are significant all the same.
Here are some of our favorite stories and features since the start of 2019 in chronological order.
The story of the defensive line's informal anime club and how it created a brotherly bond in their corner of the locker room.
When Tyrone Royce Carter was diagnosed with and eventually succumbed to Stage 4 colon cancer, his fellow Patriots fans on Reddit rallied around him and found a way to honor his legacy.
The Patriots 2016 rookie class is a rare breed. Elandon Roberts, Joe Thuney, Jonathan Jones and Ted Karras ended their first three years in the league with a trip to the Super Bowl. Ahead of Super Bowl LIII, the four Patriots reflected on their unique NFL journey.
Rob Gronkowski announced his retirement from the NFL in March, and not only did the future Hall of Famer go out champion, he will be remembered for being a champion off the field too.
It is not uncommon to hear the football players compare the NFL season to a marathon, but after their playing days are over, some Patriots take on the challenge of a legendary road race: the Boston Marathon.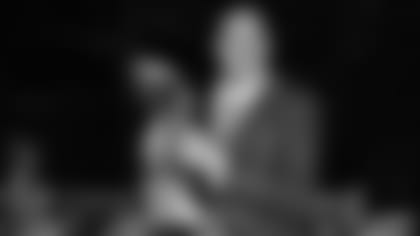 By now, we all know there is a dent in the Patriots sixth Lombardi trophy, but the story of how it got there is almost too good to be true. It involves a future Hall of Fame tight end, a Super Bowl MVP and a batting practice gone awry. The oral history describes what happened on that day.
With the same humor and heart they use daily, Devin and Jason McCourty shared wisdom with the Rutgers 2019 graduating class. This story follows them through that day, their speech and their annual Tackle Sickle Cell 5k.
June 6 was quite the day for Joe Cardona. Not only was it the day the Patriots received their Super Bowl LIII rings, Cardona was also promoted to lieutenant in front of his teammates.
In the months leading up to Ty Law being inducted in the Pro Football Hall of Fame, he and Stephon Gilmore learned just how strong the bond of No. 24 is. Two of the game's great cornerbacks have become close friends, and Gilmore reflected on what that has meant.
Every offseason, there are new faces in Foxborough, but this one might just be the cutest. Boyd joined the field crew when his human was hired as the new superintendent, and let's just say, he's become a fan favorite.
As Kyle Van Noy and his wife Marissa got ready for their first child, Van Noy reflected on his own upbringing, working with foster kids and what it would mean to meet someone who shares his DNA for the first time.
Dodging the limelight like he does defenders, Patriots running back Sony Michel carries the football for New England, and the burden of responsibility for the welfare of others.
For the first time in years, the Patriots cheerleading team includes men. Stephen and Driss are role models to their teammates and to young people who aspire to be dancers, and maybe even Patriots cheerleaders.
A Patriots fan began collecting his team's jerseys from No. 1 to No. 99, and when he finished that collection this fall, he wanted to return one of his rarest pieces: Matthew Slater's 2014 Pro Bowl jersey. Slater never thought he'd see it again.
Nate Ebner's Fatherland (Three Part Series)
Devin and Jason McCourty teamed up with the crew of a PBS documentary, "College Behind Bars," for a moving night and important conversations about prison education programs. The panel was hosted by legendary filmmaker Ken Burns and was yet another way the McCourtys have used their platforms to amplify those without a voice.
For special teams coordinator and wide receiver coach Joe Judge, coaching and teaching are forever linked, so as he works tirelessly in the NFL, he is also pursuing his PhD in education.
One scroll through the Instagram of Terrence Brooks and you know he's got a photographer's eye. For him, photography is an outlet that gives him an identity outside of football.