This week the writers of Patriots Unfiltered are locked onto the Arizona Cardinals as the 6-6 Patriots badly need to break their two-game losing streak and get their season back on track.
Which Cardinals offensive feature that has given the Patriots problems is the bigger concern – Kyler Murray's mobility or DeAndre Hopkins number one receiver ability?
Based on this season's results, both are a problem but it's the unpredictable nature of a mobile quarterback that is the bigger concern. In two winnable games, Chicago and Baltimore, the inability to contain the QB was the difference. -Fred Kirsch
Both are scary but I worry about Murray's mobility more than anything else. If the Cardinals use him on designed runs like Baltimore and Chicago did with Lamar Jackson and Justin Fields, it could be a long night for the defense. -Paul Perillo
As good as Hopkins is, I'm going with Murray because his ability to gain yards on designed runs, scramble, and extend plays impacts the game in more ways than Hopkins going for 10/200. It makes all five eligible receivers threats. The Pats need to have a game-plan specific wrinkle for Murray's legs on passing downs. I wouldn't rule out having Marcus Jones or another DB (Peppers) as a dedicated spy. -Evan Lazar
Given that Murray has been limited this season with a lingering hamstring issue it makes me more concerned with Hopkins. The last two games the Patriots just haven't had an answer for top tier receivers and I worry that in a close game Hopkins can make one or two plays that will make the difference. He's missed practice this week with an illness so maybe the Pats catch a break, but this is a deep receiver room that features experience and youthful explosiveness so it can't be all on Hopkins. -Mike Dussault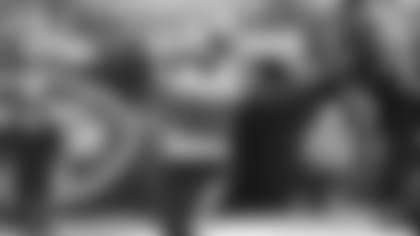 The Patriots offense hasn't broken 100 rushing yards since Week 8 and appear to be down to just Rhamondre Stevenson as the only back they trust to give consistent carries to with Damien Harris out. How much of an impact has this had on the offense in recent weeks and are they playing with fire by putting so much on the second-year back's shoulders?
More than being down to just one back, falling behind on the scoreboard has had a bigger effect on the running game; that, and the condition of the offensive line. I do worry about Stevenson's durability if so much of the offensive burden – running and catching – are on him. -FK
The patchwork nature of the offensive line has definitely had an impact on the running game and led to the drop in production. The offense seems to be using Stevenson more as a receiver each week, so his workload has increased, but I'm more concerned about the injuries up front. -PP
It's certainly impacted their early-down and short-yardage offense, and it all starts up front. Yards before contact from the offensive line generating movement are always more reliable yards than Stevenson creating on his own. I don't think running back depth is the biggest problem with the rushing attack. They can't create holes, regardless of who is at running back. -EL
I think it's one of the under-the-radar issues that has been a major cause of the Patriots offensive struggles. Much of what Stevenson is getting these days he's getting all on his own as the offensive line has battled injuries with absences and inconsistency all season long. I shudder to think what it would look like without Stevenson and would love to see one of the rookie backs have themselves a game with some promise. -MD
What defensive issue has been most concerning over the two-game losing streak and is it fixable against the remaining opponents?
Going back to the first question – what to do against top receivers? The Patriots do not have a shut-down corner so more scheming needs to be in place to minimize the damage from the best receivers on the schedule. If there is one aspect of the defense that might be able to improve to help with this, it's pressure from the front. Complementary defense is the best way to combat a talent gap. -FK
The coverage has been the main issue on defense most of the season against quality opponents. The run defense has been pretty consistent, and the pass rush has been effective, but at times the coverage has been lacking. -PP
The pass rush taking a step back with smarter teams paying more attention to Judon. It's fixable. But they'll need more creative rush schemes for Judon to get away from chips and double teams, Deatrich Wise and Josh Uche to win one-on-ones, and hopefully, the return of Christian Barmore in Vegas. -EL
Pass rush, but I'd specify it by saying they have to finish up front. They've had some pressure on Kirk Cousins and Josh Allen, they just can't seem to get the QB to the ground consistently enough, though Josh Uche has had his moments. I think the loss of Christian Barmore has been really underrated when it comes to the team rush overall and not allowing teams to focus on Matthew Judon. They have to find a way to get to Kyler Murray, who is on an epic pace of poor performance under pressure. -MD
Pick one offensive issue to get on track this week that would be meaningful for a strong finish to the season.
Let's start with the foundation: consistently good play from the offensive line. -FK
The offense would have more success if the pass protection can become more consistent. It's hard for a pocket passer like Mac Jones to get in rhythm while under siege. -PP
Saying the offensive line feels too optimistic given their personnel limitations at tackle. But when they pass protected well in Minnesota, Mac set a new career-high in passing yards. That wasn't a coincidence. Block better, play better, and score more points. -EL
Just consistency in pass protection. If Mac has time he'll make completions but it might be asking a lot given the current injury situation with just one fully healthy tackle practicing this week – Conor McDermott, who was on the Jets practice squad just a couple weeks ago. Not sure how it all comes together, they have to find a way or their playoff chase will end in the desert over the next two weeks. -MD
What is your key to a Patriots victory?
Keep the Cardinals below 22 points. -FK
If the Patriots are going to win in the desert they'll need to find a way to deal with Murray's mobility and to not allow Hopkins to control the game like Justin Jefferson and Stefon Diggs did. Make Arizona find other ways to move the ball and make Murray uncomfortable. -PP
I want to say having a good plan for Arizona's blitz package to take advantage of a shaky secondary in the passing game. But, again, too optimistic. Don't let Kyler's legs take the game over. If you can turn him into a traditional pocket passer, the defense can win this game for you. -EL
I feel like this game will be a coin toss and every point will be critical, so I'd say just find a way to generate points no matter what it is. Special teams scores, defensive scores, trick plays… get into the mid-20s by any means possible. -MD