WEEK 9 · Sun 11/06 · 1:00 PM EST
AT
Patriots
New England Patriots
The New England Patriots return home this week to face the Indianapolis Colts for the second straight season. Last season, the Patriots traveled to Indianapolis with a 9-4 record and a 7-game winning streak before dropping a 27-17 decision on Dec.18, 2021.
Last season, the Patriots had their Bye Week prior to facing the Colts. This season, the Patriots will have a Bye Week following the Colts game.
MCCOURTY - MOST PICKS AMONG ACTIVE PLAYERS
DB Devin McCourty, a team captain for the 12th straight season, had his third two-interception game last week at the New York Jets and now has the most interceptions among all active players with 33 picks. He is one of four active players with 30 career interceptions, joining Marcus Peterson (Baltimore), Harrison Smith (Minnesota) and Patrick Peterson (Arizona/Minnesota).
SERIES HISTORY
The New England Patriots and Indianapolis Colts will meet for the second straight season. The Patriots traveled to Indianapolis on Dec. 18, 2021 and had a seven-game win streak snapped, an eight-game win streak against the Colts and a streak of nine straight games scoring 30 points against the Colts ended when they lost, 27-17.
The two teams share a long rivalry, as the Patriots and the Baltimore / Indianapolis Colts played twice each year from 1970 to 2001 as members of the AFC East, with the exception of the 1982 strike season.
Since realignment in 2002 when the Colts moved to the AFC South, the teams played in the regular season every year for 10 straight seasons from 2003 through 2012 with New England holding a 6-4 edge in those games. While they did not play in the 2013 regular season, they did face each other in the postseason with the Patriots claiming a 43-22 Divisional Playoff win at Gillette Stadium on Jan. 11, 2014. The rivalry was rekindled with two meetings in 2014, a regular season game at Indianapolis and the AFC Championship Game at Gillette Stadium, both of which were won by New England. Then the clubs met again in 2015 with New England taking a Sunday Night Football victory at Indianapolis.
Overall, this week's game will be the 83rd meeting between the two teams. The Patriots lead the series with a 48-29 record in the regular season and a 4-1 record in the postseason.
New England holds a 30-12 overall record against Indianapolis at home, including 9-2 at Gillette Stadium.
The Patriots own a 4-1 record overall against Indianapolis in the postseason, including a 4-0 record in playoff games played in New England. Three of the five postseason contests were in the AFC Championship Game. The Patriots are 2-1 in those contests.
The clubs have clashed in the playoffs following the 2003, '04, '06, '13 and '14 seasons. The Patriots beat the Colts in the 2003 AFC Championship Game, 24-14, at Gillette Stadium, won 20-3 at Gillette Stadium in a 2004 AFC Divisional Playoff, lost in the 2006 AFC Championship Game, 38-34, at Indianapolis, won in the AFC Divisional meeting 43-22 at Gillette Stadium and took a 45-7 decision in the 2014 AFC Championship Game.
SERIES TRENDS
NEW ENGLAND 52, INDIANAPOLIS 30
Record in New England: 30-12 (Incl. 4-0 in playoffs)
Record in Foxborough: 30-11 (4-0)
Record in Boston: 0-1
Road Record: 22-18 (Incl. 0-1 in playoffs)
Record in Indianapolis: 16-10 (0-1)
Record in Baltimore: 6-8
Largest Margin of Victory: 39 points (10/06/74)
Largest Margin of Defeat: 31 points (11/26/72)
Longest Winning Streak: 8 (2010-2018)
Longest Losing Streak: 3 (1970-71, 2005-06)
PATRIOTS - COLTS QUICK HITS
The Patriots and Colts both passed the 1990s San Francisco 49ers for the all-time best wins mark for a decade in NFL history. New England had 126 wins from 2000-09, while Indianapolis had 124 wins over that span. San Francisco had 122 wins in the 1990s. The Patriots surpassed that mark by finishing thr 2010s with 141 total victories.
Patriots head coach Bill Belichick is 16-7 against the Colts as head coach of the Patriots and 18-9 against Indianapolis as a head coach overall.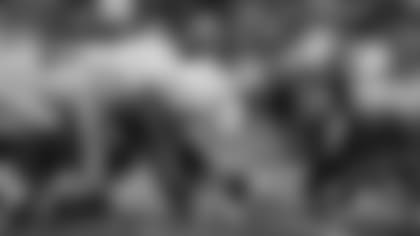 SCOUTING THE MATCHUPS
When the Patriots run - Edge: Colts
The Patriots running game has slowed significantly over the last few weeks, most recently during Sunday's win over the Jets. Since racking up a career high 161 yards against the lowly Lions, Rhamondre Stevenson has been held in check against Cleveland, Chicago and the Jets with only an occasional big play allowing his numbers to remain respectable. Against the Jets he broke several tackles on a 35-yard run, but otherwise was limited to 36 yards on his 15 other carries. Even with the chunk play the Patriots managed only 3.7 yards per carry on 34 attempts for the game as Damien Harris was held in check as well with 11 carries for 37 yards. Indianapolis can be stout against the run. For the season the Colts rank 18th in run defense allowing 120 yards per game, but they jump to third with an average of just 4 yards per carry. Those numbers become more impressive when considering they've taken on Derrick Henry and Titans twice already this season. Up front the Colts have DeForest Buckner and Grover Stewart protecting linebackers Shaquille Leonard, Bobby Okereke and Zaire Franklin. That group has held up well, particularly when Leonard has been healthy and in the lineup. The Patriots are dealing with some problems along the offensive line with David Andrews missing the Jets game due to a concussion, and rookie Cole Strange getting benched after struggling most of the day. Isaiah Wynn moved inside to left guard after losing his right tackle job to Marcus Cannon. Regardless of personnel, the blocking needs to improve if Stevenson and Harris are to get back on track.
When the Patriots pass - Edge: Colts
The Colts secondary has also played well for the most part, ranking eighth in the league allowing 199.8 yards per game. A pair of former Patriots, Kenny Moore and Stephon Gilmore, are the starting corners with Rodney McLeod and Rodney Thomas working at safety. Isaiah Rodgers also plays a full-time role as the nickel back, and the group has been aided by a solid pass rush led by Buckner and Yannick Ngakoue, who lead the team with four sacks apiece. Kwity Paye, who missed last week's loss to the Commanders, chips in with three sacks and the Colts have 19 as a team. Meanwhile the Patriots are coming off a miserable game in pass protection that saw Mac Jones get sacked six times and pressured on countless others. The Jets managed to create havoc without blitzing and the Colts may try to use similar tactics and keep extra bodies in coverage. Other than Jakobi Meyers, who was his usually effective self on third down, Jones didn't have many options in the passing game. Stevenson was available for checkdowns, but otherwise it was a struggle. Given the Colts success on defense thus far this season, coupled with the struggles of the Patriots passing game, it's hard to expect much to change this week.
When the Colts run - Edge: Patriots
Injuries and inconsistency up front have really limited the Colts vaunted rushing attack in 2022. Jonathan Taylor ran roughshod over the league a year ago but this year he's been held to rather pedestrian numbers – 462 yards on 197 carries for a 4.3-yard average and just one touchdown. Taylor has missed time due to an ankle injury and was forced to sit out portions of the loss to Washington, and he will likely be at less than 100 percent on Sunday as well. But the real surprising element of the Colts struggles has been the play of the offensive line. Stalwarts Quenton Nelson and Ryan Kelly haven't been their dominant selves and that has led to Indianapolis ranking 29th in the league with just 87.8 yards per game on the ground. The Patriots have been inconsistent stopping the run this season but are coming off a solid effort in which they limited the Jets to 3.4 yards per carry on 15 attempts. Lawrence Guy and Davon Godchaux helped fill the void left by Christian Barmore's absence as both performed well up front. In addition, the edges did a better job of containing attempts to get outside the tackles, particularly Deatrich Wise. That group will be counted on to contain Taylor, especially with Indy going with second-year quarterback Sam Ehlinger for just his second career start.
When the Colts pass - Edge: Patriots
Indy was simply turning the ball over too often throughout the season so head coach Frank Reich was forced to make a change. Matt Ryan tossed nine interceptions and had 11 fumbles, although the Colts lost only three of them, then he suffered a shoulder injury. But the decision to make the switch to Ehlinger had already been made. Ehlinger was a standout dual-threat quarterback at Texas, but he lacks size at 6-1 and polish as a passer, so he is very much a work in progress. He performed well in his debut, completing 17 of 23 passes for 201 yards with no touchdowns or interceptions. He did lose a costly fumble in the red zone, but otherwise he had his team in position to win up 16-7 with less than five minutes to play. Michael Pittman was his favorite target as the two connected seven times but for only 53 yards. Pittman leads the team with 51 receptions for 528 yards and a touchdown. Rookie Alec Pierce has emerged as a deep threat lately and he averages 15.5 yards on his 24 catches. Parris Campbell (30-282-2) and running back Nyheim Hines (25-188-0) are also big parts of the passing game, assuming Ehlinger gets the time to throw. The Colts have allowed 26 sacks on the season, including two for Ehlinger last week, and the Patriots have done a solid job of creating pressure.
Special Teams - Edge: Patriots
New England enjoyed one of its better days on special teams against the Jets. Nick Folk drilled five field goals including makes from 42, 45, 49 and 52 yards out. Jake Bailey placed two kicks inside the 20 and nearly had a third that turned into a touchback when rookie DaMarcus Mitchell couldn't keep himself out of the end zone. Marcus Jones ripped off a 32-yard punt return, and the kickoff coverage stopped Braxton Berrios twice inside the 20. Overall it was a strong day in the kicking game after a few weeks of sloppiness. The Colts are working on their second group of specialists with Chase McLaughlin taking over for the disappointing Rodrigo Blankenship at kicker and Matt Haack replacing injured punter Rigoberto Sanchez. McLaughlin has been rock solid, making 13 of 14 field goals and all eight PATs. Hines and Rodgers handle kicks and punts, respectively, and each has had some success. The Colts punt coverage has been outstanding, allowing just 5.6 yards per return for the season. Given Jones' explosiveness, that could be a key matchup to watch on special teams.
Table inside Article

| 2022 REGULAR SEASON | NEW ENGLAND | INDIANAPOLIS |
| --- | --- | --- |
| Record | 4-4 | 3-4-1 |
| Divisional Standings | 4th | 2nd |
| Total Yards Gained | 2,676 | 2,715 |
| Total Offense (Rank) | 334.5 (20) | 339.4 (18) |
| Rush Offense | 123.1 (13) | 87.8 (29) |
| Pass Offense | 211.4 (23) | 251.6 (9) |
| Points Per Game | 22.1 (17) | 16.1 (30) |
| Total Yards Allowed | 2,804 | 2,558 |
| Total Defense (Rank) | 350.5 (19) | 319.8 (9) |
| Rush Defense | 126.0 (22) | 120.0 (17) |
| Pass Defense | 224.5 (19) | 199.8 (8) |
| Points Allowed/Game | 20.4 (12) | 19.6 (7T) |
| Possession Avg. | 30:26 | 30:10 |
| Sacks Allowed/Yards Lost | 18/120 | 26/196 |
| Sacks Made/Yards | 23/140 | 19/126 |
| Total Touchdowns Scored | 19 | 12 |
| Penalties Against/Yards | 48/383 | 45/372 |
| Punts/Avg. | 30/42.9 | 33/43.9 |
| Turnover Differential | 0 (15T) | -8 (31) |
30 IN 9 STRAIGHT
The Patriots scored over 30 points in nine straight games against the Colts, averaging 39.7 points per game during that period.
CONNECTIONS
Lawrence Guy Sr.
Bill Belichick
Byron Cowart
Stephon Gilmore
Kenny Moore II
Bubba Ventrone
WHAT TO LOOK FOR...
Since the Patriots franchise began in 1960, the Patriots are tied with Green Bay for the third-most wins with 570 total victories. If the Patriots win and Green Bay loses this week, the Patriots will hold sole possession for the third-most wins by a franchise since 1960.
New England enters this week tied for 5th in the NFL with 23 sacks and is on pace to finish the season with 49 sacks. The Patriots have finished with 40 sacks 11 times under Head Coach Bill Belichick. Since 1970, the Patriots highest single-season sack total is 58 in 1977.
DB Devin McCourty had two interceptions last week at the New York Jets and looks to become the first Patriots player to record back-to-back games with at least two interceptions since Mike Haynes in 1976. Haynes had two interceptions at Baltimore on Nov. 14, 1976, followed by three interceptions at the New York Jets on Nov. 21, 1976.
McCourty recorded his 32nd and 33rd career interceptions in the third and fourth quarters last week to move past Marcus Peters of Baltimore for the most interceptions among all active players. McCourty, Peters, Harrison Smith (Minnesota) and Patrick Peterson (Arizona/Minnesota) are the only active players with at least 30 interceptions. The Patriots are 26-4 when McCourty has a pick in a regular season game. McCourty's 33 interceptions are second in team history to the 36 by Ty Law and Raymond Clayborn.
McCourty's 551 return yards are third in team history. He needs five return yards to move past Clayborn for second on the all-time team list.
McCourty has 39 career takeaways and needs one more to become fourth Patriots player with 40 total takeaways, tying Ty Law for third in franchise history.
McCourty has started every game he has played (196) and is third in team history in starts and 6th in team history in games played.
K Nick Folk is in sixth place on the New England all-time field goal list with 91 field goals and needs 3 field goals to move past Tony Franklin (93) into fifth place.
Folk has made 15 field goals so far in 2022 and is on pace for 32 field goals. It would mark his 5th season with at least 30 field goals. Folk is currently one of 12 players with at least four seasons with 30 field goals. Only five players have had at least five seasons with 30 field goals.
Folk was successful on five goal goals last week at the New York Jets. It marked the fifth time in his career and second time in 2022 that he kicked five field goals in a game. He also had five field goals in the win vs. Detroit on oct. 9, 2022. The most field goals by a Patriots player in two consecutive game was 10 by Gino Cappelletti in 1964 when he kicked four field goals vs. the New York Jets on Sept. 27 followed by six field goals at Denver on Oct. 4.
DB Jalen Mills has two interceptions so far in 2022. He needs one more interception this year to match his career-high of three interceptions that he had in 2017 with Philadelphia.
Rookie Marcus Jones, who won the 2021 Paul Hornung Award as the nation's most versatile player after returning two punts and two kickoff returns for a touchdown in college in 2021, is second in the NFL with 448 total return yards (140 punt return yards and 308 kickoff return yards), to Ray-Ray McCloud III of San Francisco (492 total return yards).
Jones is second in the NFL with 308 kickoff return yards and his 23.7-yard kickoff average is also second in the NFL.
LB Matthew Judon is tied with Za'Darius Smith of Minneosta for first in the NFL with 8 1/2 sacks in 2022 and is inching closer to his second straight double-digit sack total. He led the team with a career-high 12 1/2 sacks in 2021 and can become the fourth Patriots player with back-to-back 10-plus sack totals, joining Garin Veris (10 in 1985 and 11 in 1986), Andre Tippett (18 1/2 in 1984 and 16 1/2 in 1985) and Tony McGee (12 in 1977, 11 1/2 in 1978 and 10 1/2 in 1979). Judon can join Tippett (3), McGee (3), Veris (2) and Jones (2) as the only Patriots to register more than one double-digit sack total.
DL Deatrich Wise Jr. has 5 sacks so far in 2022 to tie his career high of 5 sacks set as a rookie in 2017. With one more sack he will establish a new single-season career high.
RB Rhamondre Stevenson has averaged 6.0 yards per carry in two games so far in 2022 with a 6.1 average (12-73) vs. Baltimore (9/25) and a 6.4 average (25-161) vs. Detroit (10/9). The last Patriots player to have three games averaging 6.0-yards per carry in a single season was Dion Lewis in 2017. The most games in a season for the Patriots with a 6.0-yard average is RB Carl Garrett with four games in 1969.
WR Tyquan Thornton scored on a 19-yard touchdown run at Cleveland on Oct. 16, 2022. He is the sixth Patriots wide receiver to score on a touchdown run and first since Cordarrelle Patterson in 2018. If Thornton has a rushing touchdown this week he will become the first Patriots wide receiver with two rushing touchdowns in the same season and would join Darryl Stingley as the only other Patriots wide receiver with two rushing touchdowns for his Patriots career.
WR DeVante Parker is second in the NFL with a 21.4-yard average per reception. Buffalo's Gabe Davis is first with a 26.1-yard average. The last Patriots player to average over 20 yards a reception was Rob Gronkowski in 2016 with a 21.6-yard average. The highest average in a single season for New England was Stanley Morgan in 1978 with a 24.1-yard average. Parker's best average was in 2015 as a rookie in Miami when he averaged 19.0 yards per reception.
BROADCAST INFORMATION
TELEVISION: This week's game will be broadcast by CBS and can be seen locally on WBZ-TV Channel 4. Greg Gumbel will handle play-by-play duties with Adam Archuleta as the color analyst. AJ Ross will work from the sidelines. The game will be produced by Jonathan Segal and directed by Mark Grant.
NATIONAL RADIO: Sunday's game will be broadcast to a national audience on Sports USA. Wayne Randazzo will call the game with former Patriots kicker and New England's all-time leading scorer Stephen Gostkowski providing analysis.
LOCAL RADIO: 98.5 The Sports Hub is the flagship station for the Patriots Radio Network. A complete listing of the network's 33 stations can be found here. Play-by-play broadcaster Bob Socci will call the action along with former Patriots quarterback Scott Zolak, who will provide color analysis. The games are produced by Marc Cappello.