https://www.instagram.com/p/BJGU5kZhLSO/?taken-by=draftkings
Give Gronk a microphone and wonderful things are sure to happen, including but not limited to stories, jokes and Tom Brady impersonations.
At the inaugural DraftKings Fantasy Sports Fest, participants got fantasy tips, a chance to do drills on the Gillette Stadium field and a question and answer session with the one and only Gronk.
Gronk talked about it will be like to play his brother Glenn, who was drafted by the Bills this year, jumping in as a defensive end if the tight end position was eliminated and, of course, TB12. When asked about his favorite play, Gronk set the scene for the route and then threw some lighthearted shade.
"Whenever it's called I get a little giddy in the huddle, like oh yeah, it better come to me," Gronk said. "Even though he never throws it to me on my favorite route. No lie."
Gronk even gave his best – and hilarious – impression of Tom on the field, telling him to get open.
Though he made jokes at his quarterback's expense, Gronk was quick to admit he is a fan of Tom's social media usage when he was asked if TB12 manages his own Facebook and Twitter.
"He doesn't have a Twitter, so I manage the fake Tom Brady Twitter," Gronk joked. "I don't got time like that … I never really asked [who manages the account]. I just like his posts though. I always hit like."
Gronk also took a photo with a kid named Brady, told the crowd about his perfect record playing Cornhole in Newport, R.I., and the hardest hit he ever took. In his first day of full pads at training camp his rookie year, Gronk lined up against Vince Wilfork.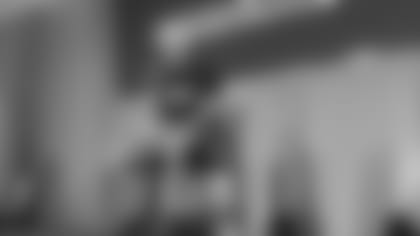 "It's called a 'Wham Block,' where you go full speed at the defensive tackle. I've done it many times in games, but I went up against Vince Wilfork my rookie year, and he knew it was coming. I didn't know he knew it was coming because I was just a rookie," Gronk said. "I didn't know he knew it all, and like that I went full speed running to hit him, first day of full pads, and he literally just put his shoulder down and I went flying back at least six yards."
File that one under: lesson learned. 
RELATED LINKS