As Patriots players walk on to the Gillette Stadium field, the crowd bursts into cheers and applause. It's all part of the game day experience, but when dozens of people started chanting Kyle Van Noy's name earlier this week, it wasn't in the context of a football game.
It is both not unusual and very special. This group is more than fans. They are friends, and they are determined to greet Van Noy as such.
Van Noy was honored on Nov. 19 as the Hockomock YMCA's 2019 Legend at their annual Legends Ball for his work with the club's Integration Initiative, a program that provides unique experiences for kids, teens and adult with special needs. Since arriving in New England in 2016, Van Noy has been a regular at events hosted by the Integration Initiative, from football games to golf tournaments. When he hosted a premiere party for the new "Lion King" movie this summer, Van Noy invited members of the Hockomock YMCA to the screening.
"The YMCA has been a big part of what we've been doing since we got here, and we just continue to hopefully be a part of it, help out as much as we can," Van Noy said. "Autism is a big part of our family, and so it means a lot to show these kids off and show that they've got special talents and they bring a light to this world."
Though Van Noy's time in New England has been relatively short, he has more than made up for lost time. The connections he has made through the program and his Van Noy Valor Foundation are deep and genuine, and for proof of that, you need look no further than Bobby Donahue.
Donahue met Van Noy during a golf tournament, and immediately, the two hit it off. From a secret handshake to the "thank you" gift Donahue presented Van Noy before the event began, their connection is undeniable.
"Kyle Van Noy is a great person to be with," Donahue said. "He is so fun and great and makes everybody smile and happy."
In fact, when Van Noy was introduced, it was Donahue who accompanied him.
Patriots players have been involved with the Integration Initiative for years, and previous Legends Matthew Slater, Devin McCourty and Rob Ninkovich were also on hand to see Van Noy accept the award. Hockomock YMCA President Ed Hurley said the Patriots support has been vital, and this year's honoree can teach those in the program a lot of invaluable lessons.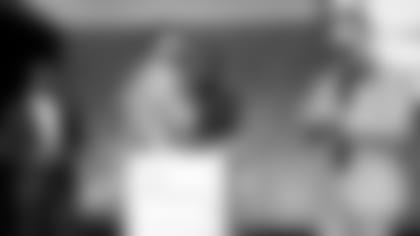 "Being genuine, being real, being someone who believes in giving back and you can make a difference by giving your time, and just caring about people," he said. "Kyle and his wife Marissa, they both care deeply about helping other people. These young men and women in our program are getting to see that first hand."
It isn't just about what those in the Integration Initiative take away from Van Noy being there. It means a great deal to him, too.
"We could be here all day talking about it, but it means a lot to me. The appreciation, the relationships that I have with most of them and the relationships I continue to have, meeting new faces and new people," he said. "it's been a blessing and I hope to continue to get to know everybody and just try to spread love in the world."