This week, the Unfiltered crew weighs in on highlights from the first two weeks of Training Camp, and what they're looking forward to in Thursday's first preseason contest against the New York Giants.
Best/Favorite player in Training Camp so far? (and you can't say Christian Barmore)
Davon Godchaux. He's brought a lot of energy to the defensive line and the defense as a whole. So far, the d-line has had the upper hand over the o-line throughout camp and he's a big reason why. He was given a hefty contract extension at the beginning of camp and his practice performance indicates he knows what is expected of him. -Fred Kirsch
Nelson Agholor – He's been the most consistent player at camp and gets open with regularity. -Paul Perillo
Barmore would be an easy choice, he's been a beast. Otherwise, give me Mac Jones. Yes, the offense has had their struggles, but Mac has shown good ownership and delivered some awesome throws to just about all of his weapons. I'm excited to see how he looks once it all starts to click. -Mike Dussault
Nothing groundbreaking here, but DeVante Parker's early chemistry with Mac Jones gave glimmers of hope with the offense having so many off days. That first contested catch he made on Day 1 really set the tone for the rest of camp, and Tuesday was another strong showing to keep him fresh in our memories. -Alexandra Francisco
Tyquan Thornton. Observing a rookie wide receiver with legitimate field-stretching speed who knows how to use it is exciting for the team. Thornton had some eye-opening reps in one-on-one drills during practice. -Evan Lazar
DeVante Parker. He's been a threat on the field, especially in contested catches. His size and athleticism have been a tough matchup throughout camp. -Tamara Brown
Best play(s) of Training Camp so far?
Last Monday there were a string of 1 on 1 plays where Nelson Agholor showed his veteran savvy by making whoever was covering him look bad. Admittedly, it's an almost impossible task for a defender to stay close in these drills but Agholor was particularly elusive and drew several audible gasps from the crowd. -FK
DeVante Parker's twisting back shoulder catch in the end zone on Day 2. Somehow he managed to get his toes down in bounds while twisting in the air. -PP
Give me Christian Barmore's one-on-one pass rush reps! He's a handful for everyone every time. -MD
It was only during a 1-on-1 period of practice, but on Tuesday (Aug. 2), Nelson Agholor made an insane one-handed catch, despite Joejuan Williams having him pretty wrapped up in coverage. Making a cut to the outside, the corner was holding Agholor's left arm as they ran up the sideline. The receiver managed to use his right hand to get some separation and then spin around in time to simultaneously get up for the ball and pull it down with his left. -AF
Kyle Dugger stepping in front of DeVante Parker to intercept a Mac Jones pass and take it back for a pick-six. It was a perfect read by Dugger, who also showed off his explosiveness as an athlete to beat the throw to Parker and take off the other way. Roughly a 100-yard return. -EL
On August 2, Nelson Agholor had a one-handed catch over Joejuan Williams in the endzone that brought the crowd to its feet. Go ahead and add that clip to his highlight reel. -TB
Biggest surprise of Training Camp?
I was dubious when reports came out about the Patriots completely revamping their offense. But at least since camp started, they at least are trying to do that. We'll see if they continue along this path but I have to admit I was surprised to see the attempt. -FK
Joshuah Bledsoe's consistent presence with top groups in the secondary. He's been solid. -PP
The defense has been more tenacious than I expected. Despite turnover at cornerback and linebacker, the new players like Terrance Mitchell and Mack Wilson are showing up and making some intriguing plays. The overall disruptiveness of the defensive front has my expectations rising. -MD
Take the word surprise with a grain of salt, but LaBryan Ray seems to be the signature UDFA that the Patriots will out of the woodwork to make the roster this season. Thanks to a myriad of injuries during his time at Alabama, his talent never quite came to fruition. But a former 5-star-recruit certainly has a lot to prove should he get a chance in the NFL. He's been making plays for the defensive line, racked up a ton of would-be sacks and actually managed to gain an edge on Trent Brown in 1-on-1s this week – no easy task. He obviously can't be credited for all of the D-Line's success at camp, but it should be noted that the group seemed to get the best of its offensive counterpart most every day. -AF
Anfernee Jennings returning from injury to earn a potential role in the defense. Admittedly, I had written the 2020 third-rounder off heading into training camp as a player who couldn't stay healthy. Instead, Jennings could make a legitimate impact on defense this season. -EL
The weakness of the offensive line is alarming. Obviously, losing Ted Karras and Shaq Mason meant that there would be some changes in the trenches but I wasn't expecting the line to be struggling as much as they have in training camp. -TB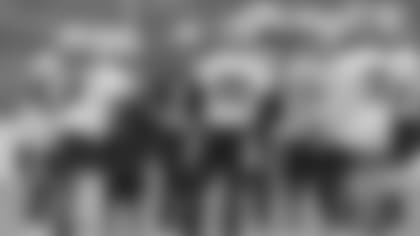 Biggest concern of Training Camp?
The execution of the offense. It's early and it's new so no need to panic but even some of the most basic plays aren't looking smooth. -FK
The lack of cohesion on offense. I know it's a new system but there has been very little rhythm for two full weeks. -PP
How much the offense looks like they're really starting over from the ground up. They've had their moments, especially on the first day and when the pass rush wasn't destroying everything in 11-on-11, but they have yet to string some good days together and that lack of consistency has been jarring though perhaps not entirely unexpected. -MD
For all the talk about how the defense will (or won't) make up for losing significant pieces from last season, it was surprising to see the offense struggle so often. Things seemed to improve Tuesday, with Yodny Cajuste subbing in at right tackle to fill in for Isiah Wynn, suggesting the issues could perhaps start at the offensive line when it comes to adapting to this new, "simplified" offensive scheme. -AF
Mac Jones's comfort level in the tweaked offensive system. It's very early. But it's been concerning at times that Jones doesn't look like the sound decision maker and in-rhythm passer we saw at Alabama and during his rookie season. -EL
The offense. At the start of camp a majority of the burning questions of the team were about the defense but now after two weeks of practices the tables have turned towards the offense who lacks consistency and a rhythm needed to move the chains. -TB
Things you'll be watching for against the Giants?
This will be the first time we've seen tackling since last season so I can't wait to see some real football, even if it's in a game that doesn't count. -FK
All of the young players but especially Tyquan Thornton. He's gotten open and shown great ball skills while showing improvement every day. -PP
The ground game. How do the young backs look running the wide zone plays and are there any gems opening holes along the offensive line. There's an interesting depth battle going on there. Defensively, do any new playmakers show up? -MD
I'm interested to see how things play out in terms of wide receiver usage. There is a ton of depth there, especially with newcomers DeVante Parker and Tyquan Thornton enjoying a really nice camp. Nelson Agholor's stock seems to be rising after having not quite met expectations last season, and of course, Jakobi Myers and Kendrick Bourne should be trusted targets for Mac Jones again this season. But with how deep that receiver room is, someone seems destined to have their feelings hurt when it comes to playing time. And that's not to mention players like Lil'Jordan Humprey (who looked great Monday and Tuesday) and Tre Nixon who are on the fringe. Ty Montgomery also seems like a roster lock who can be utilized as a receiver, running back, or special teams, so we'll see how he's dispatched. -AF
I'm interested to see how New England's new ball carriers look against live tackling. The rookie running backs, Tyquan Thornton, and Marcus Jones as a punt returner. Even though he's not a newcomer, Tre Nixon has flashed as a route-runner, but can he pick up yards after the catch? Maybe Nixon returns kickoffs too? Who has the elusive gene to make big plays in the open field? -EL
The Patriots offense hopefully turning the trial and errors at practice into production under the bright lights. The installation of the new offense is a process so I'm hoping Thursday night we will see a little proof of the pudding. -TB