The Patriots concluded their offseason program with a two-day mandatory minicamp on the practice fields behind Gillette Stadium this week.
Following five opportunities to see the majority of the roster, there are reasons for optimism about the depth compiled by head coach Bill Belichick and his staff. With a new-look offensive coaching staff, New England is mostly back to having their typical sharpness to practice.
Offensively, practice returned to a brisk-paced level of competency of a professional operation, where there weren't long instruction periods and pauses in play for coaches to go over corrections with players like last summer. In fact, offensive coordinator Bill O'Brien called plays from the sideline and didn't interact with players much during team periods.
If you want tangible evidence that things are smoother offensively, in the last competitive period in Monday's practice, the Patriots defense showed an all-out pressure look. Quarterback Mac Jones adjusted the protection, signaled to his receivers, and hit Kendrick Bourne in-stride on a slant for a huge play. Those are signs that the offense has a plan it can execute effectively.
Although the spring had the typical back-and-forth between offense and defense, you could see a clear road map of where things are heading schematically on both sides of the ball. From there, the results will hopefully come for this team.
The Patriots have the coaching chops and roster talent to keep themselves in most games to contend for a playoff spot. The question hanging over the Patriots heading into the summer is whether or not they'll have enough high-end talent to put them over the top when all the chips are down. Belichick and O'Brien's bells and whistles can only get you so far. Eventually, big-time players need to make big-time plays. If those plays are to come from somewhere, some players need to reach another level, mainly quarterback Mac Jones, or an intriguing crop of first and second-year players must emerge.
New England's rookie class has looked the part in the spring. First-rounder Christian Gonzalez is on track to start at cornerback, second-round pick Keion White adds fresh juice to the defensive line, and third-round selection Marte Mapu dazzled as the sideline-to-sideline defender that this defense desperately needs.
Although his practice time was limited, second-year wide receiver Tyquan Thornton also brings a field-stretching element to the offense, mid-round corners Marcus and Jack Jones continue their upward trajectory, and the infusion of young talent could raise the team's ceiling.
Defensively, it's easy to talk yourself into the Patriots taking another step forward, but they still need to prove they can make key stops against elite offenses. On the other side of the ball, more significant question marks remain.
New England's starting offensive tackle options could leave them in a position where O'Brien needs to scheme around a deficiency. At the same time, the veteran pass-catchers are known commodities, leaving it up to Thornton and the quarterback to elevate the group.
There's a potential external source that could move the needle, with a free-agent visit on the books with five-time Pro Bowl receiver DeAndre Hopkins. But regardless of Hopkins's decision, the Pats still need to prove that they can go toe-to-toe with the NFL's elite teams.
After taking in every OTA and minicamp practice this spring, here is a position-by-position rundown of everything we saw: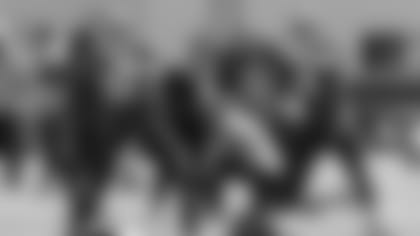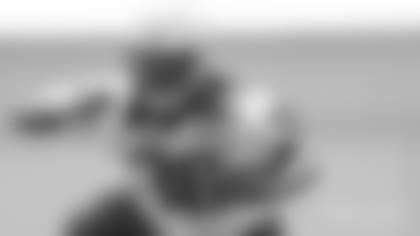 - It would be disingenuous to have major run-game takeaways from non-padded practices, and the Pats played things close to the vest in terms of scheme direction in front of the media. My guess is their base concepts will have more downhill elements. But there were some zone plays, and things were being built off motion aimed to test the edges and the occasional moving pocket. TBD on the run scheme.
- Rhamondre Stevenson is this team's primary lead back and looks poised for another big year. But most reps went to the others in the group as the Pats sort out how they will spell Stevenson and potentially take him off the field on third down to manage his workload.
- Although the door remains ajar for second-year RB Pierre Strong, Ty Montgomery is pushing for a role in the offense for the second-straight offseason. Montgomery has reliable hands, is a heady route-runner, and makes himself QB-friendly as an underneath option. He's also highly versatile as a wide receiver-running back hybrid. The Pats have fun with formations when Montgomery is out there.
- As for Strong, the flashes are there for him to add a big-play element. He can win foot races to the edge, generate yards on RB screens, and you occasionally see an angle route or wheel route that's exciting. The question is will he be a 3-5 touch-per-game player to give him a chance to break one, or a more consistent weapon in the change-of-pace role? I'm still waiting to see that consistency.
- Fellow second-year RB Kevin Harris had a good spring. His explosiveness to build up speed as a bigger back has improved and he's still built like a MAC truck. Harris fits the mold as an early-down back while showing more receiving ability this spring. I'm intrigued to see him in camp.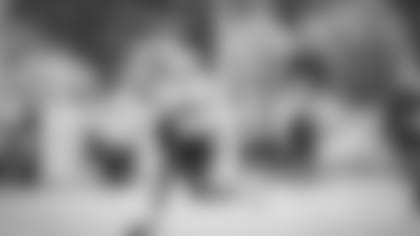 - Unfortunately, we didn't see free-agent addition JuJu Smith-Schuster this spring. Smith-Schuster is around the facility and has been on the field at times, but he wasn't present for any of the open sessions.
- Second-year WR Tyquan Thornton had one strong practice and then sat out the rest of the spring due to a soft-tissue injury, per Mike Reiss. Thornton is the only real field stretcher on the roster, and the lack of a deep threat is apparent when he isn't out there. They need him to stay healthy, or this offense really doesn't test the defense down the field at all.
- The Pats might upgrade his spot by signing DeAndre Hopkins, but DeVante Parker is still this team's best downfield receiver against single coverage on the outside. He's in his own tier in terms of defeating press-man and high-pointing the ball. If the Pats miss out on Hopkins, he'll be heavily featured.
- Kendrick Bourne looks bigger and more bought into what the Patriots are doing. His energy and chemistry with Jones are also great, with Mac hitting him in-stride on in-breaking routes for catch-and-run opportunities. Let's hope Bourne stays in the circle of trust.
- Demario Douglas has yet to offer much down the field, but he's had a few moments as a jitterbug slot and gadget receiver. He might not have a huge year-one impact, but it would surprise me if he sticks around.
- Kayshon Boutte's absence for an undisclosed injury is not good for the rookie wideout, who is still trying to get his burst back after suffering a significant ankle injury in college. Boutte has some juice going through positional drills, but it has yet to translate in team periods, and now he's not out there. Assuming Boutte is healthy, things could change in camp.
- Malik Cunningham has some physical tools, mainly quickness and burst with the ball. Not necessarily long speed, but rather initial explosiveness. He told reporters that he had never run a route in his life until this point, so there's a long, long way to go. Cunningham also gave the defense some great looks in 9-on-7 drills as a mobile quarterback—a scout-team option.
- Props to Raleigh Webb for filling in at wide receiver while the Pats were short-handed and making some difficult catches.
- Tre Nixon caught a pretty deep post from Trace McSorley to beat Shaun Wade on day one of minicamp. That was your annual Tre Nixon spring highlight.
- Ed Lee does have jitterbug quicks in him. Small. But the quickness caught the eye.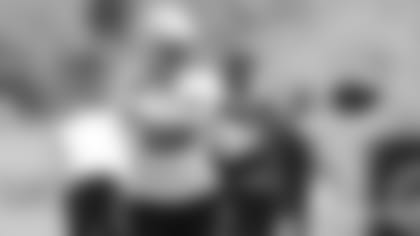 - It's fantastic to see the tight ends featured in the offense, with O'Brien unlocking Hunter Henry and Mike Gesicki by isolating them in favorable matchups, feeding them off play-action, and using them as seam threats. This duo has a lot of potential.
- Mike Gesicki was great to watch this spring. He's a natural pass-catcher and a fluid mover who doesn't move like he's 6-6, 245 pounds. He can run the seam, win foot races across the field, has a large catch radius, and surprised me with his ability to shake defenders at the top of routes. If he stays on this track, Gesicki will be a considerable upgrade.
- Anthony Firkser made some challenging adjustments to bring in off-target throws and has alignment versatility. Firkser has better ball skills than anticipated and moved around the formation quite a bit. He could be a useful TE3 with a unique skill set.
- Rookie free agent Johnny Lumpkin fills out the jersey like a blocking tight end. We'll see how well he blocks in pads. Lumpkin wasn't going to stand out in OTAs other than his size.
- I'm still trying to figure out what to make of Scotty Washington. He has these high-point grabs that make him look like he's Rob Williams catching an alley-oop on a football field. But he might not be consistent enough at anything else to be a real contributor.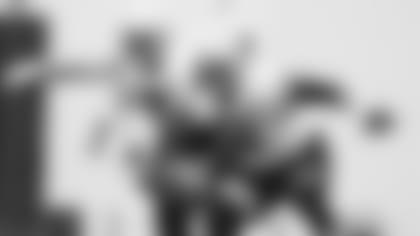 - I'm not going to evaluate offensive linemen in non-padded practices. Instead, I'll share where various players were lining up. We'll hold off on any real takeaways until training camp.
- With Trent Brown barely participating, free-agent addition Calvin Anderson spent nearly the entire spring as the top left tackle. Anderson has the athleticism and a solid eight-game stretch as a starter for the Broncos last season on film. I wouldn't look too much into it other than availability right now, but Brown should come into training camp ready to go. Indications are that Brown wasn't where he needs to be when he reported to minicamp on Tuesday.
- At first, it looked like Riley Reiff was penciled in as the starting right tackle. Reiff's veteran experience and leadership have stood out to his teammates. However, Conor McDermott is getting his opportunities and might've passed Reiff by the end of minicamp – a battle to watch.
- With starting right guard Mike Onwenu sidelined, the Patriots gave several players a chance to fill in at right guard. Bill Murray, Atonio Mafi, and Jake Andrews took reps in Onwenu's spot. The Pats drafted Andrews and Mafi to prep for interior O-Line turnover, but I'm still not considering moving Onwenu. He solidifies that interior trio, which is vital with a pocket passer.
- Fourth-rounder Sidy Sow, who mainly played guard in college, worked almost exclusively at right tackle. Sow appears to have the length for it, but the foot speed remains to be seen.
- 2022 seventh-rounder Andrew Stueber is participating at right tackle, so it's a start. The same goes for last year's sixth-rounder, Chasen Hines, who is taking reps at both guard spots.
- Second-year center Kody Russey took snaps as a backup center. But rookie Jake Andrews also had chances to play the pivot with the backup offensive lines. James Ferentz is a reliable practice squad elevation-type, but the two younger centers have far more upside.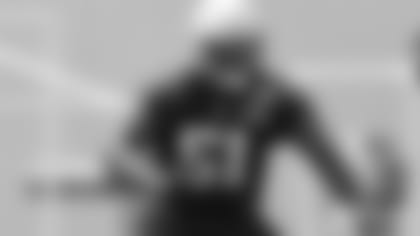 DEFENSIVE LINE/EDGE DEFENDERS
- Like the offensive line, I won't read too much into non-padded practices for the interior defensive lineman working in the trenches. That said, the depth looks very good, with rookie Keion White potentially being the final piece to solidify the rotation.
- Speaking of second-round pick Keion White, there's no doubt that the first-year Patriot has impressive physical tools. White also spoke about the freedom he's getting to experiment with either standing up or rushing out of a three-point stance. We'll see how his hand power and length translate with pads, but his first step to convert speed-to-power was there from a two-point stance.
- I'm expecting big things from third-year DT Christian Barmore, who batted down a Mac Jones pass at the line of scrimmage while wreaking havoc up front in Tuesday's practice. Barmore was at most of the offseason program, and should thrive with less attention on him now that Matthew Judon, Josh Uche, White, and others are around him.
- I would be okay with the Patriots taking it easy on Matthew Judon this summer. He returned for minicamp, red sleeves and all, and was his usual self. See ya for the regular-season opener.
- As he heads into a contract year, Josh Uche is still arguably the best pure pass-rushing edge on the team, introducing Sidy Sow to the NFL on one occasion where he blew by the rookie with a speed rush. However, don't expect him to become a three-down player in this defense, as Uche told reporters that he's embracing his role as a pass-rush specialist. That's not bad thing, as Uche could easily log another double-digit sack season. But contract negotiations for a highly specialized player should be interesting next offseason.
- Between White and LB Jahlani Tavai's ability to play on the edge, I'm less concerned about the depth at that spot now that the rookie is in the fold. But the Pats could use something out of Anfernee Jennings or Ronnie Perkins. You can see things like burst, the ability to bend the arc, and scheme versatility in the spring, and those two don't stand out. Hopefully, that changes in pads.
- DL Lawrence Guy's holdout is surprising given his age (33) and role as a four/five-technique who holds the point of attack. With Barmore, White, and Deatrich Wise in the rotation, I do not see the leverage here for Guy, who was a rock-solid Patriot but is more system than a D-End who typically gets paid.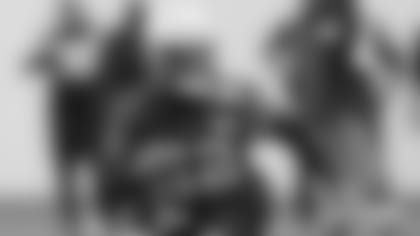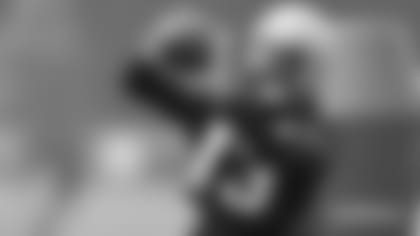 - The Patriots CBs might not have the name recognition yet, but the Pats have the makings of an elite cornerback room; diversity to match all types of receivers, alignment and scheme versatility, ball magnets, and significant potential amongst three young corners.
- My second star of the spring is second-year CB Jack Jones. Jones has the best ball skills in the room with an over-the-shoulder interception, multiple pass breakups driving downhill at the catch point, and a terrific ball-hawking interception to peel off a vertical and jump a wheel route playing the deep third. Jones gives them a ball-hawk to play opposite the lockdown styles of Christian Gonzalez and Jon Jones.
- First-rounder Christian Gonzalez has all the physical tools to be a shutdown corner with eye-catching hip fluidity and clean footwork. He was barely targeted in these practices and plays with great calmness and trust in his technique. Gonzalez might lean more toward living in receivers' hip pockets than making splash plays on the ball, but if he brings that kind of consistency to the number-one cornerback spot, that's great news for the Patriots defense.
- Although he was limited in the spring, Marcus Jones still should have a role in this defense while continuing to contribute as a returner and potentially on gadget plays offensively. Adding Gonzalez and Jack Jones's emergence could free up Jones to do everything rather than overworking him on defense. Having said that, let's not overreact too much to OTAs; Marcus still has a good chance of being a top-three corner.
- Day-three draft picks Ameer Speed and Isaiah Bolden look like developmental special teamers with a chance to push for a fourth cornerback spot down the road. Speed has good length that was noticeable on one pass breakup, while Bolden did appear to move up the depth chart slightly, It's a crowded room, making it hard to envision roles for either rookie on defense for a while.
- I'm still figuring out where to put Myles Bryant right now. He works in as a nickel backer while leaning into more safety responsibilities. But it's hard to see a path for Bryant to get on the field now that Jonathan and Marcus Jones have elevated the slot role in the defense. He should be used as a reserve and only play if there's an injury to the Joneses.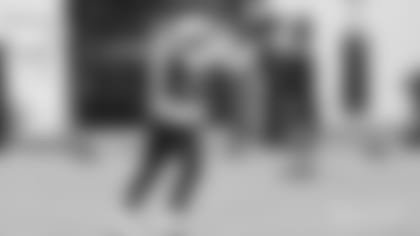 - Kyle Dugger heads into a contract year with a chance to be one of the best hybrid safeties in the NFL, and I have no reason to believe he won't reach that potential based on his spring. He will be the centerpiece of New England's disguised-based approach to the safety position now that Devin McCourty is retired – spin the dial, baby.
- Belichick wasn't lying when he said Jabrill Peppers looks "great" this spring and is making a leap in his second year in the system. Peppers plays with an infectious tone-setting energy and adds another versatile chess piece who can handle responsibilities at all three levels of the defense. The mixing and matching in the backend should drive QBs crazy.
- I'm optimistic that Jalen Mills's move to safety will be a positive development for both the player and the Pats defense. Mills looks more at home playing over the slot in three-safety packages or strong safety in traditional nickel and dime defenses. He can cover tight ends, give them range in middle of the field zones, and helps them spin the dial with the option to cycle into the boundary if they want to get creative - this is where Mills belongs.
- Third-year safety Joshuah Bledsoe never looks out of place or in over his head. But he needs to sharpen his game in the final phase of the play when targeted. Bledsoe hardly ever gets beat clean when he's in man coverage, but tight ends seem to make tough catches on him even though he has tight coverage. If he can improve his ball skills, Bledsoe can play.
- Rookie kicker Chad Rhyland clearly has a strong leg to push New England's field goal range back and serve as a kickoff specialist. Rhyland also showed decent accuracy kicking into the skinny goalposts on the practice fields. The rookie fourth-rounder should win the job over veteran Nick Folk, but there's little pressure in the spring. Can he do it on bigger stages in August and into the regular season?
- As long as first-year punter Bryce Baringer is healthy, he should win the punting job over Corlisss Waitman. But Baringer was limited in the spring and Waitman is makings interesting. The rookie has the bigger leg, but is less consistent than the veteran punter.